Atlas V rocket successfully launches with Air Force satellite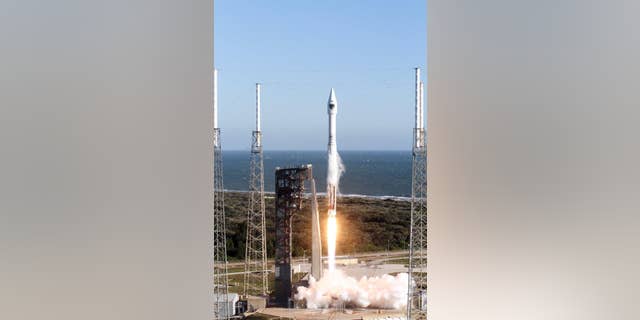 NEWYou can now listen to Fox News articles!
The Atlas V rocket successfully launched early Friday from
Cape Canaveral, carrying a satellite that will offer navigational assistance to the American military as well as civilians.
Friday's launch at 8:38 a.m. was the first of the year for
United Launch Alliance, a 50-50 joint venture between Lockheed Martin and the Boeing Company. It is the second of the year for the United States following January's Falcon 9 launch which successfully deployed the Jason-3 satellite into low Earth orbit.
Related: SpaceX botches rocket landing on California barge
"Today's launch marks a momentous milestone in the
history of the Global Positioning System. It is the twelfth and last GPS IIF satellite and closes out nearly 27 years of launches for the GPS Block II family of satellites," Col. Shawn Fairhurst, 45th SW vice commander, who served as the Launch Decision Authority, said in a statement. "As the nation's premier gateway to space, we are proud to be part of the team
providing GPS and its capabilities to the world and look forward to the future as we begin preparation for the next generation of GPS III satellites."
Related: Spectacular video shows latest SpaceX rocket landing attempt
The IIF-12 launch date was initially delayed when ULA
officials were alerted to a possible problem with electrical connectors in the Atlas V booster, according to Space.com. In a media briefing Jan. 29, Walter Lauderdale, the GPS IIF-12 mission director, said the problem was fully investigated and solved.
"We took the time to inspect all the subject connectors
and verified the integrity of those connectors," Lauderdale said. "Frankly, a day or two delay cannot possibly compare to the loss of a vital national asset. That is the nature of a sharp focus on mission success."
Related: Rocket launched in California to test missile defense
This $131 million, GPS IIF-12 satellite is one of the
next-generation GPS satellites that promises greater accuracy, increased signals, and enhanced performance for users. The Boeing-built satellite, which will also benefit civilians who depend on GPS, joins a constellation of 30 other operational GPS satellites, the first of which was launched in 1990, according to Space.com.
It will fly at an altitude of about 12,500 miles.