Astronauts' faith: Tiny Bible from the Apollo 14 Moon landing up for auction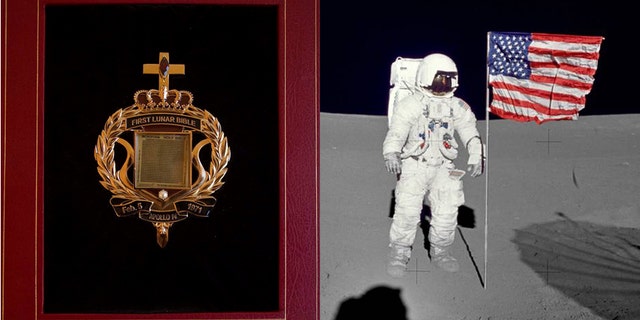 An extremely rare miniature Bible that travelled to the Moon on the Apollo 14 mission is up for auction.
The Bible is one of only 11 lunar-landed copies, according to Los Angeles auction house Nate D. Sanders Auctions.
Apollo 14, which comprised astronauts Alan Shepard, Stuart Roosa and Edgar Mitchell, launched on Jan. 31, 1971 and landed on the Moon on Feb. 5, 1971. The mission's command module splashed down in the South Pacific on Feb. 9, 1971.
HUGE TROVE OF NEIL ARMSTRONG'S PRIVATE COLLECTION SET FOR AUCTION THIS YEAR
The King James microform Bible measures just 1.625-square inches and was given to the mission by the Apollo Prayer League. The League was formed by Rev. John M. Stout, a NASA information scientist, in 1968 after Gus Grissom, Edward White II and Roger Chaffee were killed in the prior year's tragic Apollo 1 fire. "Stout was close with White and they often prayed together," explained auction house Nate D. Sanders Auctions, in a statement. "The Apollo Prayer League's mission was to both pray for the safety of astronauts and help with humanitarian causes around the world."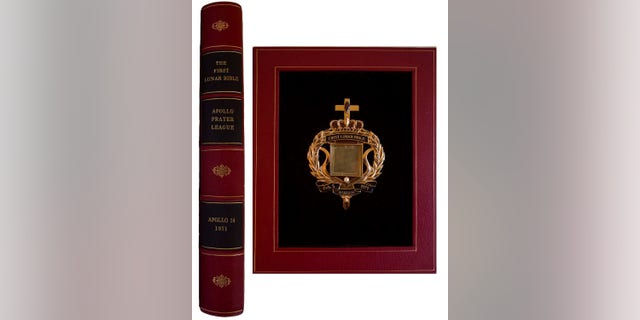 The Bible is centered in a gold and enamel setting that measures 4 inches by 6 inches.
Bidding for the Bible, which will be auctioned on July 26, starts at $50,000.
LIFE ON THE MOON? NEW STUDY ARGUED LIFE COULD HAVE EXISTED ON THE LUNAR SURFACE
The Bible comes with two certificates of authenticity. The first is a letter is signed by Mitchell certifying that the Bible flew to the moon. A second letter from the Apollo Prayer League is signed by Rev. Stout.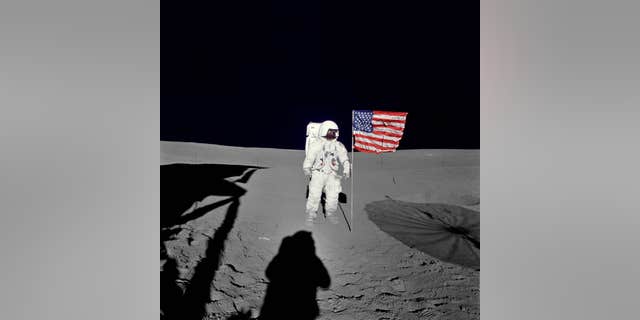 A tiny King James Bible that went to space on the famous Apollo 13 mission was sold at auction for $62,500 last year.
Also in 2017, an Apollo 13 Flight Plan with handwritten notations by the crew was sold at auction for $275,000, well above its pre-sale estimate of $40,000.
Later this year items from the personal collection of Neil Armstrong, the first man to walk on the Moon, will be auctioned off by Heritage Auctions.
Fox News' Christopher Carbone contributed to this article.
Follow James Rogers on Twitter @jamesjrogers