Astronauts' faith: Tiny Apollo 13 Bible up for auction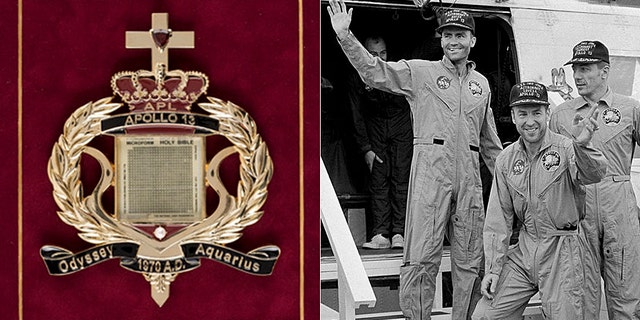 A tiny King James Bible that went to space on the famous Apollo 13 mission is up for auction this week.
The mission was famously depicted in the successful 1995 movie "Apollo 13" starring Tom Hanks.
The Bible will be auctioned by Nate D. Sanders Auctions on Dec. 14.
The microform Bible was issued by the Apollo Prayer League to the crew that embarked on the storied mission. Apollo 13 launched on April 11, 1970, with Commander Jim Lovell, Command Module Pilot Jack Swigert and Lunar Module Pilot Fred Haise on board. The explosion of an oxygen tank, however, placed the crew in intense danger and forced them to scrub their planned lunar landing.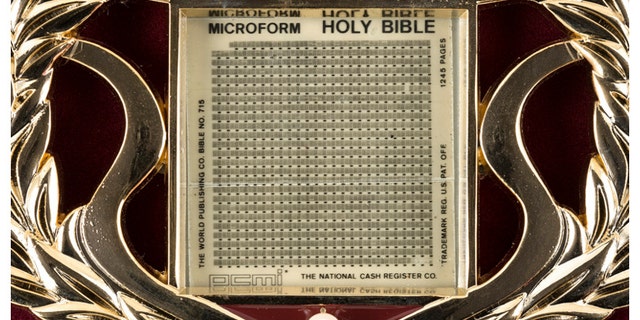 APOLLO 13: LIFE WITH THE LOVELLS DURING NASA'S 'FINEST HOUR'
As the world watched anxiously, the astronauts worked closely with Mission Control in Houston and turned their lunar module into a "lifeboat." They even rigged an adapter, ensuring that a command module "air scrubber" would work in the lunar module. This prevented a dangerous buildup of carbon dioxide.
The crew successfully splashed down on April 17, 1970.
The Apollo Prayer League was founded in 1968 by Rev. John M. Stout, a NASA information scientist, a year after astronauts Gus Grissom, Edward White II and Roger Chaffee were killed in the tragic Apollo 1 fire. Stout was a close friend of White's and they often prayed together. The League's mission was to pray for the safety of astronauts and help with humanitarian causes around the world.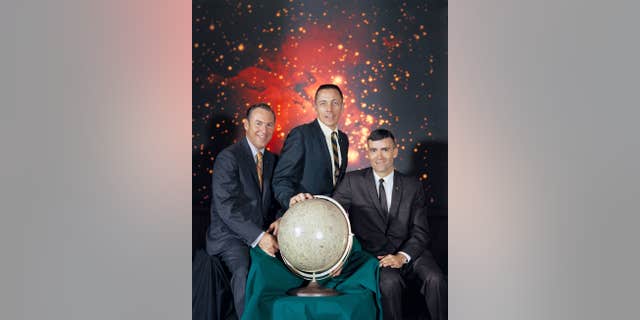 BAG OF NASA MOON DUST SELLS FOR $1.8M AT AUCTION
The Bible comes with two certificates of authenticity, one of which is a letter signed by the Apollo 13 crew confirming that it flew on their mission. A second letter from the Apollo Prayer League is signed by Lovell and Stout.
Bidding for the Bible starts at $50,000.
Earlier this year, an Apollo 13 Flight Plan with handwritten notations by the crew was sold at auction for $275,000, well above its pre-sale estimate of $40,000.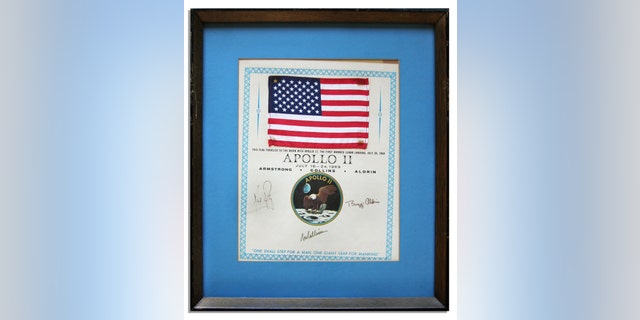 TRUMP WANTS TO SEE NASA BOOTS ON THE MOON
Nate D. Sanders Auctions is also auctioning the American flag flown on the Apollo 11 mission on Dec. 14. The flag comes with a certificate of authenticity signed by Apollo 11 astronauts Neil Armstrong, Buzz Aldrin and Michael Collins.
Bidding for the flag starts at $42,500.
The Associated Press contributed to this article. Follow James Rogers on Twitter @jamesjrogers