Astronaut Scott Kelly's girlfriend: Our epic long-distance relationship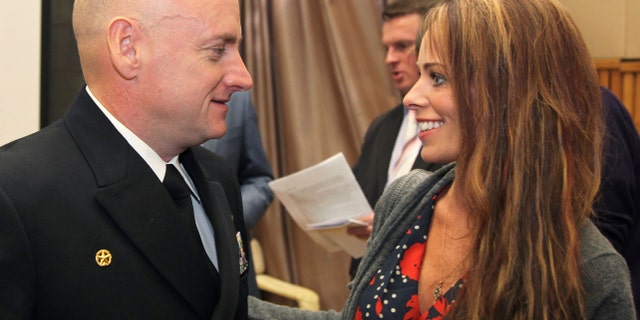 NEWYou can now listen to Fox News articles!
Imagine one year without weather, a shower or human touch. Earlier this year, NASA astronaut Scott Kelly began an unprecedented experiment on the mind, body and soul in a one-year stay aboard the International Space Station.
It's 10:15 p.m. space time, 4:15 p.m. in Houston, Texas and he's discussing a broken hot water heater. Not in his current home 220 miles above the Earth but in the home near the Johnson Space Center he shares with longtime girlfriend Amiko Kauderer.
"We talk about real things, normal everyday things," Kauderer told FoxNews.com. This, just one of the purposeful steps she said keeps their relationship thriving despite the distances now involved. "We have a strong sense of duty and are unified in a common goal which helps. He may be off the planet but we are not that different than some military families but in some ways our separation may be easier because we know it isn't indefinite, we have an end point."
Related: Cassini probe takes 'cosmic bulls-eye' of Saturn moons Enceladus, Tethys
Kelly and Russian cosmonaut Mikhail Kornienko began their mission on March 27 and are not scheduled to return until March 2016.
Until then, for Kelly, life at zero gravity means over 12- hour work days in a space perch he has described as smelling like "antiseptic" with a hint of "garbage" in an interview with CBS. The astronaut's bedroom is just big enough for a body-bag like vest hung from the ceiling for sleeping.
Kelly's no stranger to the rigors of isolation. He now holds the record for both the single longest American manned mission in space and for the total time in space for an American, which was previously held by former NASA astronaut Michael Lopez-Alegria, who spent 215 days on the ISS in 2006 and 2007.
Related: Astronauts needed to help get to Mars, 4 kinds of spacecraft at their disposal
"It's the simple things you miss, the things you don't think about until you don't have them anymore like having a glass of wine at dinner or feeling the sun on your face," Lopez-Alegria told FoxNews.com.
He said not being able to see family and friends is difficult but technology advances have eased the pain for ISS trips. Kauderer also points to technology advances since Kelly's previous six-month mission in 2010 where video conferencing was in a Johnson Space Center-designated room and email drops came only twice a day, whereas now communication via email is almost instantaneous. She even gave Kelly a long-distance video Christmas party at their home where he was able to call in and say hello to everyone.
Maintaining a connection to Earth-bound realities has been key for the ISS commander. Kauderer said Kelly "has been known to paint on a canvas at home and has great cross-hatching skills," so she sent a set of paint brushes to foster his artistic talent while in space and sent recordings and snapshots of her cooking because it's something they often do together.
Related: Citizen scientists name planet in global contest
A connection to the home front is an element crewmembers are likely to lose on future deep space missions.
"It's really going to be hard not to see the Earth and even if you can it will be undistinguishable," said Lopez-Alegria. "Being able to see the Earth, pick out your hometown is powerful."
The psychological component is just one aspect of Kelly's year of confinement by choice researchers are studying as scientists plan space travel beyond low Earth orbit.
Related: These Jupiter-like exoplanets aren't so dry after all
"Knowledge is what we bring back," NASA cardiovascular physiologist John Charles told FoxNews.com. Charles, who is piloting human research for the space agency, said the differences related to duration are key to understanding how the body adapts and how to protect it on future deep space missions, such as the journey to Mars.
"This is really the justification for the year-long mission," he said. "We need to understand the differences in the effects of spaceflight on the human body with increasing durations of exposure to spaceflight factors, especially weightlessness."
Charles believes the difference between a six-month stay and one-year in space will be in degrees rather than a large difference in physiology. However, one area of particular concern is vision degradation, something that some astronauts have encountered at the midway point of their stays aboard the ISS.
Related: Saturn's largest moon Titan is bursting with color
According to the space agency, approximately 20 percent of astronauts living on the ISS reported post-flight vision changes, as well as the gradual loss of close-up visual acuity while aboard. Charles said testing shows that their optic nerve tracts seem to be slightly swollen, and in some cases the normally spherical shape of the eyeball is slightly compressed front-to-back. He said the findings suggest increased pressure in the body fluids in the upper body compared to on Earth, and that pressure may be causing the optic nerve and eye shape changes. Kelly and his crew members will be using a Russian device that applies a small degree of suction to the lower body that shifts some of the fluid out of the head.
"We need to understand more about these ocular changes before we can safely send astronauts off on even longer missions, such as to Mars," said Charles.
Along with the one-year human research study, Kelly and his twin brother, former astronaut Mark Kelly are participating in a twins study to delve into comparative genetics issues that could be altered by space travel. In addition to body fluid collection and 30-minute treadmill runs, the space bound twin does MRI-based testing for cognition and fine motor skills measurements, with his earth-bound twin serving as a control subject.