Astronaut Scott Kelly: My incredible year in space and the 'crazy ride' back to Earth
Former NASA astronaut Scott Kelly became the first American to spend 12 consecutive months in space when he completed an epic 340-day stint on the International Space Station in 2016. So what was it like to spend a year in space?
"I was surprised at how long a year is – it's a really, really long time," he told Fox News. "But I was also surprised and really inspired that, after the end of this flight, and my four spaceflights, and all my time in space ... if we can have incredible dreams, we can achieve incredible things."
"We built this million-pound space station, while flying around the Earth at 17,500 miles an hour, in a vacuum [and] extremes of temperature of plus or minus 270 degrees … if we can do this, we can do anything," he added. "The Space Station is an amazing place – it's really an incredible experience and a privilege to live there."
ASTRONAUT SCOTT KELLY: HOW I WENT FROM BAD STUDENT TO SPACE STAR
Kelly served as a Navy fighter pilot and test pilot prior to his selection by NASA in 1996. The Orange, NJ.-native went on to become a Space Shuttle pilot and commander and had two stints on the ISS. He returned to Earth after his 340-day stay in March 2016.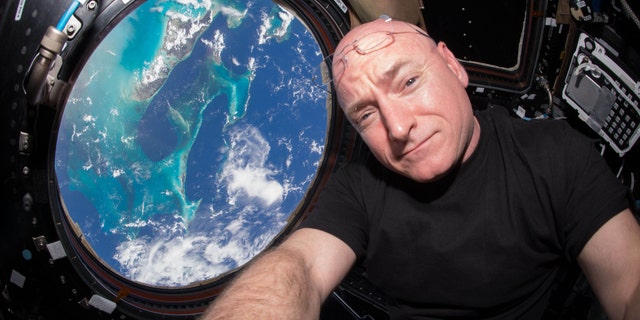 The astronaut conducted hundreds of experiments during his near year-long journey in space. Scientists also studied the differences between the astronaut and his twin brother, Mark, back on Earth. They provided blood, saliva and urine samples, underwent ultrasounds and bone scans, got flu shots and more, all in the name of science.
Researchers, Kelly quipped, told him that he is "not only smarter, but more handsome," than his brother Mark, a former astronaut himself.
ASTRONAUT SCOTT KELLY BACK ON EARTH AFTER YEARLONG SPACE MISSION
On a serious scientific level, researchers did note significant changes in the telomeres found at the ends of the chromosomes in Scott Kelly's white blood cells.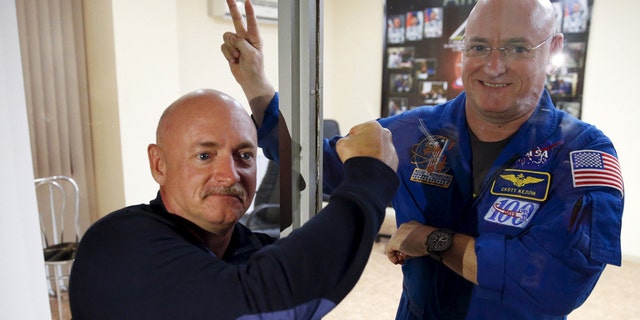 "The telomeres are the things that are in our chromosomes that are indications of our physical age, so as we age, they get shorter – mine got longer in space," he said. "So it was a little bit like the fountain of youth – unfortunately when I got back down to Earth they went back down to where they were."
His body experienced other changes in space, such as a temporary height gain and even differences in his DNA.
ASTRONAUT SCOTT KELLY: I COULD HAVE SPENT LONGER IN SPACE
"I read in the newspaper the other day that 7 percent of my DNA has been changed," he added, noting that that his microbiome, the bacteria that live inside the human body, also altered dramatically during his year in space. "Mine is completely different to my brother's – mine, of course, is better than his."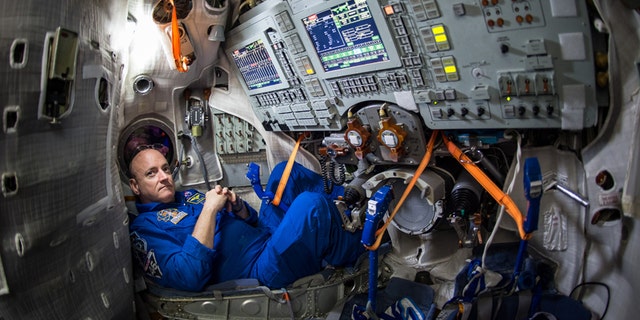 Kelly returned to Earth on March 2, 2016 when the Soyuz capsule carrying the astronaut and Russian Cosmonauts Mikhail Kornienko and Sergey Volkov landed in Kazakhstan.
"It's a crazy ride, coming back into Earth in a capsule," he said. "It's like the wildest ride you will ever have in your life – it's kind of like going over Niagara Falls in a barrel, but while you're on fire. As soon as you realize you're not going to die … [it's] the most fun you'll ever have in your life."
SCOTT KELLY: YEAR IN SPACE PAVES THE WAY FOR EVEN LONGER MISSIONS
"The parachute opens and you're thrown around like crazy, and eventually it calms down and you drift slowly down to Earth for about 15 minutes and you crash into it … a pretty abrupt end to a year in space," he added. "But when they open the hatch and that fresh air rushes inside for the first time, it smelt like the first time I ever breathed fresh air in my entire life."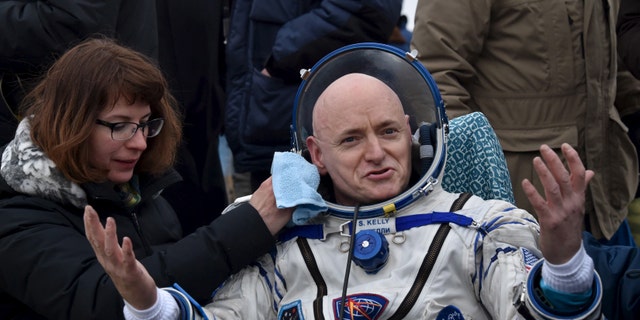 Kelly also noticed a very sweet smell as the hatch opened, which he thought was maybe wildflowers on the Kazakh steppe. The smell, however, was actually the capsule's charred heatshield, which the astronaut compared to the smell of honeysuckle.
SPACE FLIGHT CHANGES ASTRONAUTS' BRAINS, RESEARCH REVEALS
While Kelly retired from NASA in 2016 after his return from the ISS, his former employer is now setting its sights on Mars. The space agency's goal is to send a manned mission into low orbit around the Red Planet in the 2030s.
Kelly believes that the biggest challenge in getting to Mars is political, rather than scientific or technological.
"I think that we have the technology, we have the smarts, we don't always have the support, which means, really, the bottom line is the money," he told Fox News. "It's going to be expensive, but I think it's going to be well worth it - I think there are things that we get out of the space program that we can't get anywhere else."
The Associated Press contributed to this article. Follow James Rogers on Twitter @jamesjrogers