Astonishing Photos of One of Earth's Last Uncontacted Tribes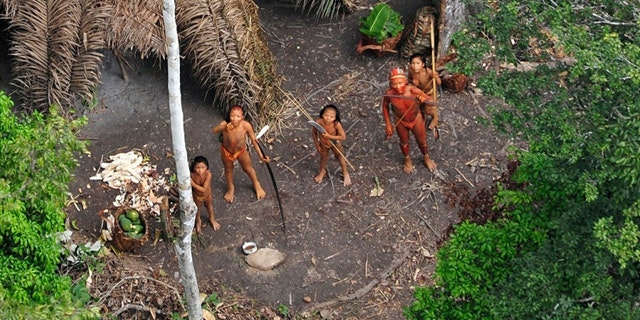 Stunning new photos taken over a jungle in Brazil reveal new images of one of the last uncontacted tribal groups on the planet.
The photos reveal a thriving, healthy community living in Brazil near the Peruvian border, with baskets full of manioc and papaya fresh from their gardens, said Survival International, a rights organization working to preserve tribal communities and organizations worldwide.
Survival International created a stir in 2008, when it released similar images of the same tribal groups -- images that sparked widespread allegations that the pictures were a hoax. Peru's President Garcia has publicly suggested uncontacted tribes have been 'invented' by 'environmentalists' opposed to oil exploration in the Amazon, while another spokesperson compared them to the Loch Ness monster, the group explains on its site.
Survival International strongly disputes those allegations, however. A spokeswoman for the group told FoxNews.com that the Brazilian government has an entire division dedicated to helping out uncontacted tribes.
"In fact, there are more than one hundred uncontacted tribes around the world," the group explains.
Peru has yet to make a statement about the newly released pictures, which were taken by Brazil's Indian Affairs Department, the group said. Survival International is using them as part of its campaign to protect the tribe's survival -- they are in serious jeopardy, the organization argues, due to an influx of illegal loggers invading the Peru side of the border.
Brazilian authorities believe the influx of loggers is pushing isolated Indians from Peru into Brazil, and the two groups are likely to come into conflict. Marcos Apurina, coordinator of Brazil's Amazon Indian organization COIAB said in a statement that releasing the images was necessary to prove the logging was going on -- and to protect the native groups.
"It is necessary to reaffirm that these peoples exist, so we support the use of images that prove these facts. These peoples have had their most fundamental rights, particularly their right to life, ignored … it is therefore crucial that we protect them," he said.
"The illegal loggers will destroy this tribe," agreed Survival International's director Stephen Corry. "It's vital that the Peruvian government stop them before time runs out. The people in these photos are self-evidently healthy and thriving. What they need from us is their territory protected, so that they can make their own choices about their future."