Archaeologists uncover 2 ancient tombs in Egypt's Luxor
Two small ancient tombs dating back 3,500 years were discovered in the ancient capital of the Egyptian Empire.
Archaeologists discovered the tombs in the southern city of Luxor, Egypt's Antiquities Minister Khaled al-Anani said Saturday. They found a mummy wrapped in linen in one of the larger of the two tombs.
An inscription on the ceiling of the larger tomb bears the name of King Thutmose I of the early 18th dynasty.
"It is a very important discovery because both tombs contain very rich funerary collections, and one of them has a very distinguished painted statue of a lady in the Osirian shape," he said, Ahram Online reported.
The tombs, located on the west bank of the river Nile in a cemetery for noblemen and top officials, are the latest discovery in the city famous for its temples and tombs spanning different dynasties of ancient Egyptian history.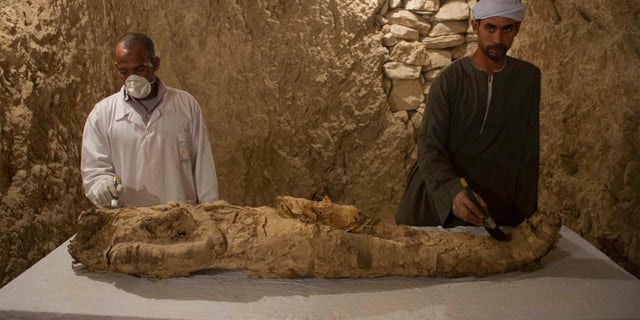 Archaeologists also retrieved funerary cones, painted wooden funerary masks, clay vessels, a collection of some 450 statues in the tombs.
Egyptian officials hope the discovery will promote the country's tourism industry which was hit hard by extremist attacks and political turmoil following the 2011 uprising.
The Associated Press contributed to this report.