Archaeologists make 'once-in-a-career' Iron-Age find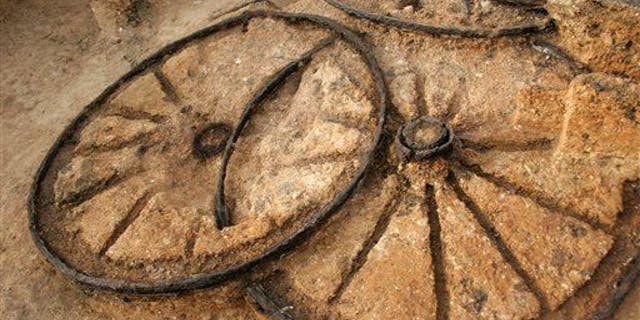 Archaeologists digging around the site of an ancient community in England have made what one calls a "once-in-a-career discovery"—bronze fittings from a chariot dating back to the Iron Age, reports LiveScience.
The intricately designed pieces were crafted around the second or third century BC and seem to have been buried as part of some kind of religious ritual, perhaps in honor of the nobleman or warrior who would have owned such a chariot.
They had been enclosed in a box that was burned, researchers at the University of Leicester explain via Phys.org. The ritual also might have marked the end of a season or the dismantling of a home at the site in Leicester, known as the Burrough Hill Iron Age Hillfort.
The pieces included linchpins with three waving lines, a design that looks similar to the modern flag for the Isle of Man, a British dependency. "In east Yorkshire, there was a practice of chariot burial, but outside that area it is extremely rare to find one," one researcher tells the BBC.
It's not clear, though, whether an entire chariot was buried, or just some decorative parts. (Click to read about archaeologists who hope to unravel the tale of King Harold.)
This article originally appeared on Newser: Archaeologists Find Rare Iron Age Chariot Parts
More From Newser