Archaeologists discover mysterious 2,500-year-old 'lost city' in Greece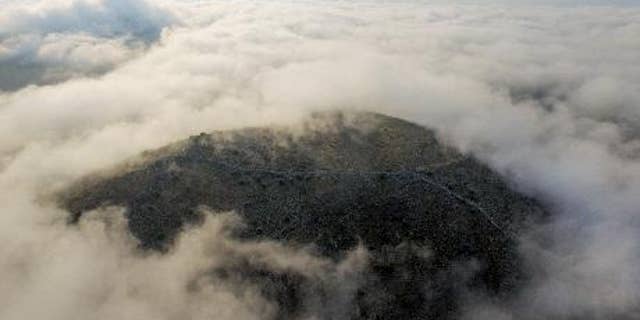 An international team of experts has discovered a mysterious 'lost city' in central Greece that could offer new clues to the region's history.
Archaeologists from Greece, Sweden and the U.K. are involved in the research project at a village called Vlochós, about five hours north of Athens in the ancient region of Thessaly. The archaeological remains were found scattered across a hill near the village, according to a press release.
The Vlochos Archaeological Project is a collaboration between the Ephorate of Antiquities of Karditsa and the Swedish Institute in Athens. A team of researchers from the University of Gothenburg in Sweden and the University of Bournemouth in the U.K. began a two-year exploration of the Vlochós site this year.
ARCHAEOLOGISTS UNCOVER 'LOST CITY' IN EGYPT
"A colleague and I came across the site in connection with another project last year, and we realised the great potential right away," said Robin Rönnlund, a doctoral student in classical archaeology and ancient history at the University of Gothenburg, who is leading the fieldwork, in the press release.
Remains of towers, walls and city gates were found on the hill's summit and slopes, although hardly anything of the city is visible on the ground below. Archaeologists hope to avoid excavation by using technologies such as ground-penetrating radar, enabling them to leave the site in the same shape as when they arrived.
Experts have already made significant progress in the archaeological project. "We found a town square and a street grid that indicate that we are dealing with quite a large city," said Rönnlund, in the press release. The area inside the city wall measures over 99 acres, or 75 football fields.
The discovery of ancient pottery and coins will help to date the city, according to Rönnlund. "Our oldest finds are from around 500 BC, but the city seems to have flourished mainly from the fourth to the third century BC before it was abandoned for some reason, maybe in connection with the Roman conquest of the area," he said, in the press release.
Historians know relatively little about ancient cities in the region, which makes the latest discovery particularly significant. "The preliminary results of our investigation are important as they give clear evidence that western Thessaly was no backwater, but a rich and vibrant society within the ancient world," Rönnlund told FoxNews.com, via email.
While local authorities have known about the Vlochós remains for some time, this is the first time that systematic research has been conducted in the area.
ALTAR OF VIKING SAINT-KING DISCOVERED IN NORWAY
Additional fieldwork will be conducted with the Ephorate of Antiquities of Karditsa in August and September 2017. "We hope to complete our survey of the remains to get a complete picture of the ancient city,"
Rönnlund told FoxNews.com.
Archaeologists in Egypt recently discovered an ancient 'city' and cemetery.
Follow James Rogers on Twitter @jamesjrogers