A glimpse into history: Photo of young Harriet Tubman surfaces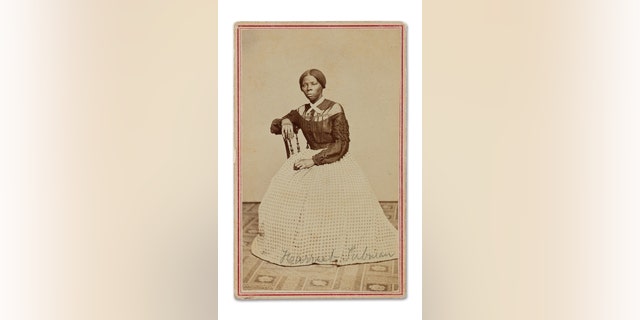 A newly surfaced photo of abolitionist Harriet Tubman as a young woman will be auctioned in New York City next month.
The photo was discovered in an album once owned by a prominent abolitionist, according to auction house Swann Auction Galleries.
The artifact is one of two Tubman photos in a "carte-de-visite" album of 44 photographs that will be auctioned on March 30. A sort of nineteenth-century postcard, cartes-de-visite often depicted individuals or families.
17TH-CENTURY SHOPPING LIST DISCOVERED IN UK
"There are very few known photographs of Harriet Tubman, and of those, most picture her in old age," explained Swann Auction Galleries, in a statement emailed to Fox News. "This carte-de-visite from the late 1860's shows a new side of this iconic and heroic American figure, as a much younger woman in the prime of her life, shortly after the end of the Civil War."
The album, which also features images of other abolitionists and popular and political figures of the time, such as Charles Sumner and John Willis Menard, has a pre-sale estimate of between $20,000 and $30,000.
The auction house told Fox News that the image was discovered in the album by Swann Auction Galleries specialist Wyatt Houston Day.
16TH-CENTURY SHIPWRECKS FOUND AMID ROCKET DEBRIS OFF FLORIDA COAST
Tubman, who escaped from slavery in 1849, played a key role in the Underground Railroad, eventually guiding over 300 slaves to freedom. She also served as a spy and a scout for the Union Army during the Civil War.
Follow James Rogers on Twitter @jamesjrogers