A giant 'sea monster' emerges from the deep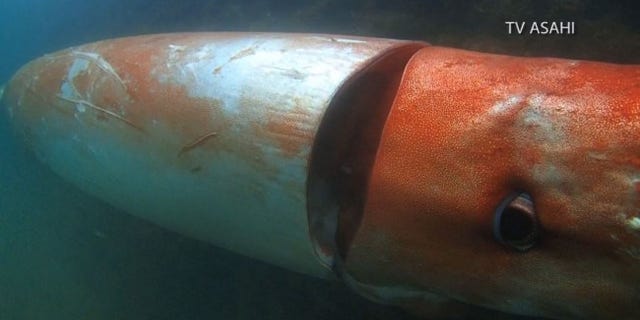 Huge sea creatures steeped in ancient lore don't often hang out by the shore with spectators—but one did in Japan this Christmas Eve. People on a pier in Toyama Bay saw a giant squid swim up near the surface, slip under boats, and tangle harmlessly with a local diver before being ushered out to sea, CNN reports.
"My curiosity was way bigger than fear, so I jumped into the water and go close to it," says diver Akinobu Kimura, who owns a local diving shop.
The Wall Street Journal reports the water depth at the marina is about 10 feet, a far cry from the 2,100- to 3,000-foot depths the giant squids inhabit.
"This squid was not damaged and looked lively, spurting ink and trying to entangle his tentacles around me," Kimura adds. Kimura guided his roughly 12-foot-long visitor (which was captured by underwater video) several hundred yards from the shore and let it slip away.
But this wasn't Japan's first encounter with a giant squid. In fact, the first footage of a giant or Architeuthis squid was revealed by Japan's National Science Museum in 2013, CBS News reported at the time.
A museum team ventured underwater 100 times in a submarine to film one with a specialized camera below the reach of light; the squid was seen a third of a mile down.
Most giant squids are found dead, or trapped in fishing nets, so a live one in its natural habitat made headlines. Researchers believe they grow up to 43 feet long and inspired the northern European myth of the Kraken sea monster.
But how is it they remain so hidden? "We've only explored about 5% of our ocean," says squid expert Edie Widder in a 2013 Ted talk about the giant-squid video.