500 year old rum? Archaeologists search for the real Captain Morgan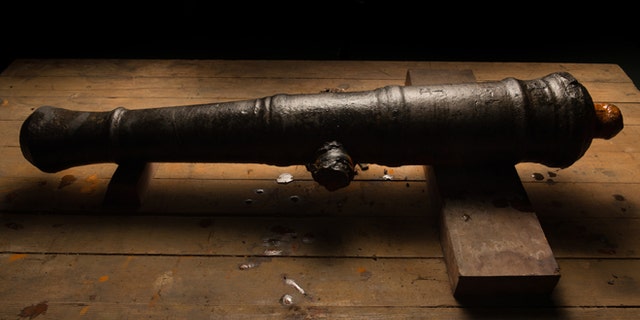 NEWYou can now listen to Fox News articles!
To life, love and a legendary privateer's lost fleet.
U.S. archaeologists are continuing their search for real-life buccaneer Captain Henry Morgan's lost fleet after the discovery of six cannons, a 17th century wooden shipwreck and even a barrel that may very well contain rum.
Yo, ho ho indeed.
Aptly backed by the Captain Morgan rum brand, a team of leading archaeologists led by Frederick "Fritz" Hanselmann of Texas State University hope to unlock the myth and mysteries of one of history's most iconic sea captains.
[pullquote]
"We're interested in telling the true story of Henry Morgan," Hanselmann, who is a director of the Lost Ships of Henry Morgan Project, told FoxNews.com. "He was a real historic figure who played a significant role in the history of Panama and 17th century politics. Morgan was a legendary figure, even in his time. He pretty much ran amuck in the Spanish main, culminating in the sack of Panama City. He sacked a city no one thought could be sacked."
En route to his most infamous plunder and what was then the richest city in the western hemisphere, Morgan lost five ships (including his flagship "Satisfaction") at the mouth of the Chagres River, at the time the only waterway access to Panama City. It's here that Hanselmann and his team began their search in 2010.
"One of the first things we noticed was a series of cannons on the reef where Morgan's ships ran aground," Hanselmann said, an indication that the team was on the right track. They are now trying to narrow the search for where the ships might be using a magnetometer -- a large metal detector towed by boat -- to pick up irons or metals buried in the sand, which has led to them to their first shipwreck, which may have been one of Morgan's.
"We have one shipwreck that looks like it's 17th century Spanish," said Hanselmann. "It's a really cool site." It's not as easy as simply reading a plaque, however: Most ships of the time weren't identified that directly, nor did they always have the identifying figureheads many associate with pirate ships.
The team has found a variety of booty, however, including wooden chests, barrels, and a 17th century sword. The artifacts, which are currently housed at Patronato Panamá Viejo (Old Panama Trust) in Panama City, will undergo a preservation process before being studied further and verified by London-based experts in English artillery in the hope that they can confirm their origin and whether or not this was actually one of Morgan's ships.
According to Hanselmann, Admiral Morgan was the "most successful pirate and privateer of all time." From 1664 to 1671, Morgan led daring raids throughout the Spanish Main, resulting in riches for him and his men far beyond what they ever expected. After the sacking of Panama -- which was technically illegal since England and Spain had a temporary peace treaty -- Morgan returned to England to be punished.
But rather than jail time, he received a simple slap on the wrist thanks to a loophole in the contract the two countries had signed.
Morgan was instead knighted and proclaimed lieutenant governor of Jamaica, where by some accounts he retired fat and drunk.
"How many pirates do you know that retired?" Hanselmann asked.
All artifacts excavated will remain the property of the Panamanian government and will be preserved and displayed by the Patronato Panamá Viejo in Panama City.