50 million trees were planted ... in just 24 hours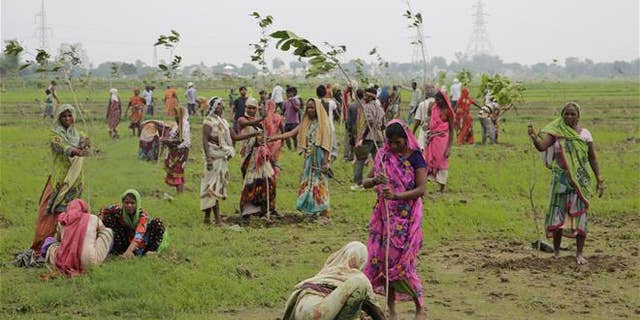 NEWYou can now listen to Fox News articles!
India's goal to increase its forest cover to 235 million acres in the next 15 years has gotten a big boost. On July 11, more than 800,000 people in Uttar Pradesh state planted nearly 50 million saplings in 24 hours in a bid to set a new Guinness world record, Popular Science reports.
The figure has yet to be certified, as National Geographic notes, but if it is, it will trounce the previous record of 847,275 trees set by Pakistan in 2013.
India has reserved more than $6.2 billion for tree-planting initiatives in all of its 29 states, the AP reports. The effort stems from commitments made at the 2015 climate change summit in Paris.
"The world has realized that serious efforts are needed to reduce carbon emissions to mitigate the effects of global climate change," says one official from Uttar Pradesh.
India has had much deforestation in recent centuries due to demand for firewood and the creation of pastures and development space. Eighth-grader Shashwat Rai planted a fig species known locally as a peepal.
"I've read in a book that this tree releases maximum oxygen," he tells the AP. "There is so much pollution in the city, we need trees that produce oxygen." A tree planted, however, is not necessarily a tree gained.
According to reports, up to 40% of the saplings will die. Forestry workers will use aerial photographs to keep watch over the trees. As for young Rai, he says he'll check his tree often, adding, "I don't want this plant to die." India's not the only country getting in on the tree-planting action, per National Geographic: African nations say they will reforest nearly 250 million acres by 2030.
(This is the most dangerous tree in the US.)
This article originally appeared on Newser: In 24 Hours, 50 Million Trees Were Planted
More From Newser