5 Pacific islands have vanished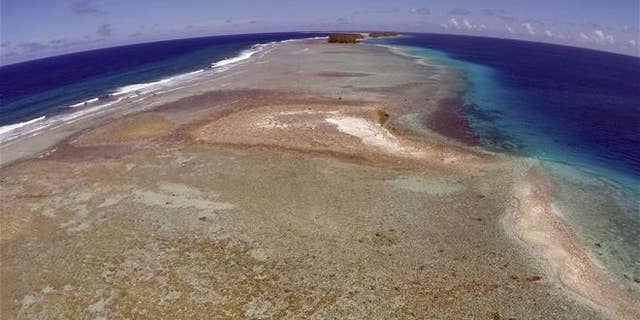 At 94, the leader of the Paurata tribe on Nararo Island has had to abandon his village. "The sea has started to come inland, it forced us to move up to the hilltop and rebuild our village there away from the sea," he says.
Nararo is one of six islands in the Solomon Islands to be severely eroded by rising sea levels, which are climbing seven to 10 millimeters per year in the area, or three times the global average.
Nuatambu Island has lost half of its habitable land since 2011, and Taro in Choiseul province may soon become the world's first provincial capital to be abandoned due to climate change, reports the Sydney Morning Herald.
But another five uninhabited reef islands have vanished entirely, according to a new study—the first that scientifically "confirms the numerous anecdotal accounts from across the Pacific of the dramatic impacts of climate change on coastlines and people," researchers say, per the Guardian.
Scientists used sea-level records, wave models, and aerial and satellite imagery from 1947 to 2015 to evaluate sea level changes in 33 reef islands, they write at the Conversation.
The 21 exposed to "higher wave energy in addition to sea-level rise experienced greatly accelerated loss compared with more sheltered islands." The remaining 12, situated in a low wave energy area, "experienced little noticeable change in shorelines despite being exposed to similar sea-level rise." Villagers forced to flee sometimes find space on ancestral land.
But "the majority of land is tightly controlled by traditional owners, so moving one group of people onto other peoples' lands has been the source of ethnic conflict," a study author tells the Washington Post.
He adds "the rates we have recently seen in the Solomons will be experienced globally in the second half of this century." (This study offers more bad news.)
This article originally appeared on Newser: 5 Pacific Islands Have Vanished
More From Newser