The Atlantic hurricane season is expected to be close to "normal" this year after a record-breaking season in 2017, government forecasters announced Thursday.
The National Oceanic and Atmospheric Administration said in its forecast that the possibility of a weak El Niño developing, along with near-average sea-surface temperatures across the tropical Atlantic Ocean and Caribbean Sea, will make conditions a little more difficult for storm development than last year.
NOAA forecasters are calling for 10 to 16 named storms with winds of 39 mph or higher, of which 5 to 9 will strengthen into hurricanes. Of those storms, there will be 1 to 4 major hurricanes, which are classified as Category 3, 4, and 5 with winds of 111 mph or higher.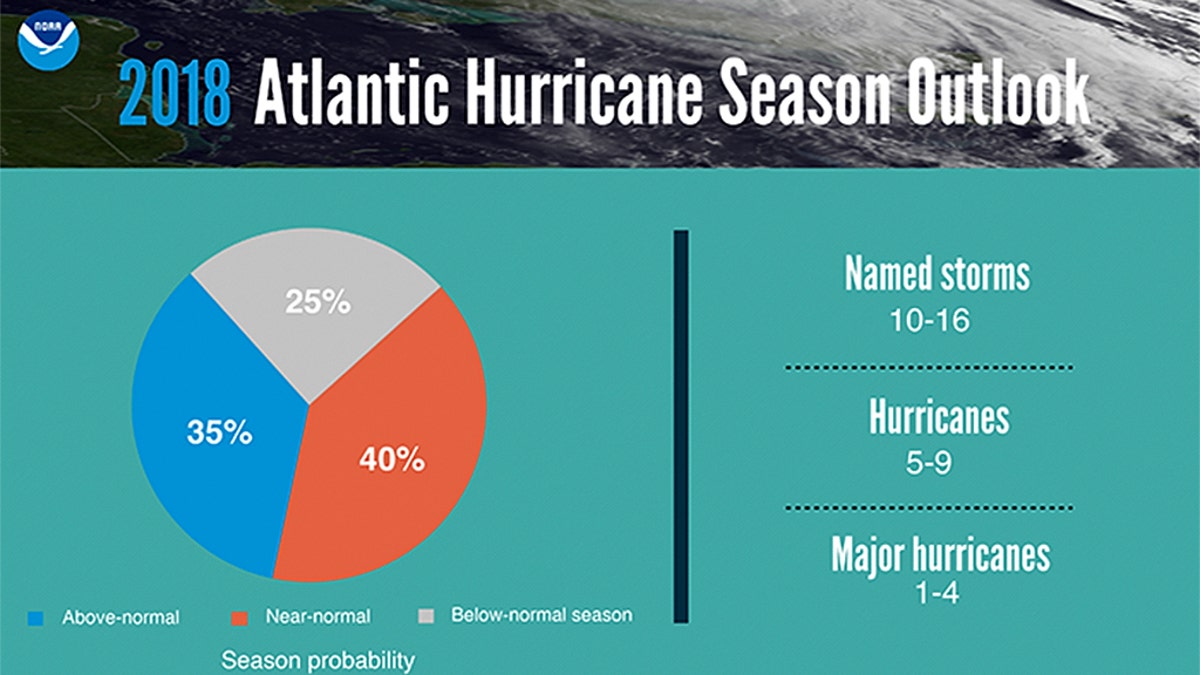 An average hurricane season produces 12 named storms, of which 6 become hurricanes, including 3 major hurricanes, according to NOAA.
"There are no strong climate signals saying it's going to be extremely active, like last year, or extremely weak," said Gerry Bell, the lead hurricane forecaster at NOAA's Climate Prediction Center.
Forecasters this year predict a 35 percent chance of an above-normal season, a 40 percent chance of a near-normal season, and a 25 percent chance of a below-normal season for the upcoming hurricane season, which runs from June 1 to Nov. 30.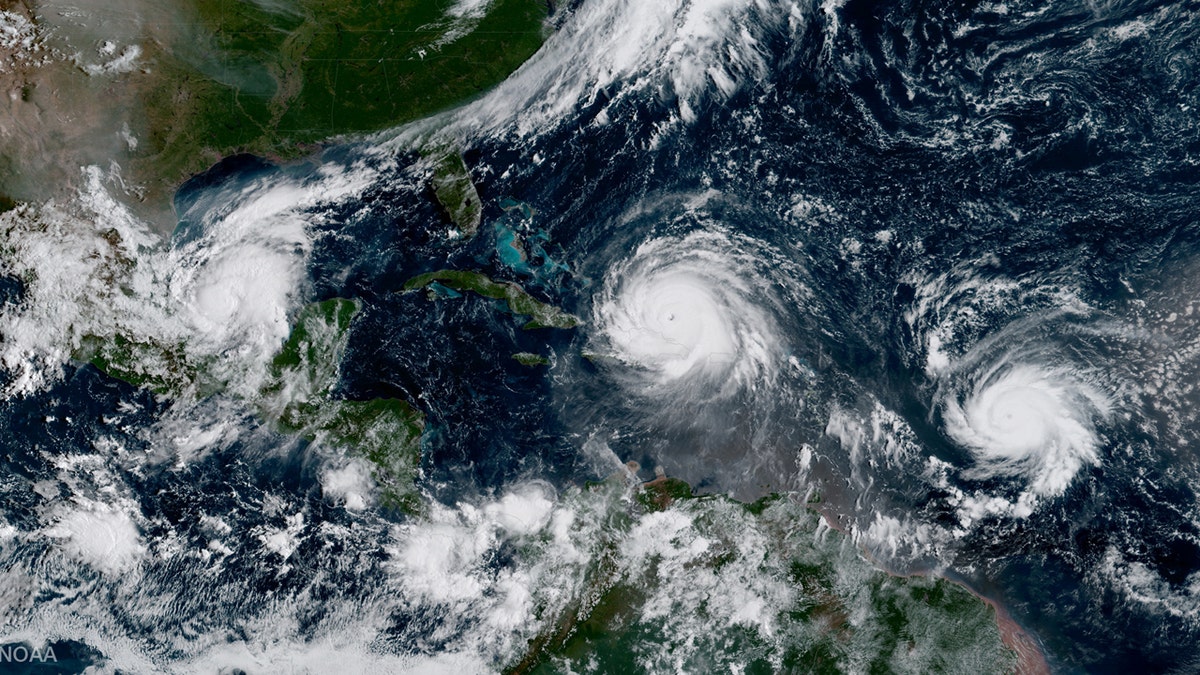 If an El Nino develops later this summer, that could suppress storm development during the season's peak months from August through October. El Nino is the natural warming of parts of the Pacific Ocean that changes weather worldwide and tends to reduce hurricane activity in the Atlantic.
Warm waters feed a hurricane's strength, while strong wind shear can pull it apart. If El Nino does not develop and water temperatures in the Atlantic Ocean and the Caribbean Sea warm up, that could fuel more storm development, according to Bell.
This year the hurricane season includes the names: Alberto, Beryl, Chris, Debby, Ernesto, Florence, Gordon, Helene, Isaac, Joyce, Kirk, Leslie, Michael, Nadine, Oscar, Patty, Rafael, Sara, Tony, Valerie, and William.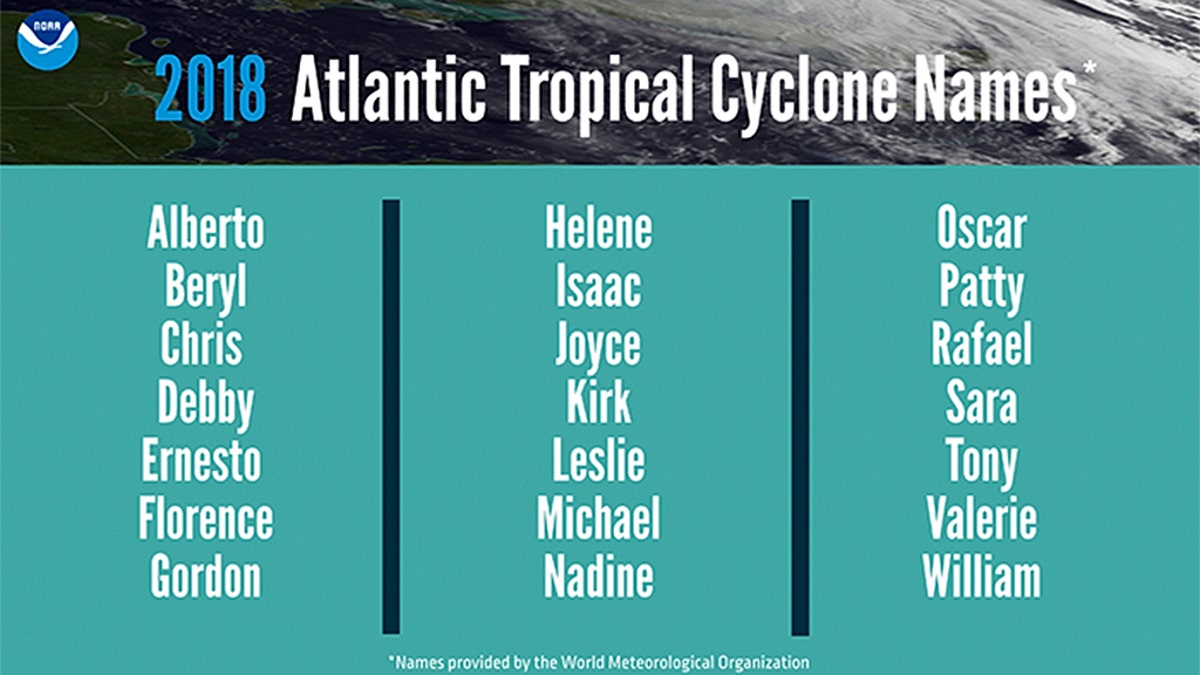 "Preparing ahead of a disaster is the responsibility of all levels of government, the private sector and the public," Acting FEMA Deputy Administrator Daniel Kaniewski said in a statement. "It only takes one storm to devastate a community so now is the time to prepare. Do you have adequate insurance, including flood insurance? Does your family have a communication and evacuation plan? Stay tuned to your local news and download the FEMA app to get alerts, and make sure you heed any warnings issued by local officials."
2018 HURRICANE SEASON WILL BE 'SLIGHTLY ABOVE AVERAGE,' RESEARCHERS SAY
NOAA said that this year the agency has rolled out new tools to help with hurricane forecasts, including the GOES-17 satellite to help monitor storm development.
"NOAA's observational and modeling enhancements for the 2018 season put us on the path to deliver the world's best regional and global weather models," said Neil Jacobs, Ph.D., assistant secretary of commerce for environmental observation and prediction in a statement. "These upgrades are key to improving hurricane track and intensity forecasts, allowing NOAA to deliver the best science and service to the nation."
The National Hurricane Center will also make the arrival time of Tropical Storm-force winds appear on graphics this hurricane season, which NOAA said will help people in storm preparation efforts.
NOAA will update the 2018 Atlantic seasonal outlook in early August, just ahead of the peak of the season.
Last year, the NOAA predicted an above-average season. Three devastating hurricanes — Harvey, Irma and Maria — ravaged Texas, Florida, Puerto Rico and many Caribbean islands. Overall, last year saw 17 named storms, including 10 hurricanes.
The Associated Press contributed to this report.