2 centuries-old ships discovered at Alexandria's waterfront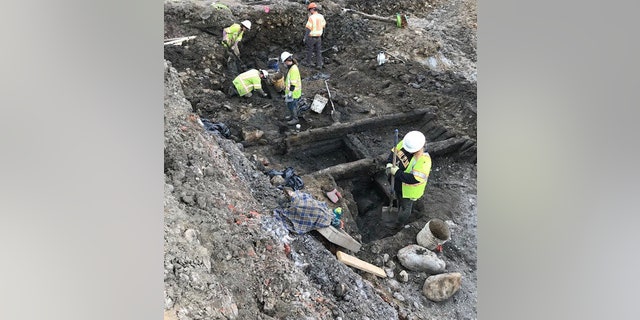 Archaeologists in Alexandria, Va., have uncovered the remains of two ships that likely date back to the late 1700s or 1800s during construction work on the city's waterfront.
The city announced the discovery at the construction site in the historic Old Town district earlier this week. The find was made at the site of the former Robinson Terminal South. In 2015 a Revolutionary War-era ship was found nearby during construction work for the Hotel Indigo.
"The discovery of three historic ships in a two-block area is absolutely incredible," said Eleanor Breen, Alexandria's acting city archaeologist, in a statement. "There have been very few ships from this era excavated in Virginia or nationwide."
REVOLUTIONARY WAR-ERA SHIP UNEARTHED AT VIRGINIA CONSTRUCTION SITE
The discovery was made last week by experts from Thunderbird Archaeology working for developers JBG Smith and EYA, the Washington Post reports. The site is being developed into a residential complex.
The city is overseeing an analysis of the site to determine what the next steps should be. "As part of a private construction site, the artifacts are not currently open to public view and are not visible from the street," it said, in its statement.
The ships are the latest historic vessels to be discovered in the U.S. Earlier this year, for example, it was revealed that the wreckage of the Clotilda, the last slave ship to bring slaves to the U.S., may have been found near Mobile, AL.
THE LAST AMERICAN SLAVE SHIP MAY HAVE BEEN DISCOVERED
In 2015 the remains of a Confederate warship were raised from the Savannah River in Georgia. The following year the wreck of a large iron-hulled Civil War-era steamer was discovered off the coast of North Carolina. The ship, which was found off Oak Island, N.C, was tentatively identified as the blockade runner Agnes E. Fry.
Fox News' Chris Ciaccia contributed to this article.
Follow James Rogers on Twitter @jamesjrogers