19th-century 'Perpetual Mouse Trap' lives up to its name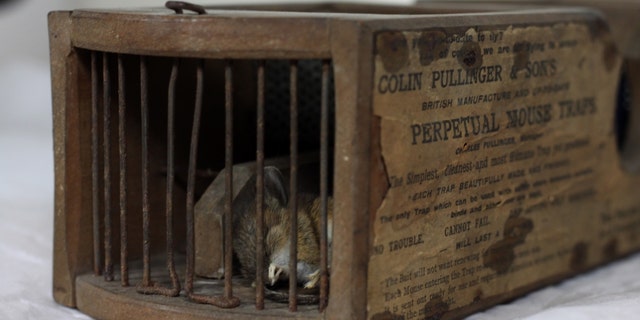 When Colin Pullinger & Sons patented its "Perpetual Mouse Trap" in 1861, the company boasted the device would "last a lifetime"—and it wasn't kidding. One of the antiquated models on display at the University of Reading's Museum of English Rural Life ended up trapping a rodent and killing it, despite it having no bait and being somewhere around 155 years old, the BBC reports.
Per a University of Reading blog post, museum staff got an email last week that read: "There appears to be a dead mouse in this mousetrap … which is not described as being there on the database." It turns out the rodent managed to get past university security and staff and into the trap, which promptly activated the trap's seesaw mechanism and trapped the mouse inside (you can see more on the design here).
"As we don't expect these traps to be working as mousetraps, we don't tend to check them regularly, hence the fact that the mouse sadly perished," the museum notes.
The staff has decided to preserve the mouse—it was "giving off quite a stink … and so was fumigated by our Conservator"—and will be put out for display in the museum's new galleries now under construction.
And to combat any cynicism bred by Jimmy Kimmel pranks and other PR stunts, the museum had this to say: "We can categorically deny that we planted the mouse in the trap in order to gain this publicity. Not only does it go against every rule in Conservation and museum ethics, we don't think any of our staff are Machiavellian enough to have pulled it off." Meanwhile, one of the museum's archivists gives a shoutout to the well-constructed implements of yesteryear, noting to the CBC: "Let's pay tribute to the Victorians, and how wonderfully they managed to make things." (Perhaps this man and wife who live like Victorians are onto something after all.)
This article originally appeared on Newser: Mouse Found Dead in 155-Year-Old Trap
More From Newser