16-foot great white shark comes within 'arm's length' of underwater photographer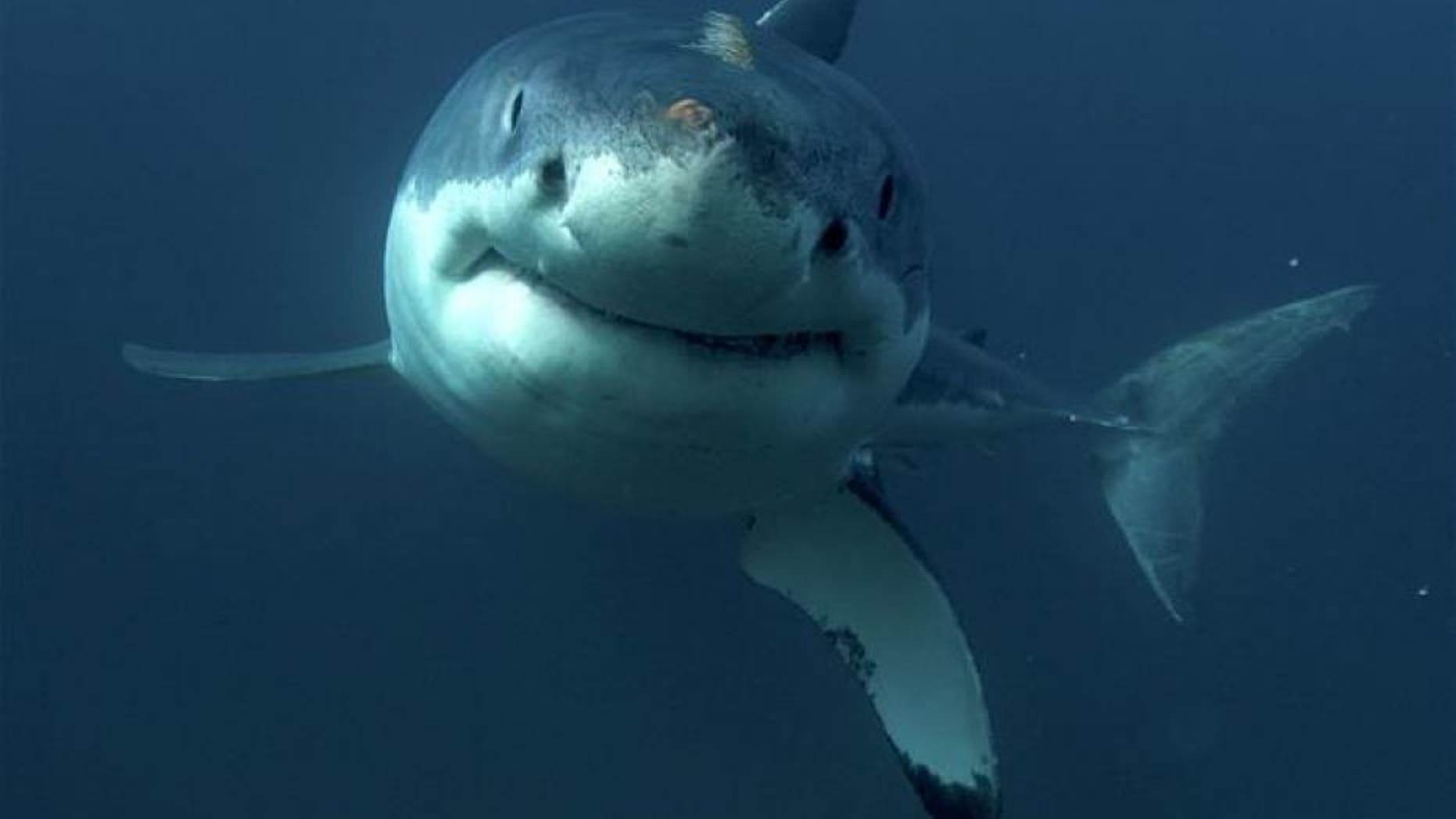 An underwater photographer had a terrifying — yet breathtaking — view of a 16-foot great white shark in the Stellwagen Bank National Marine Sanctuary off the coast of Massachusetts this week.
Photographer Keith Ellenbogen was freediving in the ocean, roughly 25 miles out from Boston, while capturing images of marine life for the National Oceanic and Atmospheric Administration when a very large guest paid him a surprise visit.
Initially, Ellenbogen and his camera were reportedly focused on a humpback whale swimming nearby. But suddenly, he spotted a large shadow swimming toward him. He turned, and shot footage of what he soon found out was a great white shark.
GREAT WHITE SHARK KILLS DOLPHIN, LOSES MEAL TO EVEN BIGGER SHARK
"I came so close that I was about an arm's length away from the shark and it made this really strong eye contact that was unmistakable of a registration of knowing me and me knowing it and we just swam past each other in perfect harmony," Ellenbogen told WBZ Boston.
A 360-degree video of the encounter shows a close-up of the great white's face as it swims just inches past the lens.
The Atlantic White Shark Conservancy posted the 15-second footage on Facebook, garnering nearly 25,000 views as of Friday evening. Hundreds of shark enthusiasts reacted to the video.
20-FOOT SHARK SURPRISES COAST GUARD CREW OFF MAINE COAST: 'IT'S REAL LIFE JAWS'
"Didn't he hear the music when he was approaching?" one Facebook user asked.
"It is video footage like this that will help dispel the notion that these sharks are mindless maneaters. Instead we are starting to realize that they are curious and highly intelligent. That's a once in a lifetime experience where the shark was not baited and thus was super chill. Amazing footage!!" another wrote.
"Humans are friends not food! 😀 What an amazing experience!" one woman commented.
Great white sharks can grow up to 20 feet long and weigh up to 2.5 tons, making them the largest predatory fish to roam the sea, according to National Geographic. But they're not as lethal as you might imagine.
"Of the 100-plus annual shark attacks worldwide, fully one-third to one-half are attributable to great whites," National Geographic reports. "However, most of these are not fatal, and new research finds that great whites, who are naturally curious, are 'sample biting' then releasing their victims rather than preying on humans."