10 year-old trips into million-year-old fossil discovery in New Mexico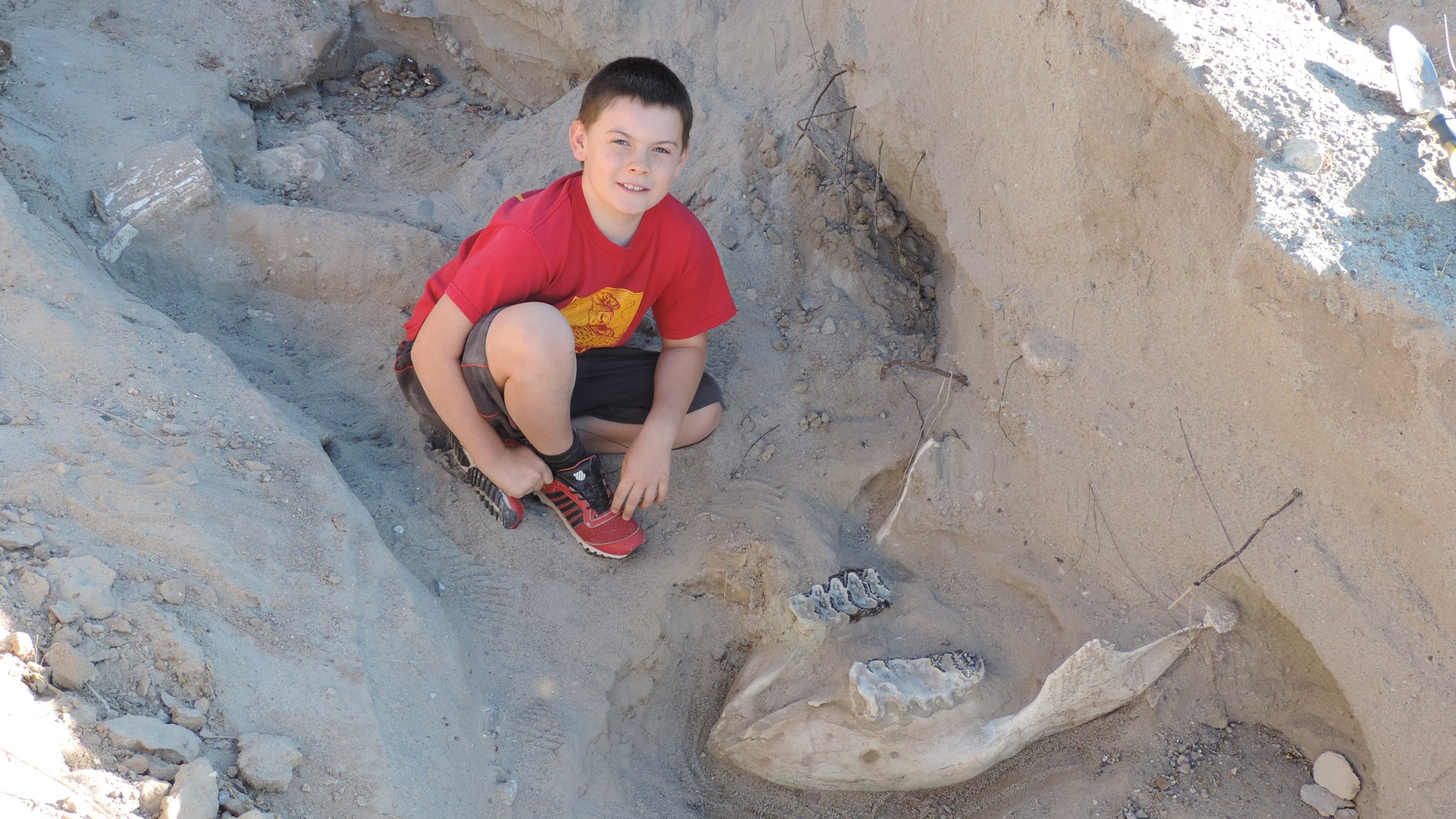 A family outing turned into a major archaeological discovery by one New Mexico 10-year-old who literally stumbled on a million-year-old fossil.
Jude Sparks was hiking the rugged New Mexico desert some five miles east of Las Cruces by the majestic Organ Mountains in November with his parents Kyle and Michelle and brothers, Hunter,8 and Rhett, 5.
Jude said he and his brothers were checking their hand-held radios when he tripped on something.
"I tripped on the bottom of the tusk and fell flat on my face," Jude told Fox News.
LOCH NESS MONSTER REDUX? 'DINOSAUR-LIKE-CREATURE' REPORTEDLY SPOTTED IN NORTH CAROLINA LAKE
When he turned his head he was looking directly at part of what looked like a jaw bone. "It looked like large chunks of bone."
Dusting himself off Jude quickly called Hunter who was nearer to the parents to come over to check out what he found.
The boys originally thought it looked like a large dark cow skull but when Kyle and Michelle arrived they knew it was something much more relevant than what is typically found in the desert.
Kyle said when he returned home he called Peter Houde, professor of Biology at nearby New Mexico State University.
ANCIENT LAND-DWELLING CROCODILE HAD T. REX SIZED TEETH, STUDY SHOWS
When Houde arrived at the site he was amazed at what young Jude tripped on.
"I think this is only the second full Stegomastodon skull found in the state of New Mexico," Houde said.
There was another found at Elephant Butte State Park just north of Las Cruces about two years ago.
"That one lacks the jaw and it appears the ends of both tusks were broken off," Houde told Fox News. "Ours includes the jaw but is missing one tusk so far - we may find it yet."
DINO EXTINCTION ALLOWED FROGS TO CONQUER THE PLANET
According to Houde, there are only three nearly full Cuvieronius skulls, all of which were found in Bolivia in the early 1900's. He says this recent discovery is the most complete.
"Intact skulls of both of these are extremely rare and we've had unprecedented luck in obtaining the two," Houde said of New Mexico's unearthed prehistoric past.
He surmises the fossil Jude tripped over was unearthed by recent rains in the region but never the less, the irony of a youngster tripping over such a historic find while playing with his brothers is inescapable.
Houde said these mammoth animals are a primitive group of proboscideans ('elephantoids') from which modern elephants evolved. The recent discoveries are late-comers that were not ancestral to anything.
THE RISE OF THE DINOSAURS MAY HAVE BEEN CAUSED BY VOLCANOES, NEW STUDY FINDS
"Ours would look pretty much just like modern elephants if they were alive today although the Cuvieronius had spiral tusks," Houde said.  "Their legs might be a bit stubbier, but the main difference from elephants is in their molar teeth, reflecting a diet more based on browsing than that of modern elephants."
Fossils of these animals exist especially in the southern United States, down through Central America, and in some cases into South America, but they are pretty universally represented by very scrappy bits of bone, teeth or tusks.
"They simply break into small bits as they weather out of the sediment before they are found. The preservation of ours is truly unusual, but a great deal of that may be due to the fact that we were able to locate them while they were still deep underground," Houde said.
Houde said the fossil is in remarkably good shape. The exposure through the dirt did a little damage to a tusk, but nothing that can't fix. The fact that the jaw and skull were found next to one another suggests that there could be, or could have been, other parts of the skeleton preserved not far away.
THE SUN MAY HAVE HAD AN 'EVIL TWIN' THAT WIPED OUT THE DINOSAURS
Part of the delay in releasing information on the find was obtaining permission from the landowner to excavate the site. Kyle said the university requested they did not release any information until all of the pieces were in place which wasn't until just recently.
Kyle said there was quite a bit of logistical coordination involved. He said he and Houde decided to cover the specimen with dirt until approval could be obtained.
"We intend to look but we will not be allowed by the land owner to dig willy-nilly without good geological information about where we will likely be successful," Houde said.  "I'm waiting for our geologists to return from summer field schools to look into it."
Houde said he isn't very optimistic, saying bones get scattered far and wide and even if they were only 5-10 feet apart that would entail a lot of earth moving given the topography of this location.
FOLLOW FOX NEWS TECH ON FACEBOOK
But for one little boy, he has a summer memory that will last a lifetime.
"It's amazing God chose us to find this," he said.
Michelle said that the structure of Jude's homeschooling program is part of a co-op that will allow him to share is exploits whit his peers who have already been calling wanting to know about the bone.
Correction: This story has been corrected to clarify that the fossil was not from a dinosaur.