With Tea Party Support , Angle Scores in Nevada GOP Senate Primary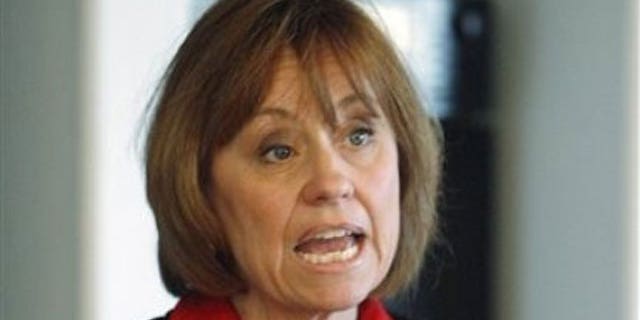 The Tea Party movement flexed its muscle Tuesday, powering former Nevada state lawmaker Sharron Angle to victory in the state's Republican U.S. Senate primary and launching her into a high-stakes November showdown against Democrat Harry Reid, the vulnerable Senate majority leader.
With 59 of precincts reporting, Angle won 39 percent of the vote. Her Republican challengers, former state lawmaker Sue Lowden and real estate owner Danny Tarkanian, secured 28 and 23 percent of the vote, respectively.
"We have completed the first step to taking back our U.S. senate seat," Angle told supporters, stressing the word "our." "We need to say to Harry Reid, you have failed and you are fired."
The three Republican candidates had competed for backing of the anti-incumbent Tea Party movement to give their candidacies a boost in Nevada, where Reid's approval rating has plummeted to 35 percent, according to a recent poll.
The Tea Party Express, one of the most visible factions of the grassroots conservative movement, officially endorsed Angle on April 15. The group, sponsored by the California-based Our Country Deserves Better PAC, has so far spent $550,000 promoting Angle's candidacy -- catapulting her approval rating from a mere 5 percent in early April to double digits.
"Sharron Angle earned our endorsement because she embodies the tea party message of financial sanity and empowering small and local businesses to thrive," Levi Russell, communications director for the Tea Party Express, told FoxNews.com. "We believe there is no question that the people of Nevada and of the entire nation will rally behind her and help send Harry back home to Searchlight."
Angle, known as a conservative renegade in Carson City, wants to phase out Social Security for younger workers, dissolve the Education Department and repeal the 16th Amendment that established the federal income tax.
"I am the Tea Party," she says.
Tarkanian, a real estate developer whose father is a well-known former college basketball coach, also had support from a Tea Party group, Tennessee-based Tea Party Nation. Tarkanian has scoffed at Angle's Tea Party Express endorsement, saying it did not represent the anti-establishment and constitutionalist movement.
"It's not the Tea Party," Tarkanian told Fox News, describing the Tea Party Express as a "California-based consulting group that gets paid to run TV commercials."
Lowden, a former Nevada state senator and casino owner, began her campaign leading in the three-way race. But comments made by Lowden at an April 6 town hall meeting in Mesquite, Nev., in which she advocated a barter system for medical care, likely damaged her candidacy.
Reid, meanwhile, easily overpowered a field of little-known Democratic challengers Tuesday to win the party's nomination for a fifth, six-year term.
Polls suggest Angle may face a tough battle against Reid. A Mason Dixon poll, conducted for the Las Vegas-Review Journal May 24 to 26, found Angle trailing Reid, 39 to 42 percent. But a later Mason Dixon poll, conducted June 1 to 3, found her beating him, 44 to 41 percent.
In states races, meanwhile, Nevada Gov. Jim Gibbons was thrown out of office after a tumultuous term that was marred by a bitter divorce and allegations of infidelities.
The first-term Republican lost the GOP primary Tuesday to former federal judge Brian Sandoval. Rory Reid won the Democratic primary, earning a spot at the top of the ballot next to his senator father.
Gibbons is the latest incumbent to be ousted this election year. But his woes had more to do with his own problems than anti-incumbent rage prevalent in other states.
In addition to the divorce and allegations of affairs, Gibbons has led a hard-line drumbeat against taxes and the federal government that alienated even members of his own party. Making matters worse for Gibbons was Nevada's abysmal economy.
Fox News' Carl Cameron and Cristina Corbin and the Associated Press contributed to this report