Wisconsin Governor to Missing Democrats: Do Your Job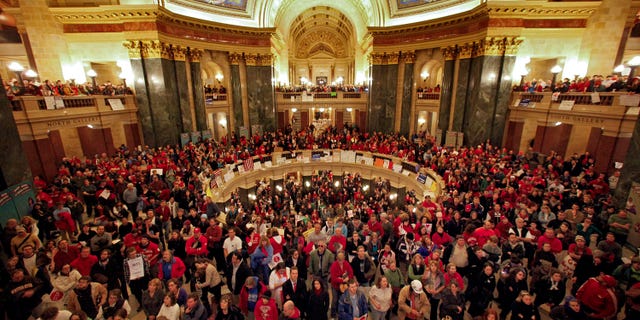 Wisconsin Gov. Scott Walker, a Republican, called on the 14 Senate Democrats who fled the state instead of voting on a controversial anti-union bill, to return and do their jobs.
The boycott forced the state Senate to adjourn for the day without a vote on the bill.
At a news conference Thursday afternoon, Walker said he's willing to talk to the senators who want to force Walker and GOP lawmakers to negotiate revisions to the bill, which would strip most public employees of their collective-bargaining rights.
"I'm going to tell them they get paid to come to work, and they should be coming to work," he told reporters.
Walker went "On The Record" with Fox News' Greta Van Susteren Thursday night and reiterated his appeal for the senators to return to Wisconsin.
"Democracy doesn't come by hiding out in another state," he said. "I made a personal appeal for all the senators to come back."
In a statement he released earlier, Walker, who just took office last month, said the actions of the lawmakers were "disrespectful to the hundreds of thousands of public employees who showed up to work today and the millions of taxpayers they represent."
A local NBC station reported that the senators are staying in the Best Western Clock Tower Resort in Rockford, Ill. But a receptionist refused to confirm or deny to FoxNews.com that the senators were there before hanging up.
Senate Republicans hold a 19-14 majority but can't vote on the bill unless at least one Democrat is present.
"It's kind of unbelievable that they're elected to do a job and they wouldn't show up to do it," Republican state Assembly Speaker Jeff Fitzgerald told Fox News.
Fitzgerald said the boycott may force the State Assembly to vote first on the bill.
"This isn't something I've ever seen in the state of Wisconsin," he said. "It's a very volatile situation right now but those people were elected to do a job and unfortunately they're not doing it. They're not representing the people of their district."
The bill has sparked a storm of protest for three days. Teachers marching at Wisconsin's Capitol Building in Madison shut down schools for a second day Thursday so they could demand collective bargaining rights that they say are essential to keeping kids in school.
Dozens of schools closed as a result of high absences as thousands of protesters, including students and teachers, marched on the Capitol building to demand state lawmakers strike down a bill that would require union concessions worth $30 million by July 1 and $300 million over the next two years.
The Democratic National Committee's Organizing for America said it is playing an active role in organizing protests against the bill.
The bill, which also bans collective bargaining rights for teachers, requires educators to contribute 5.8 percent to their pensions and 12.6 percent to their health care. Currently, educators pay 0.2 percent for their pensions and 4 to 6 percent of their health care costs.
"Our goal is not to close schools, but to instead to remain vigilant in our efforts to be heard," said Mary Bell, president of the 98,000-strong Wisconsin Education Association Council.
State lawmakers proposed the legislation as part of an effort to close a $3.6 billion budget gap, and say they expect it to pass and eventually reach the desk of Walker.
But Michael Langyel, head of the Milwaukee Teachers Education Association, said Walker and Republican lawmakers are asking public employees to give up more than everyone else.
"If people say the only way to solve this budget crisis is to take away from people who are working hard, they are wrong. We believe that we have a right to have a fair wage for our hard work. More importantly, the collective bargaining process allows us to positively impact school policy issues. We are the advocates for our students, and we will maintain our voice in defending our students," he told Fox News.
Langyel added that if Walker wants to balance the budget, he should force his friends to pay more.
"There are many people who support the governor who contribute nothing and pay nothing and are not contributing. This is the time to have fair taxation in the state of Wisconsin, where the friends of the governors do not get a free ride and the hard-working people have to carry the extra burden," he said.
Speaking Wednesday to WTMJ4 in Milwaukee, President Obama weighed into the debate, saying that making it harder for public employees to collectively bargain "seems like more of an assault on unions."
"I think it is very important for us to understand that public employees, they're our neighbors, they're our friends," he said. "These are folks who are teachers and they're firefighters and they're social workers and they're police officers."
It is important "not to vilify them or to suggest that somehow all these budget problems are due to public employees," Obama said.
Education Secretary Arne Duncan told Fox News on Thursday that he is "troubled by the current climate" but was hopeful for a good resolution. He added that everyone is going to have to compromise even as teachers perform "Herculean" work.
"We have to work together with them to give every child a chance for a great education and we need to work together and we need to prove outside the comfort zone but to vilify one group or demonize one group doesn't move us as a country that we need to go," Duncan said.
But Walker said the demands on public employees are "modest" compared with those in the private sector, and are meant to prevent a shutdown, which could result in 6,000 state workers not getting paid.
"We're at a point of crisis," the governor said, adding that he would call out the National Guard if needed to keep state operations, including prisons, running.
According to the Bureau of Labor Statistics, in 2008, the average salary for an elementary school teacher was $51, 240 while middle school educators earned $50,950 and high school teachers earned $49, 400.
Wisconsin's measure would end collective bargaining for state, county and local workers, except for police, firefighters and the state patrol. Unions still could represent workers, but could not seek pay increases above those pegged to the Consumer Price Index unless approved by a public referendum. Unions also could not force employees to pay dues and would have to hold annual votes to stay organized.
Republican-backed changes to the bill made by the state's Senate budget committee Wednesday would extend a grievance procedure to public workers who don't have one and require more oversight and put a deadline on changes.
Fitzgerald said despite the heated debate, and individual threats against lawmakers, the majority of Wisconsin residents approve of the bill.
"Although the protesters have been very rowdy, very one sided on what legislators are hearing, there's a silent majority out there that spoke on November 2, said, you know, we have to (head the state) in the right direction to put our fiscal house in order. So that's what we're going to do. It's very difficult but you know that's what we're set out to do and hopefully."
The Associated Press contributed to this report.