Kasich Apologizes to Traffic Cop for Calling Him an 'Idiot'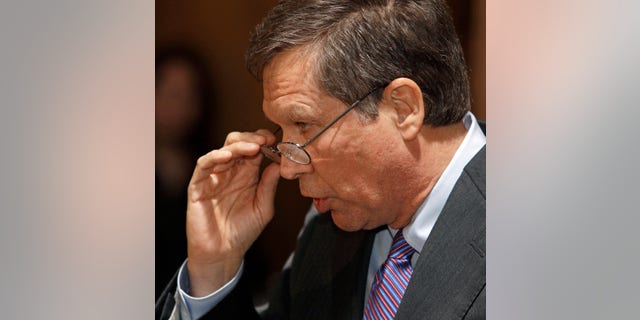 Ohio Gov. John Kasich on Thursday personally apologized to the police officer he repeatedly called an idiot last month for pulling him over in a traffic stop three years ago.
"Today Gov. Kasich met with Officer [Robert] Barrett and apologized and that apology was graciously accepted," Kasich spokesman Rob Nichols said in a statement to FoxNews.com. It was a friendly meeting during which the governor reiterated his support for law enforcement officers and for the dangerous and important work they do."
The apology came after public unions seized on the insult as ammunition in their fight against a bill to strip them of their collective bargaining rights.
Critics distributed a video of Kasich at the Ohio Environmental Protection Agency in January describing a 2008 stop along a state highway in which he was cited for passing too close to an emergency vehicle.
Barrett, told Kasich he'd face an arrest warrant if he didn't show up in court.
"He's an idiot," Kasich said. "You just can't act that way."
Kasich apologized to Barrett in a private meeting on Thursday. Jim Gilbert, head of the Fraternal Order of Police, told the Columbus Dispatch that Barrett requested the meeting after Kasich tried to contact him by phone Wednesday night.
But critics of Kasich, including the Ohio Democratic Party and Fraternal Order of Police, say the insult disrespects union workers and proves he doesn't care about safety officers.
"I never thought I'd see the day when a governor of this great state would call a police officer an 'idiot' for simply doing his job," Ohio Democratic Party Chairman Chris Redfern said in a statement. "Even worse, he wants to eliminate the right of law enforcement workers to collectively bargain to provide a better life for their families."
"His behavior is unbecoming of a governor of this state, and he should immediately apologize to all law enforcement officers for disparaging the work they do on behalf of the people of Ohio," he added.
Kasich rejects the notion that his insult proves he doesn't respect safety officers.
"The governor, of course, respects the important work of law enforcement officers and regrets his poor choice of words in describing his frustration in receiving a ticket," Kasich spokesman Rob Nichols said in a statement obtained MyFox28 in Columbus, Ohio. "The point of the governor's remarks to Ohio EPA employees was to stress that all public employees must provide better, more response service to taxpayers."
Kasich has said union labor costs must be reined in as his state faces an estimated $8 billion deficit. The governor has expressed support for a Senate bill that would strip unions of collective bargaining rights and replace negotiated salary schedules with merit raises. But he has hinted that he might offer his own plan that could go even further, including banning public employee strikes.