Who is TS Ellis? A look at the judge in the Manafort, Mueller case
The federal judge presiding over Paul Manafort's case has rebuked Special Counsel Robert Mueller's investigation and chastised lawyers on both teams for behavior in the courtroom.
U.S. District Judge T.S. Ellis III has said he hopes "to finish this case much sooner than anyone predicted." Manafort faces tax and bank fraud-related charges for work unrelated to the Trump campaign.
Attorneys on both sides got the brunt of Ellis' criticism after lawyers were caught rolling their eyes in response to his rulings or after stepping back from the bench.
"Rein in your facial expressions," Ellis admonished.
MUELLER PROSECUTORS REBUKED REPEATEDLY BY TRIAL JUDGE WITH A HISTORY OF COLORFUL RULINGS
As Manafort's trial progresses – and Ellis continues to make headlines – read on for a look at the judge's background.
He took over the Manafort case in March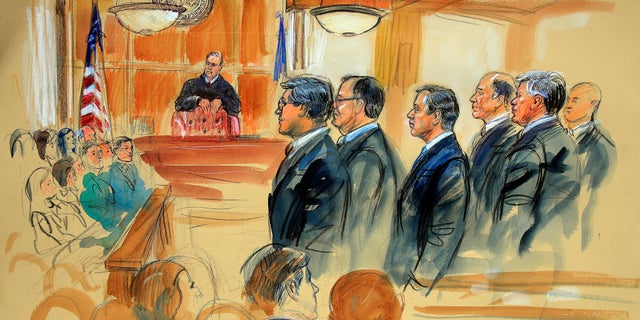 Based in Alexandria, Virginia, Ellis began to preside over an indictment against Manafort in March.
At the time, he suggested Manafort faced "the very real possibility of spending the rest of his life in prison." He also said Manafort "poses a substantial flight risk" due to his "financial means and international connections to flee and remain at large."
Throughout the trial thus far, the 78-year-old judge has criticized Mueller's team for attempting to introduce evidence regarding Manafort's "lavish" spending habits.
DAY ONE TRIAL RECAP: PROSECUTION CALLS FIRST WITNESS, WHO PRAISES MANAFORT'S WORK ETHIC
"Enough is enough. We don't convict people because they have a lot of money and throw it around," Ellis told prosecutors.
Additionally, Ellis interjected during the prosecutors' opening statement to remind jurors that wealth alone is not criminal, and he rebuked a prosecutor in front of the jury for saying "evidence will show" Manafort is guilty.
"It isn't a crime to have a lot of money and be profligate in your spending," Ellis said.
He also interrupted a defense attorney, prompting him to give evidence of Manafort's efforts to improve American international political outreach on the spot.
Before the case even began, Ellis accused Mueller's team of trying to take down Trump and seeking "unfettered power" in the investigation.
"You don't really care about Mr. Manafort," Ellis told Mueller's team during the preliminary hearing in May. "You really care about what information Mr. Manafort can give you to lead you to Mr. Trump and an impeachment, or whatever."
Ellis was appointed to the federal bench by Reagan
Former President Ronald Reagan appointed Ellis to the federal bench in 1987 and was confirmed by the Senate that same year.
He garnered senior status in 2007, according to the Federal Judicial Center.
His past cases include the 'American Taliban'
Ellis sentenced John Walker Lindh, who was then 21 years old, to 20 years in prison after he pleaded guilty to charges related to his activity with the Taliban in Afghanistan. Lindh, from California, told the judge he provided "services as a soldier to the Taliban ... and in the course of doing so [he] carried a rifle and two grenades."
The judge also threw out a case in 2006 involving a German citizen who alleged he was taken and beaten by the CIA. Ellis rejected the suit, not necessarily because of the validity of the allegations, but because of national security.
"In times of war, our country, chiefly through the executive branch, must often take exceptional steps to thwart the enemy," Ellis said.
He served in the Navy
Ellis served in the U.S. Navy from 1961 to 1966, according to the Federal Judicial Center.
Born in Bogota, Colombia, Ellis graduated from Princeton University before getting his J.D. from the Harvard School of Law. He also studied law at the University of Oxford Faculty of Law.
Fox News' Jake Gibson, Gregg Re and Brooke Singman contributed to this report.