Who is Maria Butina, the Russian woman accused of spying on US?
NEWYou can now listen to Fox News articles!
A 29-year-old Russian woman accused of working as a covert spy while in the U.S. on a student visa remains behind bars.
Maria Butina, a Russian national, was arrested in July and is accused of attempting to infiltrate multiple organizations in the U.S. at the direction of an unnamed senior Kremlin official. She has pleaded not guilty to the allegations but remains in jail as prosecutors argued she could be considered a flight risk.
Butina has connections to a longtime GOP operative as well as the National Rifle Association (NRA). She also asked President Trump a question about the United States' relationship with Russia when he was just a presidential candidate.
Read on for a summary of Butina and the allegations against her.
So who is she?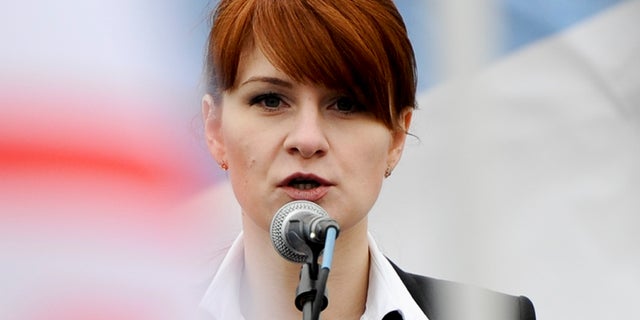 Butina is a suspected covert Russian spy. She is a Russian national who was in the U.S. on a student visa, enrolled at American University in Washington, D.C. She received her graduate degree from the university in May.
She's known for her pro-gun activism and founded a Russian gun rights group in Moscow.
The 29-year-old grew up in a modest apartment building in the Siberian city of Barnaul, closer to the Mongolian and Kazakh borders than Moscow.
She developed an interest in high-level politics after she attended a special camp for young political hopefuls run by the pro-Kremlin United Russia party, Konstantin Emeshin, founder of the School of Real Politics in Barnaul, told The Associated Press. Butina received her first degree from that school.
Why was she arrested?
Butina was arrested on July 15 on suspicions she was in the U.S. acting as a covert foreign agent for Russia. She is accused of attempting to infiltrate multiple organizations in the U.S. at the direction of an unnamed senior Kremlin official in a years-long campaign.
WHAT TO KNOW ABOUT THE RUSSIA INVESTIGATION
She "gained access" to "an extensive network of U.S. persons in positions to influence political activities in the United States" by living with and having a personal relationship with another individual," according to court documents.
She also allegedly offered sex to someone "in exchange for a position within a special interest organization." Court records did not name these people.
Prosecutors said the FBI has evidence Butina has corresponded with Russian intelligence operatives. She also had contact information of people involved with Russia's FSB, the main successor agency to the former KGB, prosecutors said.
Butina was compared to Anna Chapman, the Russian spy who was arrested in 2010 and eventually deported, by Russian officials in text messages, prosecutors added.
WHO HAS BEEN CHARGED IN THE RUSSIA INVESTIGATION SO FAR?
Her arrest is not part of Special Counsel Robert Mueller's investigation into Russian collusion in the 2016 election and potential collaboration with the Trump campaign.
What is her connection to Republicans?
Butina accompanied Paul Erickson, a longtime Republican operative, to Trump's inauguration in January 2017.
Butina once asked Trump, then a presidential candidate, about his foreign policy platform, particularly how he would view a relationship between Russia and the U.S. if elected. She was able to ask him a question during a 2015 town hall.
"I believe I would get along very nicely with [Russian President Vladimir] Putin," Trump told her.
She met Donald Trump Jr., the president's eldest son, at a 2016 NRA convention, The Washington Post reported.
RUSSIAN WOMAN LINKED TO GUN-RIGHTS GROUPS CHARGED WITH ACTING AS COVERT AGENT IN US
She regularly interacted with members of the NRA and attended events and conventions, according to a court affidavit. She also hosted NRA executives and gun activists in Moscow, including one delegation that included former Sheriff David Clarke of Milwaukee County, Wisconsin.
She was also photographed with Gov. Scott Walker, R-Wis., while at an NRA meeting in 2015 in Tennessee. Walker denied having an actual sit-down meeting with Butina.
"As we go to events, we meet people, they introduce themselves, often they ask for a picture," Walker told reporters, according to the Milwaukee Journal Sentinel. "And that's not a meeting. A meeting is where you sit down in a room and have a discussion."
She's also been photographed with former Louisiana Gov. Bobby Jindal and former Pennsylvania Sen. Rick Santorum.
What's going on with her case now?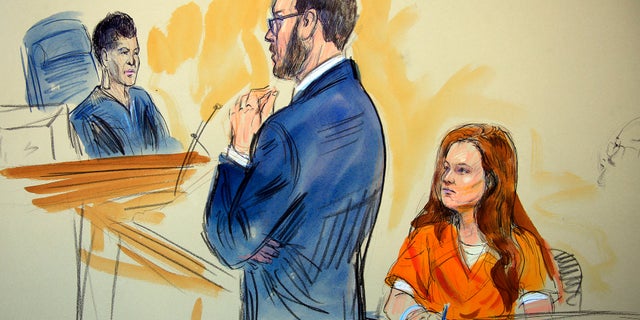 Butina pleaded not guilty on July 18, but she remains in prison awaiting trial. Prosecutors said Butina appeared to have plans to leave Washington, D.C. at the time of her arrest — as her possessions were packed away in boxes and the lease on her apartment was nearly up.
Her attorney, Robert Driscoll, has denied Butina is a spy and said she's just a "young student seeking to make her way in America."
Consular officials plan to meet with Butina in jail, the Russian Embassy said in a Facebook post.
Fox News' Alex Pappas and The Associated Press contributed to this report.