White House: Social Secretary Will Not Testify in Gate-Crashing Probe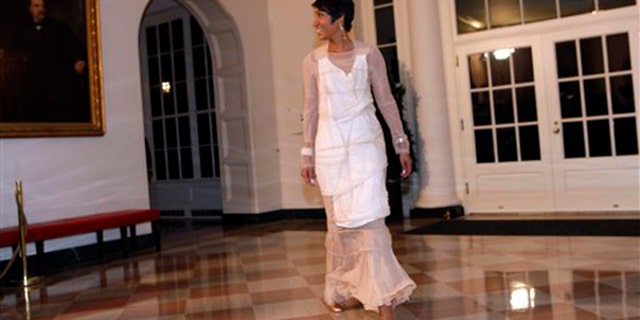 The Obama administration's social secretary will not testify at a congressional hearing into the security lapse that allowed a Virginia couple to crash last week's state dinner, the White House said Wednesday.
Press secretary Robert Gibbs said Desiree Rogers will not testify before the House Homeland Security Committee, which is probing how aspiring reality TV stars Michaele and Tareq Salahi gained entry into the dinner honoring the Indian prime minister.
"Staff does not go to testify," Gibbs told reporters during an afternoon briefing, citing the separation of powers and a history of White House staff not testifying before Congress. He did not answer repeated questions about Rogers' performance as social secretary.
The House panel has scheduled a hearing for Thursday, and Rogers has been invited to testify.
Rep. Bennie Thompson, D-Miss., chairman of the panel, said Rogers' testimony would provide a "layer" to the story, but added that he isn't upset about her absence because Rogers was called by Republicans to testify.
Thompson also said it's unknown whether the Salahis will testify.
The Secret Service has acknowledged that the Salahis got into the Nov. 24 dinner because its security procedures at a checkpoint were not followed. Rogers has said that no one from her office was at the checkpoint to help identify guests.
New York Rep. Pete King, the top Republican on the Homeland Security Committee, was quick to respond to Gibbs' remarks on Wednesday, saying it is "indefensible" that Rogers will not testify.
"It's a needless confrontation. Why are they stonewalling?" King told Fox News.
The Salahis, meanwhile, admitted to Michele Jones, a Pentagon official who tried to get them on the guest list, that they went without a confirmed invitation -- just in case they got approved at the last minute. They said a dead cell phone battery prevented them from hearing a voicemail earlier that day advising them they did not make the list.
A collection of e-mails between the Salahis and Jones was obtained Tuesday night by The Associated Press from a source who got them in manner that confirmed their authenticity.
The Salahis wrote that they drove to the White House at 6:30 p.m. "to just check in, in case it got approved since we didn't know, and our name was indeed on the list!" The Secret Service has said they weren't on that list and that it erred by letting them in.
Last week's White House gate caper has captivated a capital where high-end social life and celebrity eruptions frequently enliven the day-to-day business of governing. President Obama and first lady Michelle Obama are described as angry.
On Wednesday, the administration made one change to its practices for invitation-only events: The White House social office will go back to making sure that one of its staff members will be present at the gate to help the Secret Service if questions come up, the White House announced on its blog.
"After reviewing our actions, it is clear that the White House did not do everything we could have done to assist the United States Secret Service in ensuring that only invited guests enter the complex," the blog read.
"White House staff were walking back and forth outside between the check points helping guests and were available to the Secret Service throughout the evening, but clearly we can do more, and we will do more," the blog added.
The first lady's communication director, Camille Johnston, maintained that this has been an existing policy, but the White House and Secret Service have said that no such person was present last week as guests arrived for the dinner. Secret Service spokesman Malcolm Wiley said the plan for the dinner did not call for a social office employee to be at the gate, and that agents didn't call the office to ask for assistance or clarification.
The Associated Press contributed to this report.