The White House was silent this week when asked about resurfaced social media posts from one of the administration's top communications officials.
The White House didn't respond to requests for comment from Fox News Digital on Friday, asking whether it had any comment or response to past social media posts from Tyler Cherry, the Department of the Interior's principal deputy communications director and senior spokesperson. Cherry has taken to X, the platform formerly known as Twitter, to blast law enforcement as white supremacy and boost "Russiagate."
"Praying for #Baltimore, but praying even harder for an end to a capitalistic police state motivated by explicit and implicit racial biases," Cherry posted in 2015 amid riots that were sparked following the death of Freddie Gray, a Black man, in police custody in Baltimore.
"Apt (sic.) time to recall that the modern day police system is a direct evolution of slave patrols and lynch mobs," he stated in a separate post months later.
POLICE FIND FEMALE DESIGNER'S STOLEN CLOTHES IN EX-BIDEN OFFICIAL SAM BRINTON'S HOME
Cherry also added in another post that police were equivalent to "slave patrols" and voter identification laws are a modern version of poll taxes that were implemented to prevent Black people from voting in the late 1800s and early 1900s.
In November 2016, Cherry responded to former Fox News host Bill O'Reilly's statement that "there is no substantial white power movement in this country." In response, Cherry said "WRONG."
NON-BINARY EX-BIDEN OFFICIAL SAM BRINTON WAS ON SECRET TAXPAYER-FUNDED TRIP AT TIME OF LUGGAGE THEFT
He also said in 2017 that conservatives in the Republican Party were focused on "white grievance politics."
"The Tea Party was never about the debt/deficit but about racism and white grievance politics," he wrote on X.
And in 2018, Cherry called for Immigration and Customs Enforcement, the Homeland Security Department agency tasked with preventing cross-border crime and illegal immigration, to be abolished.
Cherry also made multiple posts about the so-called Russia "scandal" during the Trump administration. After a multi-year investigation into whether former President Donald Trump and his associated conspired with Russia during the 2016 election, former Special Counsel Robert Mueller released a sprawling report in 2019 that largely acquitted the former president.
"At this point, how is everyone in the White House (Pence included) *not* complicit in the Russia scandal?," Cherry said in May 2017.
SAM BRINTON'S LATEST ARREST INVOLVES ALLEGED THEFT OF TANZANIAN FASHION DESIGNER'S CLOTHES, LAWYER SAYS
At one point he noted that the "intensity of Russiagate is all-consuming," but said it was important not to forget Trump "is letting a gay purge happen in #Chechnya." At the time, police in Chechnya, Russia, were cracking down on men thought to be gay or bisexual, according to Human Rights Watch.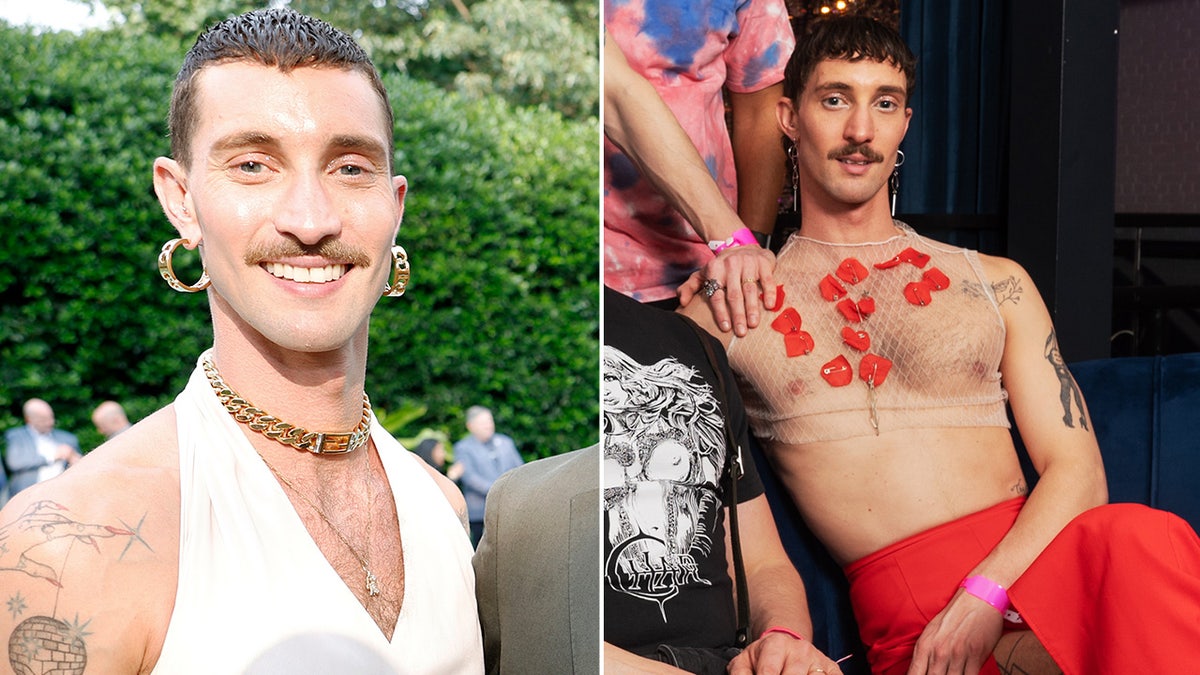 While it opted against commenting directly on Cherry's statements on social media, the White House did respond to what it characterized as personal attacks on Cherry.
"No one should be targeted simply for being themselves. It is cruel and unacceptable," a White House spokesperson told The Advocate, an LGBT-focused news outlet, on Friday. "This is an administration that believes to our core in the principle that out of many we are one — and we are proud that the people who serve in it reflect those values as well."
"Tyler is an invaluable member of our team who continues to deliver for the Department of Interior and the American people."
CLICK HERE TO GET THE FOX NEWS APP
Cherry, who has served at the Interior Department since early 2021, previously worked for President Biden's presidential campaign, left-wing consulting firm SKDK, and Media Matters for America, a progressive publication.
Cherry did not respond to a request for comment.