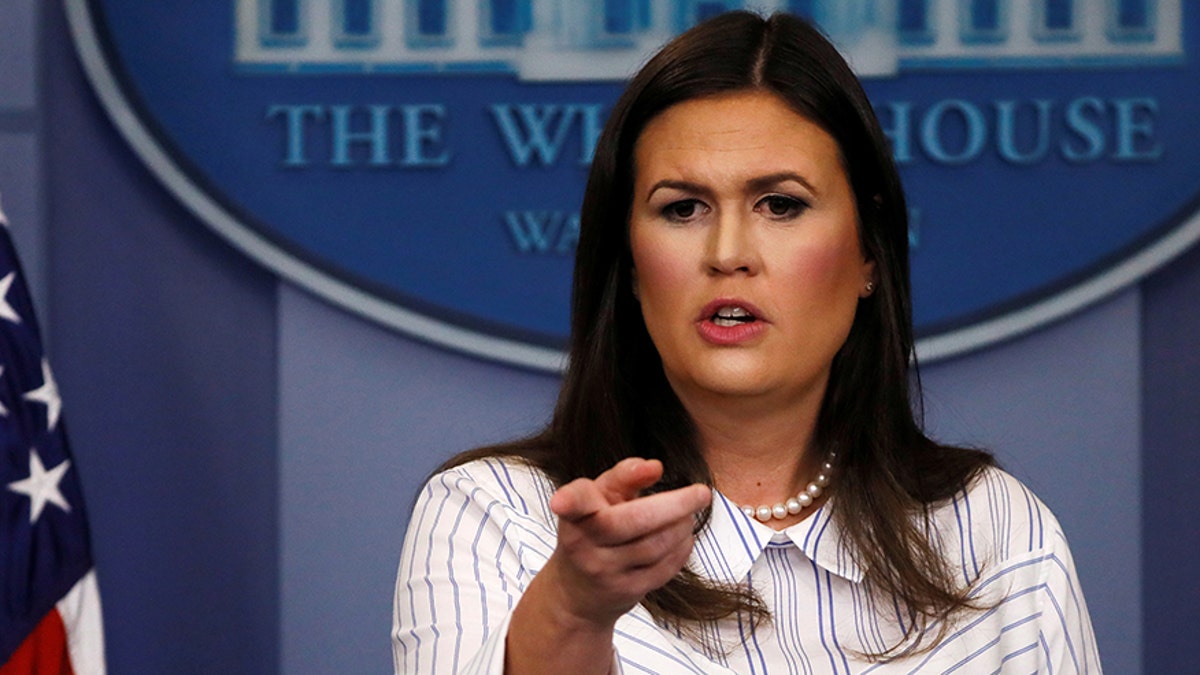 Los Angeles Times political columnist David Horsey body-shamed White House press secretary Sarah Huckabee Sanders in his latest anti-Trump hit piece, describing her as a "chunky soccer mom."
Horsey originally wrote Wednesday that Sanders "does not look like the kind of woman" that President Donald Trump would chose for the high-profile role, assuming he would prefer "sleek beauties with long legs and stiletto heels" who could pass for "arm candy" in addition to serving as the White House's top spokesperson.
The Times' two-time Pulitzer Prize-winning editorial cartoonist and columnist went on to mention that first daughter Ivanka Trump and first lady Melania Trump are closer to the "Barbie dolls in short, tight skirts" that he envisions Trump preferring at the press briefing podium on a regular basis.
"By comparison, Sanders looks more like a slightly chunky soccer mom who organizes snacks for the kids' games," Horsey wrote. "Rather than the fake eyelashes and formal dresses she puts on for news briefings, Sanders seems as if she'd be more comfortable in sweats and running shoes."
"Sanders looks more like a slightly chunky soccer mom who organizes snacks for the kids' games"
The L.A. Times columnist even offered an insulting, backhanded compliment.
"Yet, even if Trump privately wishes he had a supermodel for a press secretary, he is lucky to have Sanders," he wrote.
Sanders, who was promoted from deputy press secretary when Sean Spicer stepped down earlier this year, is the daughter of former Arkansas Gov. Mike Huckabee. She has been working in politics her entire adult life and is well respected among GOP insiders.
Back in 2010, well before landing a job in Trump's White House, Time named her one of its "40 under 40," a group of young civic leaders that the magazine considered "rising stars of American politics."
However, the Times columnist went on to call Sanders a liar, a "failure" and a "pro" at being ignorant. He also, in another recent column about the recent allegations of powerful men sexually harassing women, referred to Trump as a "sexually aggressive creep."
The Times' editorial board claims on its website to "feel a special obligation to defend civil liberties and human rights" and counts "extraordinary cultural diversity" among its "distinguishing strengths."
It's curious to think what Horsey, who is politically correct when it's convenient, would feel about fat-shaming Sanders on a day when it doesn't fit his anti-Trump agenda. It should be noted that Horsey doesn't only shame the appearance of females, as he has mocked Trump in cartoons, calling him a "bloated orange mess," among other things.
The L.A. Times and Horsey did not immediately respond to separate requests for comment.
Shortly after Fox News asked for comment, the Times removed all references to Sanders' appearance and added a note from Horsey.
"I want to apologize to Times readers – and to Sarah Huckabee Sanders -- for a description that was insensitive and failed to meet the standards of our newspaper. It also failed to meet the expectations I have for myself. It surely won't be my last mistake, but this particular error will be scrupulously avoided in my future commentaries. I've removed the offending description," he wrote.