White House: Obama Won't Be Democrats' 'Speech Police'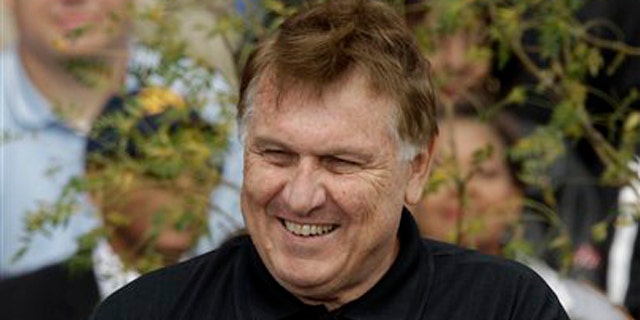 President Obama is not going to "serve as the speech police for the Democratic Party," one of Obama's top advisers said Wednesday when asked about White House silence in the face of violent rhetoric from Teamsters President James P. Hoffa.
Communications Director Dan Pfeiffer, declining to disavow Hoffa's remarks, told WMAL AM 630 in Washington, D.C., that it's a "parlor game" in Washington to pin everything a politician's supporters say on the politician.
"What everyone should do is make their best judgment of how they be civil," Pfeiffer told the radio station. "What I don't think makes sense is to distract from the major issues at hand to try to get everyone to go back and approve and disapprove of every single thing that every single person has said."
Pfeiffer was responding to questions about Hoffa's comments at a Labor Day rally in Michigan in which he introduced Obama by trying to stir up anger at Tea Party members.
"Everybody here has a vote," Hoffa told the audience. "If we go back and we keep the eye on the prize. Let's take these son-of-a-bitches out and give America back to America where we belong."
Tea Party Patriot leaders Mark Meckler and Jenny Beth Martin said in a joint statement Wednesday that the president's refusal to reject "obscenities and violent language" aimed at a group of people is a failure to lead, particularly after calling for civility in a highly touted speech following the January shooting of Rep. Gabrielle Giffords and nearly two-dozen others.
"This is clearly part of the president's Civility 2.0 program. Like Stimulus 2.0 or QE2 (quantitative easing), it is the opposite of what it appears to be," they said. "We will continue to call on the president and Democrats to stand against this type of violent and offensive rhetoric. But like our expectations for the president's upcoming jobs speech on Thursday, we won't be holding our breath expecting actual results."
Judson Phillips, head of Tea Party Nation, said he agrees with Pfeiffer, at least in part.
"He is not the speech police. He is the president. That is the problem. He is the president. He is not the president of part of America, he is president of all of America. Unfortunately, Obama does not realize that." Phillips said. "There is a point where a man who is president needs to step up, shed his partisan cape and be the president."