Hoffa Stands by 'S.O.B.' Remark Amid Tea Party Outcry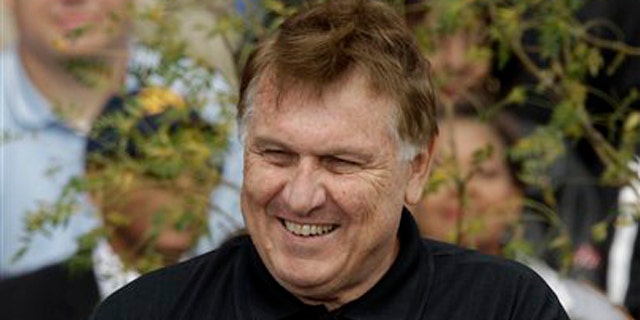 Teamsters President Jimmy Hoffa vowed on Tuesday that he will "never apologize" for standing up for American workers, even in the face of considerable criticism for a Labor Day speech in which he targeted Tea Party politicians and urged supporters to "take these son-of-a-bitches out."
In a defiant statement, Hoffa said corporate-backed conservatives have started a "war" that is destroying the middle class and that he was merely putting voice to that frustration. He said his comments have been misconstrued to suggest he was inciting violence, but said he was merely calling for Tea Party politicians to be voted out in 2012.
"We didn't start this war -- the right wing did," he said in a written statement. "We're tired of seeing good-paying jobs shipped overseas. This fight is about the economy, it's about jobs and it's about rebuilding America. As I said yesterday in Detroit, we all have to vote in order to take these anti-worker politicians out of office."
"I will never apologize for standing up for my fellow Teamsters and all American workers," he said.
Hoffa earlier described the upcoming election as a war at the rally in Detroit, as he warmed up the crowd before President Obama took the stage.
"President Obama, this is your army, we are ready to march," Hoffa said. "But everybody here's got to vote. If we go back, and keep the eye on the prize, let's take these son-of-a-bitches out and give America back to an America where we belong."
Tea Party groups and Republican candidates swiftly condemned Hoffa. The Tea Party Express called the comments "inexcusable," saying they amounted to "a call for violence on peaceful Tea Party members." The national group, along with Tea Party Nation, urged President Obama to condemn the remarks.
But White House Press Secretary Jay Carney stressed that Hoffa, not Obama, made the comment. He said it is a "Washington game" to play guilt-by-association, adding that Obama was not on stage at the time and the White House doesn't have any comment beyond that.
One of Hoffa's two opponents for the general presidency of the Teamsters, Sandy Pope, also told Fox News she sees no reason for Hoffa to apologize.
"I understand people want to tone things down," Pope told Fox News in a telephone interview, "but no one is following those rules right now."
Tea Party groups, though, were outraged.
"Lying attacks on the Tea Party movement have disturbingly increased in recent days. It is high time that elected leaders like President Obama were held accountable when their key supporters engage in harmful and divisive rhetoric," Tea Party Express Chairwoman Amy Kremer said in a statement. "We at Tea Party Express demand an immediate apology from Teamster President Jimmy Hoffa. We further urge President Obama to strongly rebuke Hoffa for his dangerous comments."
Asked about Hoffa's comments Tuesday, Democratic National Committee Chairwoman Debbie Wasserman Schultz declined to condemn them.
"I know you'd like to focus on language -- that's not what the American people are focused on," Wasserman Schultz told Fox News on Tuesday.
Wasserman Schultz, whose friend Rep. Gabrielle Giffords was shot in January, heightening calls for civil discourse, suggested the rhetoric was just as fiery at Tea Party rallies.
Click here to read more on Wasserman Schultz's response.
But Tea Party Nation founder Judson Phillips said that's not the case.
"We need to call them out on this. There is a myth that the Tea Party is the source of the heated rhetoric," he wrote on the group's website.
Republican presidential candidates Herman Cain and Texas Gov. Rick Perry also criticized Hoffa.
Asked about the rally on Fox News, Perry said he's focused on the ongoing Texas wildfires but said of Hoffa's remarks: "You wouldn't be bleeping it out if it was appropriate."