White House Condemns 'Brutal' Attacks in Israel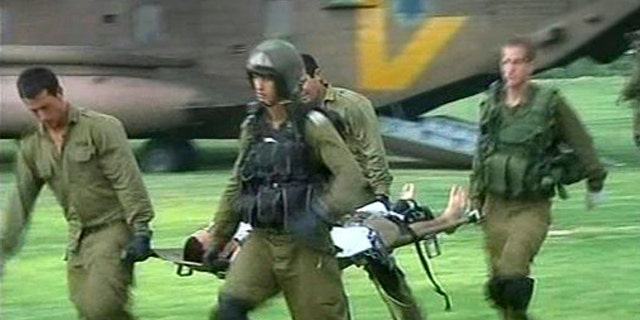 NEWYou can now listen to Fox News articles!
The White House on Thursday condemned the "brutal" attacks in Israel that so far have killed at least seven people.
The string of attacks started when gunmen crossed into southern Israel from Egypt and attacked Israeli soldiers, a passenger bus and another vehicle near the border.
"We condemn the brutal terrorist attacks in southern Israel today in the strongest terms," White House Press Secretary Jay Carney said in a statement. "Our deepest condolences go to the victims, their families and loved ones, and we wish those injured a speedy recovery. The U.S. and Israel stand united against terror and we hope that those behind this attack will be brought to justice swiftly."
Secretary of State Hillary Clinton also condemned the attacks, describing them as "cowardly ... acts of terrorism against innocent civilians."
"This violence only underscores our strong concerns about the security situation in the Sinai Peninsula," she said.
Rep. Ileana Ros-Lehtinen, R-Fla., chairwoman of the House Foreign Affairs Committee, said the attacks raise questions about the "ability and willingness" of the Egyptian government to secure its borders.
Israel responded to the attacks with an airstrike on a house in Gaza. Five militants, including one known to be manufacturing rockets, and a girl were killed in the strike.
"We are talking about a terror squad that infiltrated into Israel," Israeli military spokeswoman Lt. Col. Avital Leibovich said. "This is a combined terrorist attack against Israelis."
Israel almost immediately said the attackers came from the Hamas-ruled Gaza Strip and made their way through Sinai, which borders both Israel and Gaza. That raised the specter of an Israeli military reprisal against the Palestinian territory, though Egypt and Hamas denied the allegations.
The attacks, which came close together in time and location, appeared coordinated. It was the deadliest assault in Israel since a Palestinian gunman entered a religious seminary in Jerusalem in March 2008 and killed eight people before he was shot dead himself.
The Associated Press contributed to this report.