White House: 'Categorical' Decision Not to Release Bin Laden Photo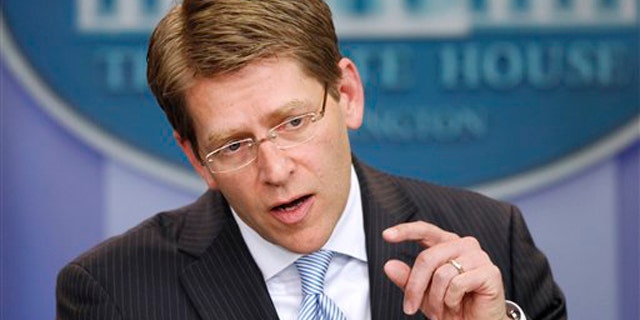 President Obama has made a "categorical" decision not to release any photos of Usama bin Laden's body, according to the White House, citing concern that doing so could inflame sentiment against Americans.
White House Press Secretary Jay Carney said Wednesday that the president consulted his national security team and ultimately decided it would be too risky to release any images of the body. Obama also determined the administration already had proved bin Laden is dead, he said.
"It is not in our national security interest to allow those images ... to become icons to rally opinion against the United States," Carney said. "There is no question at all that Usama bin Laden is dead. He will not walk this earth again."
Carney added that the decision not to release was "a majority opinion."
The president first revealed his decision during an interview with CBS News' "60 Minutes." Reading an excerpt from the interview, Carney said the president cautioned that such images could be used to incite violence or as a propaganda tool.
"We don't trot out this stuff as trophies. ... We don't need to spike the football," Obama said, according to Carney.
The announcement follows a charged debate, inside the administration and on Capitol Hill, on whether the risk might outweigh the benefit if any images or video are released showing bin Laden after he was fatally shot by U.S. forces.
Details emerging about the image suggest that it is, as the White House claimed, "gruesome." Fox News has learned that the image shows a large, open gunshot wound on bin Laden's forehead, revealing brain matter. A senior U.S. official who has had access to the images said one of bin Laden's eyes is open while the other is "completely gone."
Though CIA Director Leon Panetta predicted Tuesday that the Obama administration would "ultimately" release a photo, the pros and cons were still being weighed and the president apparently decided it would be too risky.
The president would have supporters in Congress in making that decision.
Rep. Mike Rogers, R-Mich., chairman of the intelligence committee, earlier put out a statement opposing the release. He told Fox News he's using a simple test -- if the release of the photo would make a village elder in Afghanistan less cooperative and less likely to snitch to U.S. troops about potential attacks, then he's against it.
Rogers argued that conspiracy theorists will never be satisfied anyway, telling Fox News that releasing the picture could make things more difficult for soldiers in the field without dispelling the bin Laden myths.
Rogers has seen the photos, according to a source, as have a number of other lawmakers.
But Sen. Lindsey Graham, R-S.C., said in a statement Wednesday afternoon that not releasing any images is a "mistake."
"I know bin Laden is dead. But the best way to protect and defend our interests overseas is to prove that fact to the rest of the world," he said. "I'm afraid the decision made today by President Obama will unnecessarily prolong this debate."
Sen. Kelly Ayotte, R-N.H., who has seen a photo of a dead bin Laden, disputed the notion the image is too gruesome for the public to see.
"Nobody wants to see a disturbing photograph, but for closure purposes, it should be released," she told Fox News. "We don't want to see conspiracy theories develop, particularly among the terrorists."
Ayotte has since said she is not sure the photo was authentic but still believes it should be released..
The decision, though, rested with the White House. Senior aides at the White House said there were lingering concerns and sensitivities involved in the decision on whether to release a photo.
ABC News reported earlier that Defense Secretary Robert Gates and Secretary of State Hillary Clinton specifically were telling Obama about the possible backlash against the United States if an image is released, raising doubts with the president about moving forward.
Sen. Saxby Chambliss, R-Ga., told Fox News that regardless of whether somebody in the administration makes an official decision to release an image, the image will likely get out at some point, potentially by leak.
"It's likely to happen at some point in time anyway," he told Fox News.