White House Budget Plan Leaves Little Room for Error, Economists Warn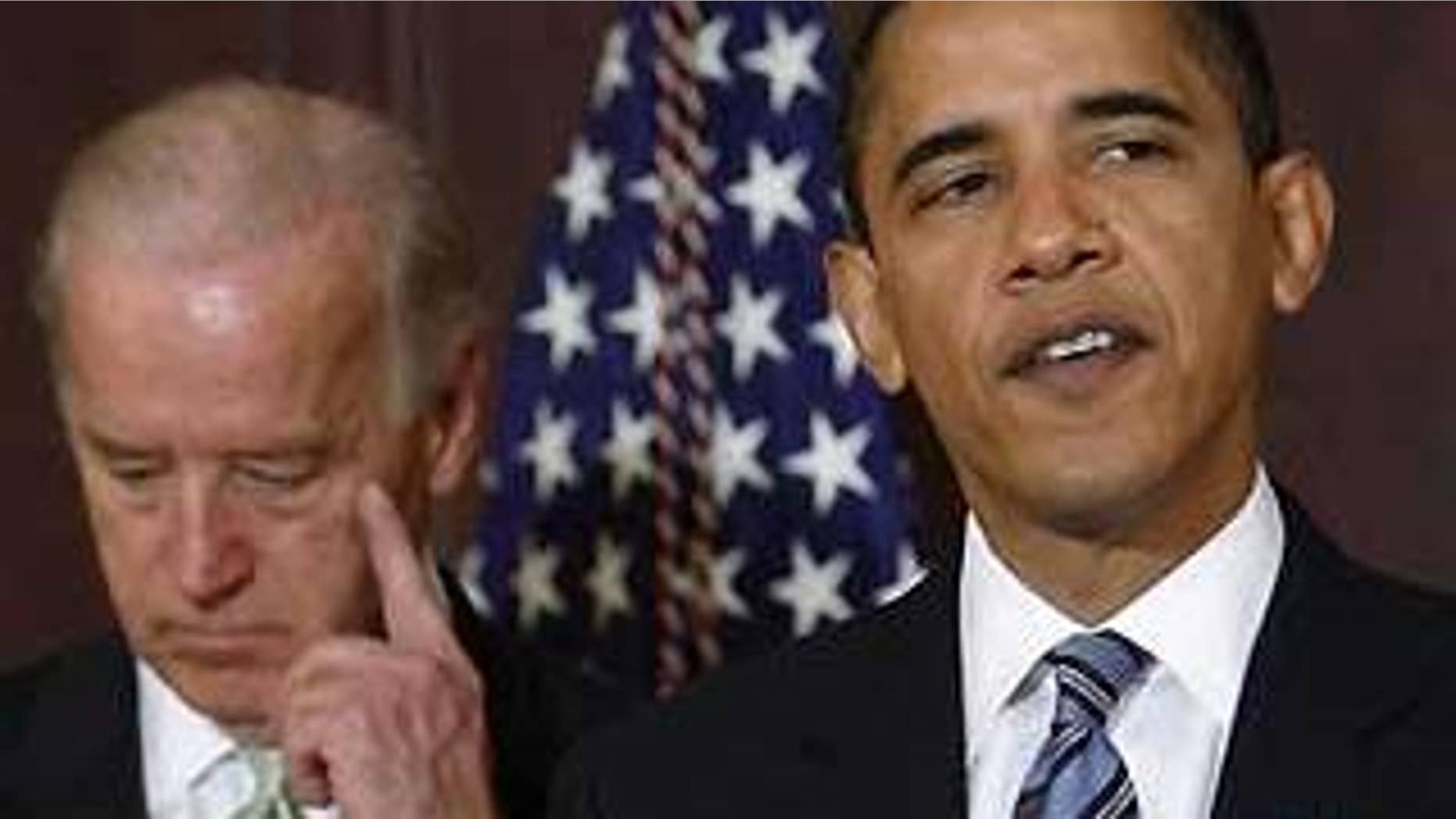 Economists and conservatives say President Obama's massive $3.55 trillion budget leaves little room for error, and it will be very hard for him to meet his tandem goals of cutting the deficit and sheltering middle-class families from tax increases.
Obama, who released details of his budget for fiscal 2010 on Thursday, said he foresees halving the deficit by 2013. But his budget calls for a $634 billion "reserve fund" to cover the costs of universal health care coverage over 10 years, as well as $200 billion for the wars in Iraq and Afghanistan through next fall and another contingency fund for the sickly financial sector on top of the $787 billion stimulus bill that he signed last week.
With all these expenditures, many are saying they doubt Obama can reach his deficit goal while keeping his pledge to raise taxes only on couples making more than $250,000 a year.
"He's going to have to start moving down the scale and raising taxes on people making $150,000, people making $100,000 and even people making $75,000," said economist Adam Lerrick, a scholar at the conservative American Enterprise Institute. "You have to increase taxes. It's very simple. You have to pay for this somehow."
Part of the concern stems from optimistic White House projections about the rate of economic recovery. The budget overview assumes the economy will grow at a rate faster than other forecasters, including the Congressional Budget Office and the Blue Chip index (the consensus of leading private economic analysts).
"I'm struck in their budget projections by how much of ... making all this work depends on the speed and magnitude of the economic recovery," said William Gale, director of the Economic Studies Program at the Brookings Institution and co-director of the Tax Policy Center. "The results depend on a relatively quick recovery."
In other words, the Obama forecast doesn't allow for many rainy days.
The White House projects 3.2 percent economic growth in 2010, compared with 1.5 percent from the CBO and 2.1 percent from the Blue Chip.
The White House also projects the economy will shrink by 1.2 percent in 2009, compared with 2.2 percent from the CBO and 1.9 percent from the Blue Chip.
The White House and CBO project similar growth in 2011, but the Blue Chip projects a point less.
Higher growth projections allow the White House to assume higher revenue from taxation. Deviations from that can throw off the administration's spending plans.
Gale said another complicating factor is simply political, and that Obama runs the risk of drawing accusations of "class warfare" from lawmakers with his budget plan -- something that could lead to revisions in his tax policies and other areas. Plus lawmakers will likely balk at attempts to cut spending in certain programs down the road.
"I think the political constraints are just as real as the economic constraints," Gale said. "The dam could break in lots of places."
Though the deficit is projected to stay above $1 trillion next year, White House budget director Peter Orszag said the administration has already found $2 trillion in long-term savings -- $1 trillion in revenue boosts and $1 trillion in spending cuts.
The budget outline calls over 10 years for $637 billion in higher taxes on the estimated 5 percent of taxpayers with annual adjusted income of $250,000 or more. It also seeks $770 billion in tax cuts or tax refunds for taxpayers who earn less than that.
Orszag said the administration will exact savings on several fronts, by closing corporate tax loopholes, winding down the Iraq war and cutting programs throughout the federal government.
"We are on an unsustainable fiscal course," he said. "Change is necessary."
The long-term budget plan would pay for its health care allocation in part by raising taxes on couples making more than $250,000 and by reducing government subsidies to Medicare Advantage, the private-sector insurance component of Medicare.
Among other tax increases, the plan would also up capital gains tax rates to 20 percent, from 15 percent, for the wealthy -- this would generate $118 billion, according to projections.
"The president believes that we have a plan that will lead to long-term economic growth, sustained long-term economic growth," White House press secretary Robert Gibbs said Thursday. "That's what this budget blueprint does, that's what he campaigned on, instituting fairness -- more fairness in our system. I think that's what he's done."
Rob Shapiro, former undersecretary of commerce for economic affairs, told FOX News that the president's efforts to wind down the war in Iraq and make cuts in other programs will fill in the gaps. Plus he said the stimulus bill should ensure the administration gets the growth it projects.
"You have substantial spending right now in order to try to boost the economy," he said. "That's temporary spending. If it work, it will raise growth and incomes and consequently incomes two and three years out."
But many Republican leaders were doubtful. Though President Obama said the government was going to have to make some "hard choices" to cut spending, Republican leaders said Thursday that his fiscal 2010 budget represented anything but.
House Minority Leader John Boehner said the plan will "hit everyone," despite claims that the brunt of the impact is contained to the rich.
"The era of big government is back and Democrats are asking you to pay for it," he said.
Obama is aiming for a $530 billion deficit in 2013. But Gale said Obama would leave a deficit more like $850 billion if he enacts his key campaign promises without other big changes to the budget.
One budget analyst said that the risk of trillion dollar deficits over a couple years is not great as long as the economy is recovering.
"There is little to no risk in lending your money to the U.S. government," Josh Gordon, policy director of the debt hawk Concord Coalition, told FOXNews.com. "We have over 300 million Americans who have shown their ability to work hard and pay taxes and as long as you have that large a pool of people working hard and paying taxes ... and the government is not printing too much money, you have a pretty safe investment."
Gale said Obama's goals are at least mathematically possible, provided unemployment drops significantly and a number of other factors line up in his favor.
"They can do their political agenda. They can do their deficit-reduction stuff. The question is whether they can do both at the same time," he said.
He said if unemployment stays at 8 percent, "You can toss the other estimates out the window."
FOX News' Major Garrett and FOXNews.com's Judson Berger contributed to this report.