Veterans fight for Conn. city to replace tattered American flags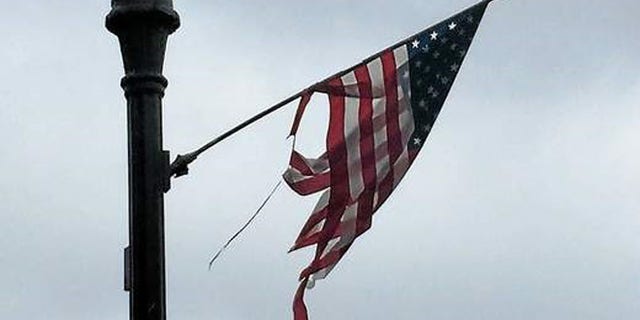 NEWYou can now listen to Fox News articles!
They fought for their flag and now they're fighting City Hall.
Veterans in Derby, Conn. have convinced officials to replace tattered American flags on display in the town.
Robert L. Federico, a Vietnam veteran, was among the group that contacted City Hall earlier this week after someone found a ripped flag lying on a street and brought it to the local senior center.
Federico said the sight of the torn flag literally made him cry.
And the problem isn't just one flag. It turns out many of the two-dozen flags that line Derby's Main Street are shredded and filthy. Many of the poles from which they hang are held together with tape.
Federico called City Hall. The initial response was to pass the buck: Mayor Anita Dugatto's secretary told Federico to call Derby's department of public works.
"Why should I be doing their job when that should come from the mayor's office?" Federico told the New Haven Register.
A city crew began to fix the problem Wednesday, taking down the damaged flags, but local station WFSB reports that it could be weeks before any new flags are installed along Main Street.
Click for more from Watchdog.org.