The Senate has delayed its confirmation hearing for President Trump's pick for Veteran Affairs secretary amid growing questions about nominee Dr. Ronny Jackson's past conduct and ability to manage the agency.
The New York Times reported that he's accused of overseeing a hostile work environment as White House physician, drinking on the job and allowing the overprescription of drugs.
The postponement was confirmed to Fox News late Monday night by South Dakota Sen. Mike Rounds, a Republican member of the Senate Veterans Affairs Committee. The panel had been scheduled to hold the hearing Wednesday.
Rounds said committee Chairman Sen. Johnny Isakson, R-Ga., recently told him and other committee members that he wants to resolve some "unsubstantiated allegations" about Jackson, the official White House doctor and a Navy rear admiral.
"He wants to do it right. We told him that if he wanted to delay the meeting, that was fine with us. We most certainly want to get ... the facts outs," Rounds told "Fox News @ Night with Shannon Bream."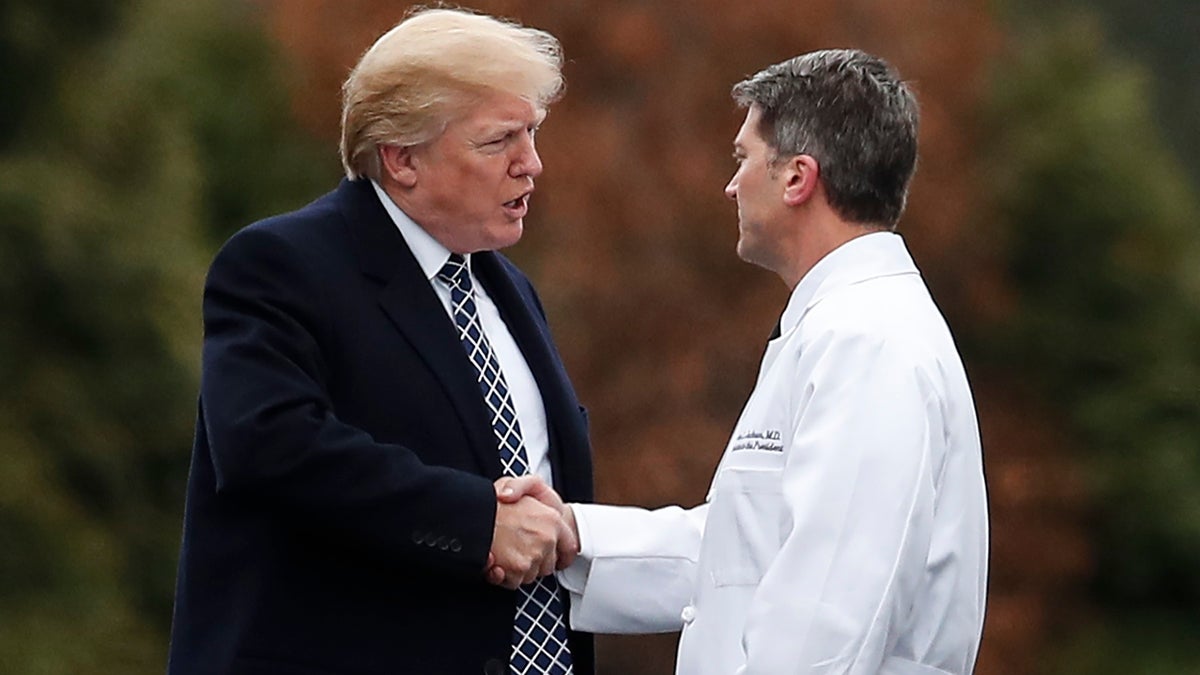 On Tuesday morning, Isakson and Montana Sen. John Tester, the top Democrat on the committee, issued a joint statement saying the hearing was postponed "in light of new information" presented to the committee.
"We take very seriously our constitutional duty to thoroughly and carefully vet each nominee sent to the Senate for confirmation," they said.
The senators have also sent a letter to Trump requesting all information regarding any improper conduct pertaining to Jackson's service in the White House Medical Unit and as physician to the president.
The White House is still standing by its pick.
"Admiral Jackson has been on the front lines of deadly combat and saved the lives of many others in service to this country," Hogan Gidley, deputy White House press secretary, said Tuesday. "He's served as the physician to three presidents -- Republican and Democrat -- and been praised by them all. Admiral Jackson's record of strong, decisive leadership is exactly what's needed at the VA to ensure our veterans receive the benefits they deserve."
Connecticut Sen. Richard Blumenthal, a Democrat on the committee, said Monday: "Some Republican colleagues have told me that they think the hearing should be postponed, which certainly deserves consideration. I think there may well be a need for more time, in fairness to Admiral Jackson, so he and the administration have an opportunity to answer these questions fully and fairly."
However, Blumenthal declined to discuss why more time might be needed.
Trump selected Jackson last month to run the Department of Veterans Affairs after firing former Obama administration official David Shulkin, amid an ethics scandal and mounting rebellion within the agency, the federal government's second largest.
But Jackson has since faced numerous questions from Republican and Democratic lawmakers as well as veterans groups about whether he has the experience to manage the massive department of 360,000 employees serving 9 million veterans. The agency in recent years has faced challenging in trying to provide prompt adequate care for veterans.
Rounds, who has met personally in his Capitol Hill office with Jackson, has previously also said the doctor's small staff at the White House will be an issue as he prepares to lead the VA.
"We've got 360,000 people there," he said. "Are they going to manage the secretary or is the secretary going to manage the VA? That's a good question to ask, and he needs to answer it. He needs to be the leader. A lot of folks want to be led and managed."
Rounds also said the committee still needs more paperwork from the White House on Jackson before the nomination can go forward.
The Associated Press contributed to this report.