US warns Russia on war games as tensions mount in Ukraine's Crimea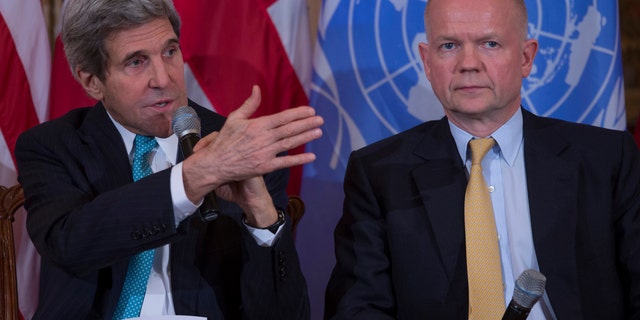 NEWYou can now listen to Fox News articles!
The United States warned Russia it would be a "grave mistake" to intervene militarily in Ukraine, as the Kremlin ordered 150,000 troops to test their combat readiness and armed men seized government buildings in Ukraine's Crimea region and raised a Russian flag over a barricade.
Secretary of State John Kerry issued the stern warning on Wednesday after Russian President Vladimir Putin ordered the large-scale military exercises in what many see as a show of force or possible prelude to intervention in Ukraine.
"Any kind of military intervention that would violate the sovereign territorial integrity of Ukraine would be a huge, a grave mistake," Kerry told reporters in Washington. "The territorial integrity of Ukraine needs to be respected."
In delivering the message, Kerry also announced that the Obama administration was planning $1 billion in loan guarantees for Ukraine and would consider additional direct assistance for the former Soviet republic.
Kerry also renewed U.S. demands that Moscow withdraw troops from disputed enclaves in another former Soviet republic, Georgia, and urged Georgia to further integrate with Europe and NATO.
The warning, aid announcement and nudge westward for Georgia all came amid growing tensions between Russia and the West over Ukraine and were likely to fuel already-heightened Russian suspicions over Western intentions in its backyard.
Kerry insisted, however, that that U.S. policy toward Ukraine, Georgia and the other states that once made up the Soviet Union was not aimed at reducing Russia's influence in its neighborhood. Instead, he maintained that U.S. encouragement for former Soviet states to integrate with the West was driven by America's desire to see their people realize aspirations for freedom in robust democracies with strong economies.
"This is not `Rocky IV'," Kerry said, referring to the iconic 1985 Sylvester Stallone film in which an aging American boxer takes on a daunting Soviet muscleman. "It is not a zero-sum game. We do not view it through the lens of East-West, Russia-U.S. or anything else. We view it as an example of people within a sovereign nation who are expressing their desire to choose their future. And that's a very powerful force."
Ukraine's new government was expected to be formally approved by parliament Thursday. It will face the hugely complicated task of restoring stability in a country that is not only deeply divided politically but on the verge of financial collapse.
Elsewhere, Russian news organization RBK reported Wednesday that Ukraine's fugitive president, Viktor Yanukovych, is staying in a Kremlin sanatorium just outside Moscow. Yanukovych has not been seen publicly since Saturday. While the West has recognized the new Ukrainian government, whose forces drove Yanukovych from the capital, Russia still considers him the legitimate president.
RBK reported that Yanukovych is staying at the Barvikha sanatorium west of the capital, which is run by the presidential administration's property department. The spokesman for this department, Viktor Khrekov, told The Associated Press on Thursday that he had no information about the report. RBK said the information came from one of Russia's wealthiest businessmen and was confirmed by a government official, neither of whom was identified. The article was under the byline of respected journalists, including RBK's editor in chief.
Meanwhile on Thursday, several dozen armed men stormed and seized the buildings of the legislature and the local government in Ukraine's Crimea region, where the majority of the population are Russian speakers.
The men occupying the parliament building in the regional capital, Simferopol, did not come out to voice any demands. They wore black and orange ribbons, a Russian symbol of the victory in World War II. The men also put up a sign saying "Crimea is Russia."
They threw a flash grenade in response to a journalist's questions.
Igor Korotchenko, a former colonel of the Russian military's General Staff, wrote a commentary in a Russian online newspaper, slon.ru, saying "if illegal armed formations attempt to overthrow the local government in Crimea by force, a civil war will start and Russia couldn't ignore it."
While Russia has pledged not to intervene in Ukraine's domestic affairs, it has issued a flurry of statements voicing concern about the situation of Russian speakers in Ukraine, including in the Crimea.
Some Russian officials accuse the West of being behind the revolt against its fugitive president, Viktor Yanukovych, who fled the capital last week. U.S. and European officials have denied such allegations.
In addition to Putin ordering the military exercises, Russia's defense ministry said it would take steps to strengthen security at facilities of the Russian Black Sea Fleet in Ukraine's Crimean Peninsula, where there have been clashes between pro- and anti-Russian demonstrators. Pro-Russian protesters have spoken of secession, and a Russian lawmaker has stoked their passions by promising that Russia will protect them.
Those steps have raised fears of possible Russian military intervention in Ukraine along the lines of its 2008 operation in Georgia, which led to the occupations of Abkhazia and South Ossetia and was roundly condemned by the United States and its European allies.
The Associated Press contributed to this report.