US considering new Iraq relief mission for group under siege by ISIS, official says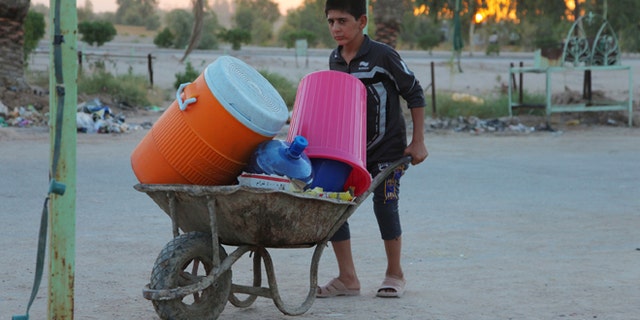 The Obama administration is considering a humanitarian mission to help a group of religious minorities under siege by Islamic State militants in northern Iraq, a senior U.S. official confirmed to Fox News, in what would be the second such relief operation since U.S. military flights began earlier this month.
The potential relief operation would be meant to aid Shiite Turkmen in northern Iraq who have been cut off from the outside world in what is becoming an increasingly desperate situation. The United Nations warned over the weekend of a possible "massacre."
The mission, if it went forward, would follow an earlier effort to help displaced Yazidis on Mount Sinjar in northern Iraq. U.S. cargo planes dropped tons of food and water to help them, while U.S. jets launched airstrikes on nearby Islamic State fighting positions.
Since that operation, the U.S. military has continued to strike Islamic State targets in support of Iraqi and Kurdish forces, including during a sustained campaign to recapture the critical Mosul Dam.
But as part of the next potential humanitarian campaign, first reported by the Associated Press, the administration is now focused on the imperiled town of Amirli, which is situated about 105 miles north of Baghdad and just a few miles from Kurdish territory. An estimated 12,000 to 15,000 people are estimated to have no access to food or water.
The head of the United Nation's assistance mission in Iraq, Nickolay Mladenov, earlier this week called for urgent action in Amirli and described the situation as desperate.
Pentagon spokesman Col. Steve Warren would not comment when asked Wednesday about the Amirli situation.
"I have nothing to announce on future operations," he said, but added: "ISIL forces do have Amirli surrounded."
The siege of Amirli is part of the Islamic State's offensive, which seized large swaths of western and northern Iraq this summer and pushed further in neighboring Syria.
Residents have put up fierce resistance since the siege began, preventing the Sunni militants from successfully taking over the town. But the militants have, in turn, cut off the town, leaving thousands without access to food, water and medicine, despite recent airdrops by the Iraqi military.
Like other minorities in Iraq such as the Christians and the Yazidis, the Shiite Turkmen community has also been targeted by the Islamic State, which views them as apostates. Tens of thousands of Turkmens, Iraq's third-largest ethnic group, have been uprooted from their homes since the Islamic State took Mosul, the northern city of Tikrit and a spate of towns and villages in the area.
Dr. Ali al-Bayati, head of an Iraq-based humanitarian group called the Turkmen Saving Foundation, said Wednesday that at least 15,000 civilians, including many women and children, remain trapped in Amirli without access to food or water.
Al-Bayati said airdrops from the Iraqi military have provided residents with desperately needed staples like rice, oil and cheese, as well as weapons to help them resist the Islamic State. However the residents often go 10 days without any airdrops successfully reaching them.
The top U.S. commander in the Middle East, Army Gen. Lloyd Austin, also met Wednesday in Baghdad with Iraq's premier-designate, Haider al-Abadi, to discuss cooperation in the fight against the Islamic State group, according to a statement issued by al-Abadi's office. The statement said Austin expressed the U.S. government's willingness to provide more counterterrorism training for Iraqi security forces.
The U.S. has several hundred military personnel in Iraq providing security for American facilities, including the U.S. Embassy in Baghdad and the U.S. Consulate in Irbil, and coordinating with Iraqi security forces.
The U.S. also has a military-run Office of Security Cooperation as part of the U.S. Embassy, but the military personnel assigned to that office work on military sales rather than provide field training for Iraqi forces.
Fox News' Jennifer Griffin and The Associated Press contributed to this report.