Union leaders warn Green New Deal may lead to poverty: 'Members are worried about putting food on the table'
Labor unions are warning that the "Green New Deal" proposed by Democratic New York Rep. Alexandria Ocasio-Cortez is vague and potentially dangerous, signaling that the progressive proposal may be in for even more turbulence following a rocky rollout last week.
While conservatives have fiercely criticized the Green New Deal resolution for promising a job to "all people of the United States" -- including those "unwilling to work," according to an accompanying document published, and later disavowed, by Ocasio-Cortez's office -- the pushback from union leaders indicates that the progressive proposal has not won over a core element of the liberal base.
Speaking to Reuters, a spokesman for the coal industry union United Mine Workers (UMWA) specifically took umbrage at the Green New Deal's resolution's call for a "fair and just transition for all communities and workers" in order to "achieve net-zero greenhouse gas emissions" in the span of just ten years.
AOC ADVISER ADMITS HE WAS WRONG, SAYS GREEN NEW DEAL DID INCLUDE JOB GUARANTEE FOR PEOPLE 'UNWILLING TO WORK'
"We've heard words like 'just transition' before, but what does that really mean?" the spokesman, Phil Smith, said in an interview. "Our members are worried about putting food on the table."
UMWA, which includes approximately 80,000 members, represents not only coal miners and clean coal technicians, but also manufacturing workers, health care workers, and corrections officers in both the U.S. and Canada.
Added Yvette Pena O'Sullivan, the executive director of the Laborers' International Union of North America (LIUNA): "We will never settle for 'just transition' language as a solution to the job losses that will surely come from some of the policies in the resolution."
LIUNA, a construction union, has about 500,000 members, including 80,000 in Canada. And executives at another construction union, the North America's Building Trades Union (NABTU), raised similar concerns.
AOC BLASTS TRUMP COMPARISON OF GRENE NEW DEAL TO HIGH SCHOOL TERM PAPER
Union members "working in the oil and gas sector can make a middle-class living, whereas renewable energy firms have been less generous," Sean McGarvey, NABTU's president, said last week.
Representatives for UMWA, LIUNA, and NABTU did not immediately respond to Fox News' request for comment.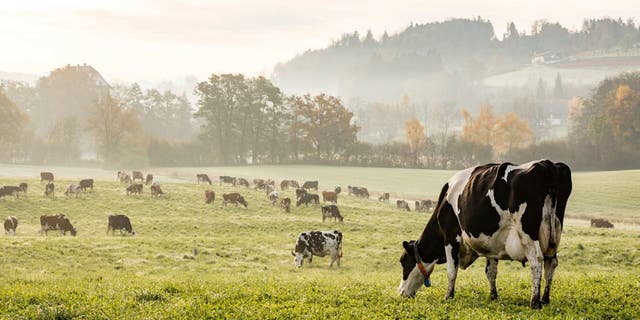 Some top Democratic politicians have similarly sought to pump the brakes on the Green New Deal. For example, Sen. Mazie Hirono, D-Hawaii, appeared unimpressed when asked about the plan's aspirations to replace planes with high-speed rail.
"That would be pretty hard for Hawaii," she laughed.
And last Wednesday, House Speaker Nancy Pelosi appeared to dismiss the plan.
"It will be one of several or maybe many suggestions that we receive," Pelosi told Politico. "The green dream or whatever they call it, nobody knows what it is, but they're for it, right?"
UNIONS LED MARCHES ON WHITE HOUSE DURING FEDERAL GOVERNMENT SHUTDOWN
The proposal's rollout was overshadowed by confusion and uncertainty last week. A top adviser to Ocasio-Cortez admitted over the weekend that an official document posted by Ocasio-Cortez's office contained a guarantee of economic security even for those "unwilling to work" -- but not before he went viral in progressive circles for claiming the exact opposite, repeatedly, in an interview Friday with Fox News' "Tucker Carlson Tonight."
Cornell University Law School Professor Robert Hockett initially denied that an FAQ and background materials from Ocasio-Cortez's website stated that the Green New Deal will provide "Economic security for all who are unable or unwilling to work." An FAQ sent by Ocasio-Cortez's team to NPR also noted, "We set a goal to get to net-zero, rather than zero emissions, in 10 years because we aren't sure that we'll be able to fully get rid of farting cows and airplanes that fast."
Ocasio-Cortez's office removed the documents from her website amid an online backlash. A version of the FAQ that referred to "farting cows" is still available on NPR's website, and a similar version that was posted to Ocasio-Cortez's website is currently viewable on an Internet archiving service. Both versions of the documents describe providing economic security for those "unwilling to work," and state, "This is a massive transformation of our society with clear goals and a timeline" at a "scale not seen since World War 2."
Despite the confusion as to its precise contents, key 2020 Democratic presidential contenders have enthusiastically embraced the Green New Deal. Sens. Kamala Harris, D-Calif., Elizabeth Warren, D-Mass., and Cory Booker, D-N.J. all co-sponosred the legislation.
"Our history is a testimony to the achievement of what some think is impossible — we must take bold action now," Booker tweeted.
The White House, meanwhile, appeared heartened by the Democratic contenders' support for the sweeping program.
"I think half the announced presidential candidates that are Democrats have supported this, although they aren't really sure what it is," Acting White House Chief of Staff Mick Mulvaney told "Fox News Sunday."
Mulvaney added: "The other half -- I don't know where the Democrat Party is on this, I know where the Republican Party is, and by the way, it's fun to be in a party that is united while the other is divided."
The Republican National Committee dubbed the Green New Deal a "Socialist wish list" that would kill at least 1 million jobs and disrupt global trade -- while costing trillions.
Even aside from the Green New Deal, conservative commentators have argued that most proposed solutions to global warming would do more harm than good, and also have accused climate activists of crying wolf. In 2006, a NASA scientist and leading global warming researcher declared that the world had only 10 years to avert a climate catastrophe -- a deadline that has come and gone.
Ocasio-Cortez, meanwhile, has suggested the world may be destroyed in 12 years if action is not taken. The White House has characterized her comments as irrelevant.