U.S. Will Never Default on Debt, Biden Says During China Visit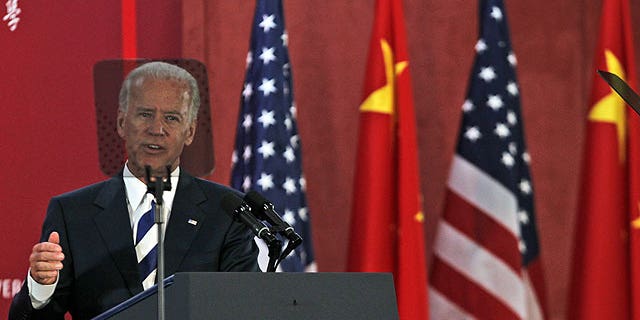 NEWYou can now listen to Fox News articles!
CHENGDU, China – U.S. Vice President Joe Biden said Sunday that the world's biggest economy has never defaulted on its debt and never would, during a visit aimed at boosting Chinese confidence in the US economy.
"The United States has never defaulted and never will," Biden told hundreds of university students in the southwestern boom town of Chengdu on the final day of a charm offensive in China.
China is the largest foreign holder of U.S. debt, and Biden has used his first official visit to the country since becoming vice president to reassure its leaders their massive investment remains safe after the U.S. narrowly avoided a catastrophic default earlier this month.
Biden told students at Sichuan University that the United States remained the "single best bet" for investment -- despite the historic downgrade of the country's top-notch credit rating by Standard & Poor's.
During the speech, which touched on a range of issues including human rights, Biden urged China to "cherish" the exchange between its citizens and the government, following the toughest crackdown on Chinese dissidents in years.
"China should cherish an exchange between its citizens and students and their government," Biden said. "Liberty unlocks a people's full potential and in its absence, unrest festers."
Human rights activists said authorities were carrying out a heavy-handed clampdown on dissenting voices coinciding with Biden's trip.
Biden raised human rights concerns during his meetings with Chinese leaders last week, US officials have said, but they refused to go into details of whether any individual cases were brought up.
In Chengdu, Biden will meet his counterpart Xi Jinping -- who is slated to become China's top leader next year -- and will witness the reconstruction efforts following the 2008 Sichuan earthquake.
Chengdu is the capital of Sichuan province, where nearly 200 of the Fortune 500 largest firms in the world have invested.