U.S. Lawmakers Demand Lockerbie Brought Back to 'Justice' as Qaddafi Regime Crumbles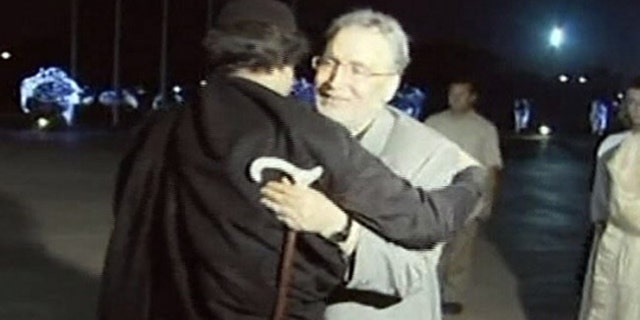 NEWYou can now listen to Fox News articles!
U.S. lawmakers are clamoring for the Libyan rebel council to hand over the Lockerbie bomber, seeing the unfolding ouster of Muammar Qaddafi as an opening to finally seek justice for the 270 people killed in the 1988 attack -- though, amid the chaos, officials haven't been able to track him down.
Abdelbaset al-Megrahi was freed by Scottish authorities two years ago on humanitarian grounds, as doctors predicted he had just three months to live. He is still alive, however, and his celebrity status under the Qaddafi regime has for two years infuriated Americans. Just last month, he was seen at a rally alongside Qaddafi.
Should the rebels topple the Libyan leader, several U.S. officials are making it known they want al-Megrahi handed over -- or at least tried in Libya -- as one of the first orders of business.
Rep. Vern Buchanan, R-Fla., wrote in a letter to Secretary of State Hillary Clinton Tuesday that it is "imperative" for the U.S. to secure his extradition.
"For the past two years, al-Megrahi has served as a public relations tool for the Qaddafi regime. He has been paraded around as a hero. This is unacceptable," he wrote. "He must be extradited to the United States to pay for the deaths of the 270 victims of Pan Am 103."
Senators representing New York and New Jersey, where many of the 1988 victims were from, also called on the Libyan Transitional National Council to cooperate. New Jersey Democratic Sens. Robert Menendez and Frank Lautenberg want al-Megrahi to be extradited.
Former Massachusetts Gov. Mitt Romney, who is running for the Republican presidential nomination, agrees.
"We would try him here and see that justice is done. This is a person responsible for the lives of hundreds of people," Romney told Fox News. "It's unacceptable in my view that this person does not face justice. So I'd like to see him face justice as one of the first acts of a new government."
Sen. Kirsten Gillibrand, D-N.Y., in a statement Monday, didn't go quite so far, saying instead that the "transitional government" in Libya should send al-Megrahi back to prison.
Despite the urgent calls for al-Megrahi to be brought into custody, officials have not been able to even contact him.
The local Scottish council whose job it is to stay in touch with him confirmed they have been unable to reach al-Megrahi in recent days.
George Barbour, spokesman for the East Renfrewshire Council, told Fox News that due to the current situation in Libya, they have been trying to reach him since the weekend and have not. Barbour said they will continue to try over the next several days.
Under parole conditions, Megrahi must check in with Scottish authorities either by video link or by phone.
Meanwhile, some are also calling for Qaddafi to be tried in connection with the Pan Am bombing and other attacks.
Lautenberg said that the Transitional National Council should consent to have Qaddafi tried in International Criminal Court.
"Justice for the U.S. victims of terrorist attacks committed by Qaddafi and his regime must remain a top priority for our country. Should Qaddafi be arrested and sent to the ICC, he must stand trial for his terrible crimes against our fellow citizens," he wrote in a letter to Clinton Monday.
John Bolton, former U.S. ambassador to the United Nations, said both al-Megrahi and Qaddafi should be extradited to the United States.
"The order to blow up Pan Am 103 ultimately had to have come from Qaddafi. ... Before Qaddafi gets tried by the Libyans or by the International Criminal Court, we ought to have him sent to the United States, too," Bolton told Fox News.
Fox News' Greg Palkot contributed to this report.