U.S. broadens sanctions against Venezuelan officials linked to corruption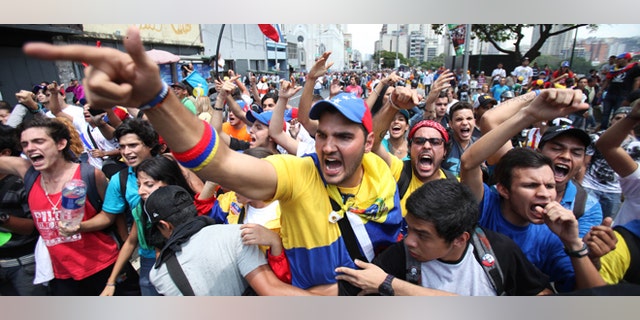 NEWYou can now listen to Fox News articles!
U.S. sanctions against Venezuelans linked to corruption and human rights violations are being broadened to include a greater number of people: individuals who are, or have been, government officials and are believed to have taken part in human rights abuses.
The sanctions include restricting visas for travel to the United States, according to a statement by the State Department released on Monday.
"Ignoring repeated calls for change by governments, respected leaders, and groups of experts, the Venezuelan government has continued to demonstrate a lack of respect for human rights and fundamental freedoms," said spokeswoman Jen Psaki, "attempting to stifle dissent by prosecuting political activists and cracking down on peaceful protests, which were triggered by deteriorating security, economic, social, and political conditions."
The restrictions will be extended to immediate relatives of those officials, as well.
"We will not publicly identify these individuals because of U.S. visa confidentiality laws, but we are sending a clear message that human rights abusers, those who profit from public corruption, and their families are not welcome in the United States," the statement said. "We emphasize the action we are announcing today is specific to individuals and not directed at the Venezuelan nation or its people."
Violent street protests erupted last year and lasted for several weeks, ending in the deaths of dozens of anti-government activists and the jailing of many others.
Opposition groups said that the administration of Venezuelan President Nicolás Maduro was behind many of the violent attacks on the protesters.
Many members of Congress called on the administration to sanction Venezuela by imposing economic sanctions that include a ban on travel to the U.S. by Venezuelan officials complicit in human rights abuses, and freezing their assets.
U.S. Sen. Marco Rubio, a sponsor of legislation calling for sanctions against Venezuela, said that sanctions would carry an important message to Venezuelan officials in response to reports of arrests, torture and even killing of unarmed demonstrators. He passed a bill proposing sanctions against Venezuela with New Jersey Senator Robert Menendez and Florida Sen. Bill Nelson, both Democrats.
The Miami Herald reported that Maduro said in a speech to Venezuela's Supreme Court: "The policy of the U.S. empire toward Venezuela is chaotic and being held hostage by an irresponsible imperial faction."
"They are taking the United States down a dead-end street when it comes to its relationship with Venezuela and Latin America."
The Associated Press contributed to this report.
Follow us on twitter.com/foxnewslatino
Like us at facebook.com/foxnewslatino