President Trump is known for giving his political opponents and critics nicknames, especially on social media.
Read on for a list of Trump's most iconic nicknames.
Wacky Omarosa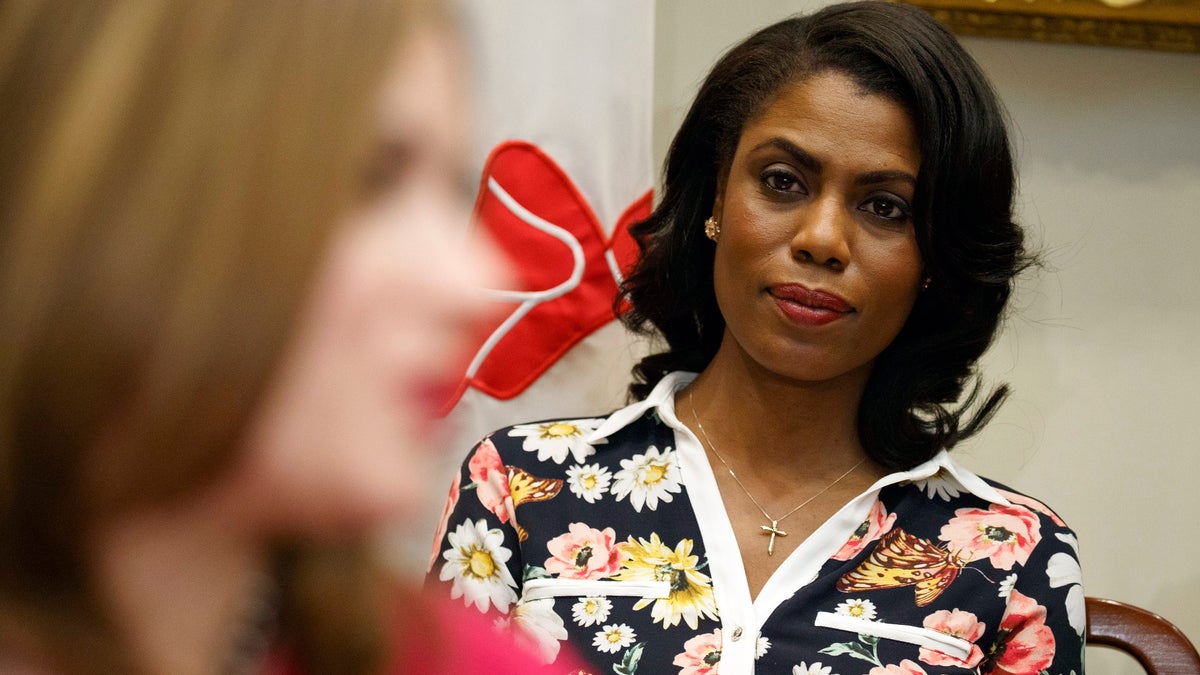 Omarosa Manigault-Newman lasted one year in the White House, and her departure has been anything from cordial.
In particular, Manigault-Newman has been under fire from the Trump administration for secretly recording the chief of staff John Kelly in the Situation Room, raising national security concerns. She's since released some of the tapes.
Trump, in a series of tweets, called Manigault-Newman "wacky" and a "lowlife."
"Wacky Omarosa, who got fired 3 times on the Apprentice, now got fired for the last time. She never made it, never will. She begged me for a job, tears in her eyes, I said OK," Trump said. "People in the White House hated her. She was vicious, but not smart. I would rarely see her but heard really bad things."
"Nasty to people & would constantly miss meetings & work. When Gen. Kelly came on board he told me she was a loser & nothing but problems. I told him to try working it out, if possible, because she only said great things about me - until she got fired!" Trump said.
"While I know it's 'not presidential' to take on a lowlife like Omarosa, and while I would rather not be doing so, this is a modern day form of communication and I know the Fake News Media will be working overtime to make even Wacky Omarosa look legitimate as possible. Sorry!" he continued.
Slippery James Comey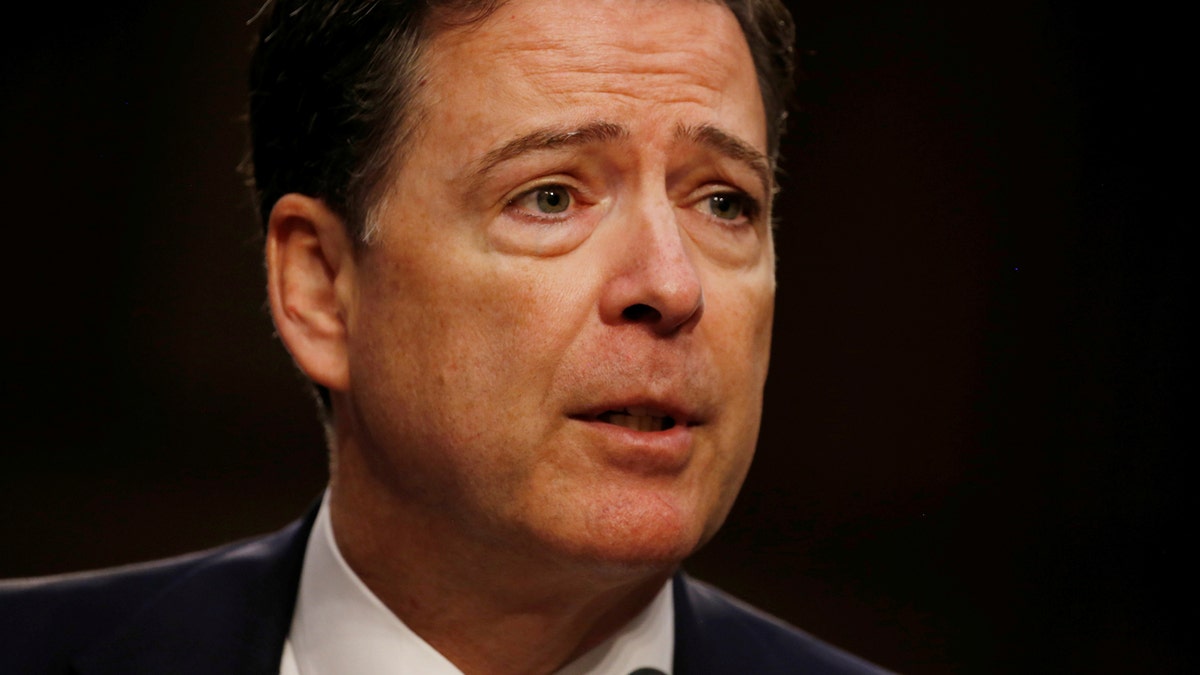 Trump dubbed former FBI Director James Comey the "worst" in history while blasting his new tell-all book, "A Higher Loyalty: Truth, Lies and Leadership." In a series of tweets, Trump also nicknamed the former FBI chief "Slippery James Comey."
"Slippery James Comey, a man who always ends up badly and out of whack (he is not smart!), will go down as the WORST FBI Director in history, by far!" Trump tweeted.
Trump fired Comey in May 2017, citing the ex-director's handling of the FBI's investigation into Hillary Clinton's email practices.
Trump also called Comey a "slimeball" and suggested the former FBI director deserved jail time for mishandling the Clinton email probe.
Animal Assad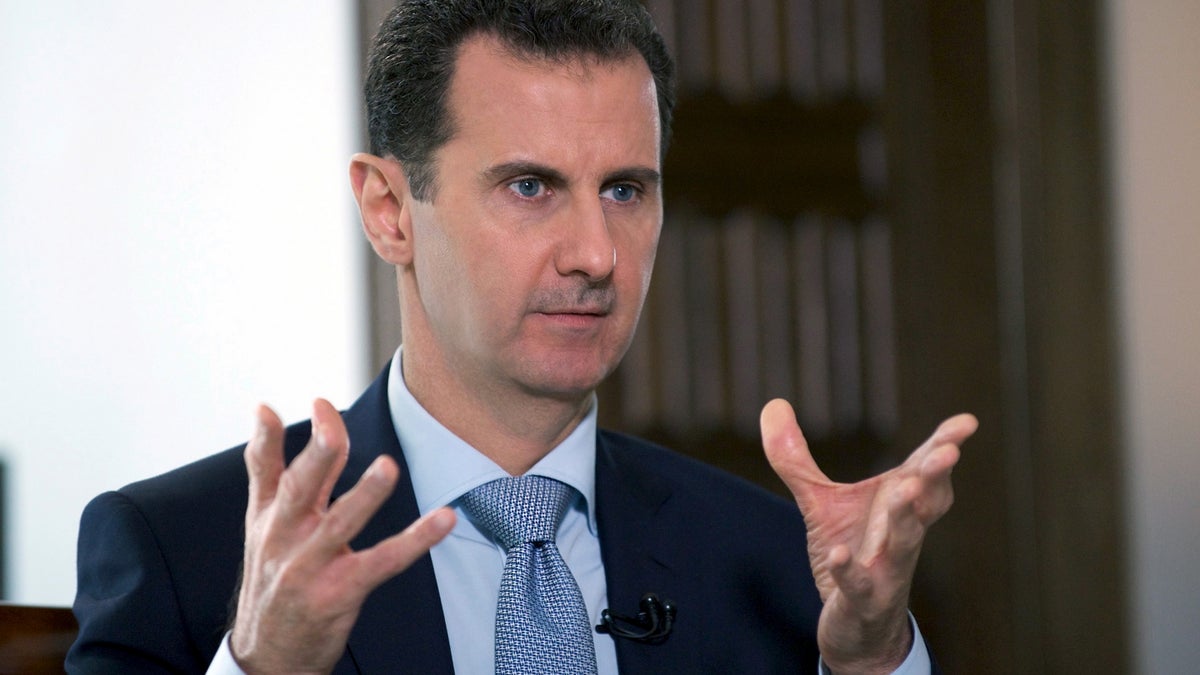 In the aftermath of a suspected chemical attack in Syria, Trump blasted Syrian President Bashar Assad and warned that those responsible would pay a "big price." Trump also nicknamed the Syrian president "Animal Assad."
"Many dead, including women and children, in mindless CHEMICAL attack in Syria. Area of atrocity is in lockdown and encircled by Syrian Army, making it completely inaccessible to outside world," Trump alleged in a tweet. "President Putin, Russia and Iran are responsible for backing Animal Assad. Big price to pay. Open area immediately for medical help and verification. Another humanitarian disaster for no reason whatsoever. SICK!"
Trump also blamed former President Barack Obama's foreign policy decisions for "Animal Assad."
And in a later tweet, Trump warned Russia against shooting down any missiles the U.S. would fire at Syria in retaliation for the purported attack, saying the country "shouldn't be partners with a Gas Killing Animal who kills his people and enjoys it!"
Little Rocket Man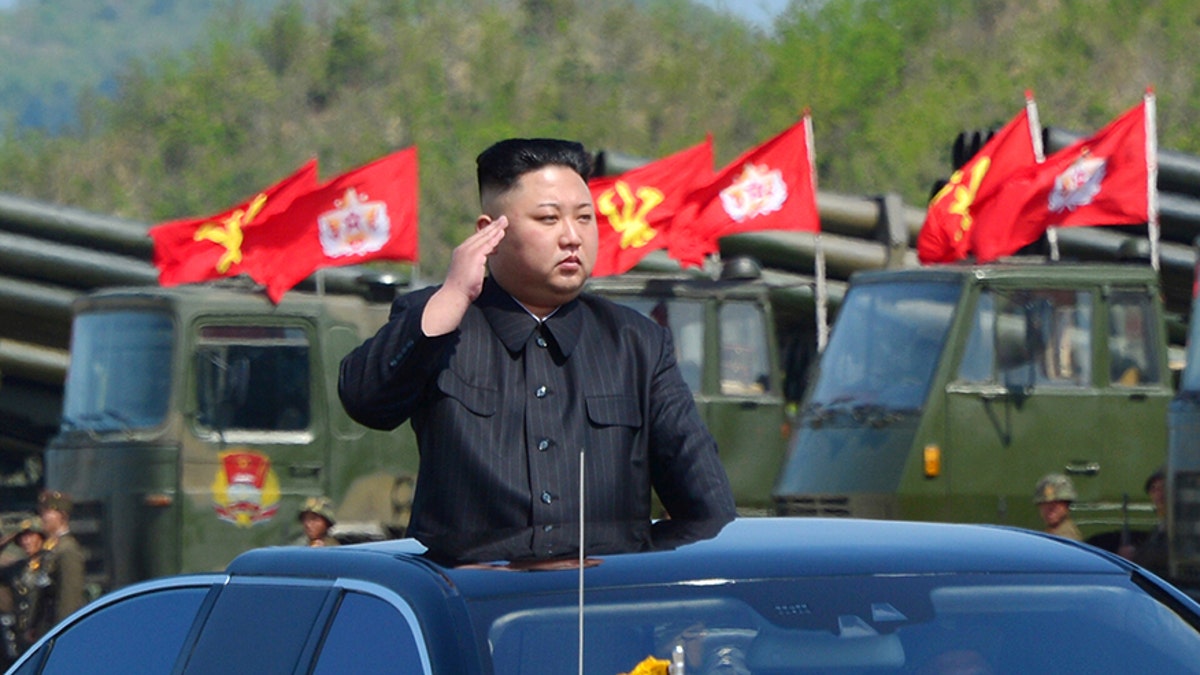 Trump has never really had kind things to say about North Korea leader Kim Jong Un – referring to him on Twitter as a "maniac" a "whack job" and "rocket man" – which is a "President Trump original," White House Press Secretary Sarah Sanders told Fox News.
Trump tried out the "rocket man" nickname at the 2017 United Nations General Assembly.
He's also tried out the moniker on Twitter.
"The Chinese Envoy, who just returned from North Korea, seems to have had no impact on Little Rocket Man. Hard to believe his people, and the military, put up with living in such horrible conditions. Russia and China condemned the launch," he tweeted.
In addition, Trump has called the North Korean leader a "sick puppy."
Lamb the Sham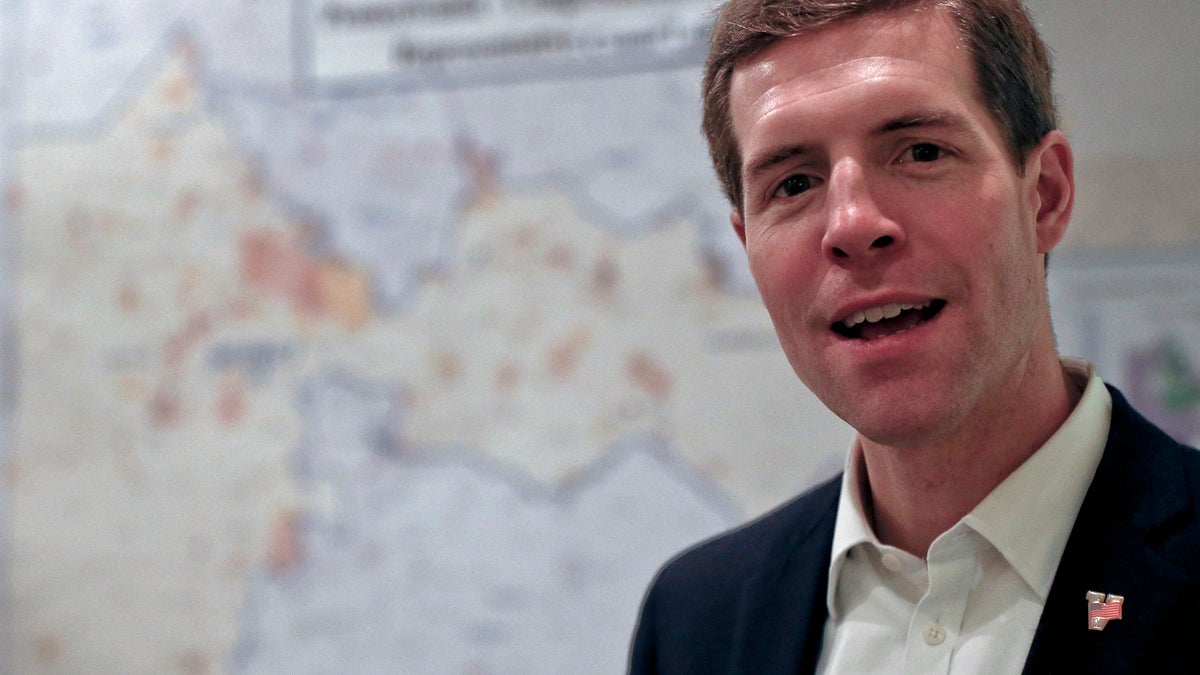 Ahead of a tight special House election in Pennsylvania, Trump visited the Keystone state to stump for Republican Rick Saccone – and hit Democrat Conor Lamb.
Trump accused Lamb of saying "nice things" in order to get elected in "Trump country," but promised those at a rally that the Democrat "is not going to vote for us" if elected. And the president dubbed the 33-year-old Marine "Lamb the Sham."
"Lamb the Sham. Lamb the Sham. He is trying to act like a Republican. He won't give me one vote," Trump said.
Trump also said he is "better looking" than Lamb.
Sloppy Steve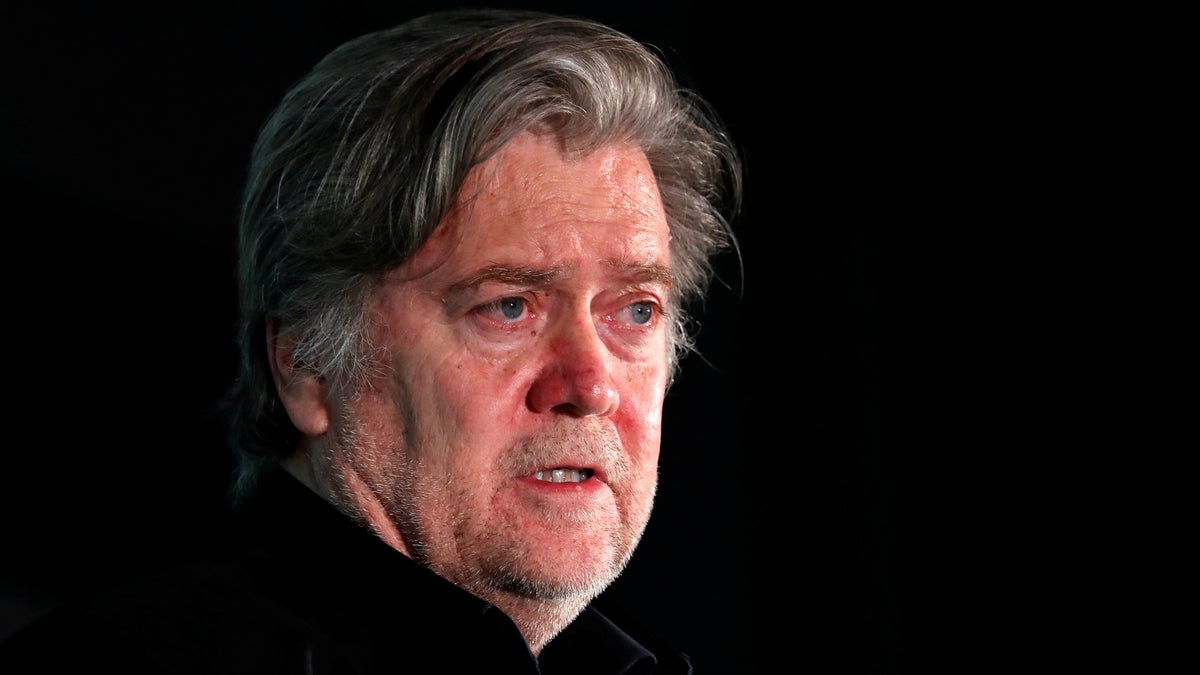 Steve Bannon used to be in the president's good graces, but the pair has had a very public falling out. Bannon, the former White House chief strategist and ex-Breitbart executive, was quoted in a blistering tell-all book, painting the president's son in a negative light.
Trump heavily rebuked Bannon in a public statement, saying Bannon "lost his mind" after he was "fired" from the White House.
"Steve was rarely in a one-on-one meeting with me and only pretends to have had influence to fool a few people with no access and no clue, whom he helped write phony books," Trump said.
Ahead of the release of the controversial book by Michael Wolff, "Fire and Fury: Inside the Trump White House," Trump slammed both the author and Bannon on social media – giving Bannon his nickname.
"Look at this guy's past and watch what happens to him and Sloppy Steve," Trump warned.
Trump reiterated the "Sloppy Steve" nickname in other tweets, including one which he praised the Mercer family – wealthy conservative mega-donors – for having "dropped the leaker known as Sloppy Steve Bannon."
Pocahontas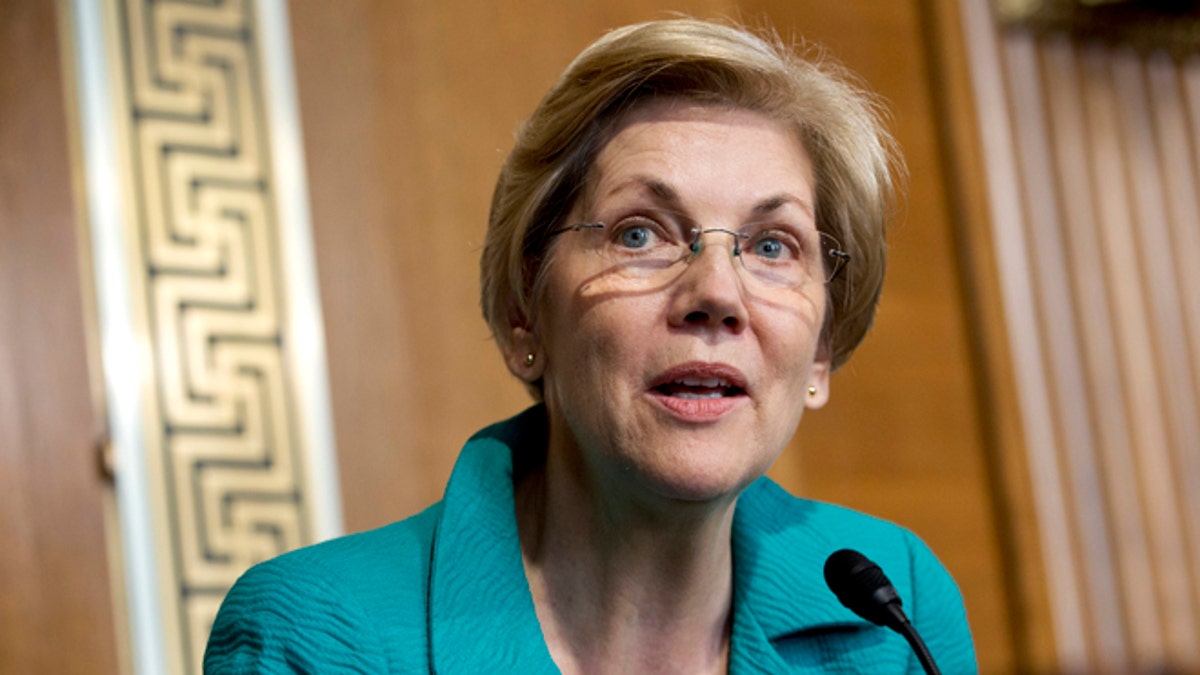 The president reused one of his favorite nicknames for Sen. Elizabeth Warren, D-Mass., while he honored Navajo code talkers at the White House in November. At the event – held to honor the Native Americans who used their native language during World Wars I and II to help the U.S. – Trump mocked Warren as "Pocahontas."
Trump has often criticized Warren, specifically over her claim to be of Native American heritage.
"She's got about as much Indian blood as I have. Her whole life was based on a fraud," Trump told The New York Times in May 2016.
Warren's potential Native American heritage was first questioned during her 2012 Senate run.
Trump also calls Warren "goofy."
Dicky Durbin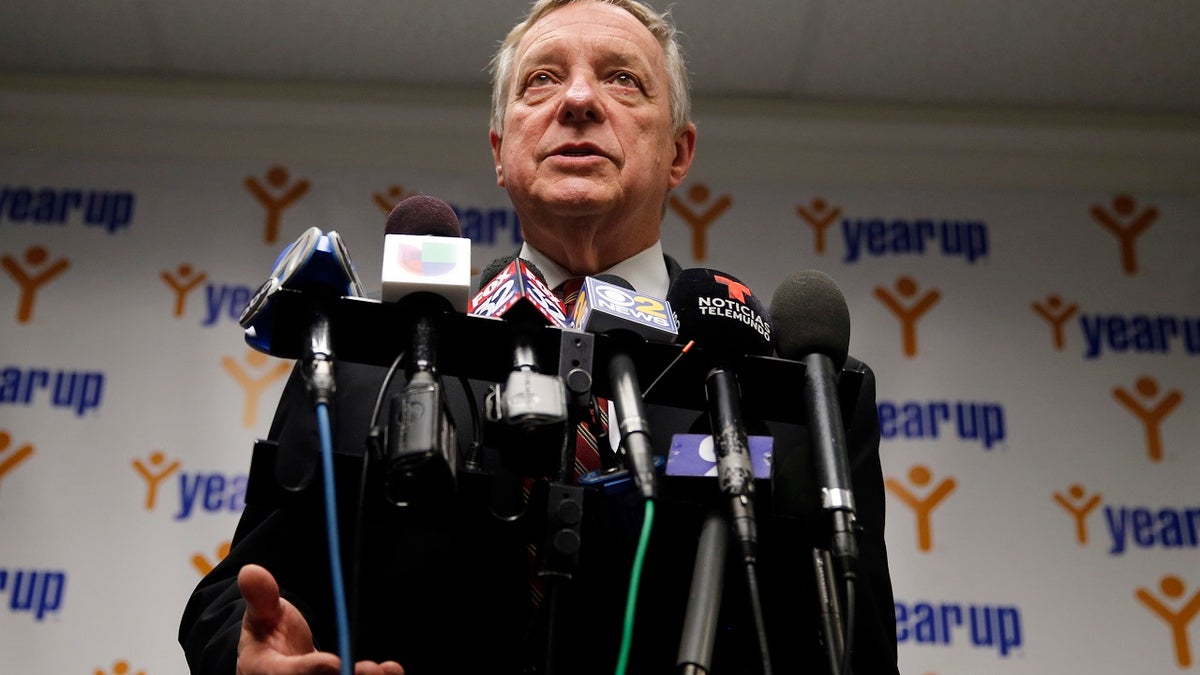 Trump made waves when he referred to Senate Minority Whip Dick Durbin, D-Ill., as "Dicky Durbin" online.
"Senator Dicky Durbin totally misrepresented what was said at the DACA meeting. Deals can't get made when there is no trust! Durbin blew DACA and is hurting our military," said Trump in a tweet.
Durbin was part of a group of lawmakers who visited Trump at the White House in January to discuss immigration reform. After reports surfaced that Trump referred to certain nations as "s---hole countries" at the bilateral meeting, Durbin accused the president of saying "things that were hate-filled, vile and racist."
Trump has admitted to using "tough" language at the meeting but denied certain remarks attributed to him.
Sneaky Dianne Feinstein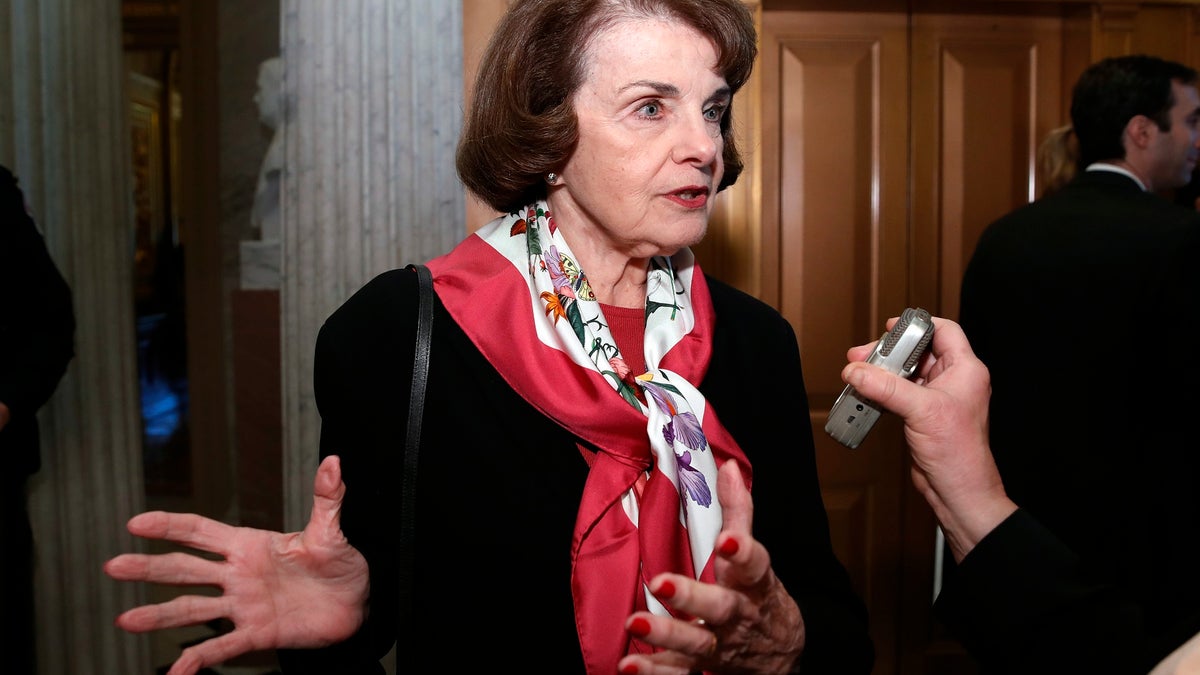 A transcript of a Fusion GPS official's August interview with the Senate Judiciary Committee was unilaterally released by the committee's ranking member, Sen. Dianne Feinstein, D-Calif.
The release of the bombshell interview drew ire from some Republicans, including the president and Senate Judiciary Committee Chairman Chuck Grassley, R-Iowa.
In a tweet following the release, Trump blasted the 84-year-old senator and called her "Sneaky Dianne Feinstein."
"The fact that Sneaky Dianne Feinstein, who has on numerous occasions stated that collusion between Trump/Russia has not been found, would release testimony in such an underhanded and possibly illegal way, totally without authorization, is a disgrace," Trump tweeted. "Must have tough Primary!"
Jeff Flakey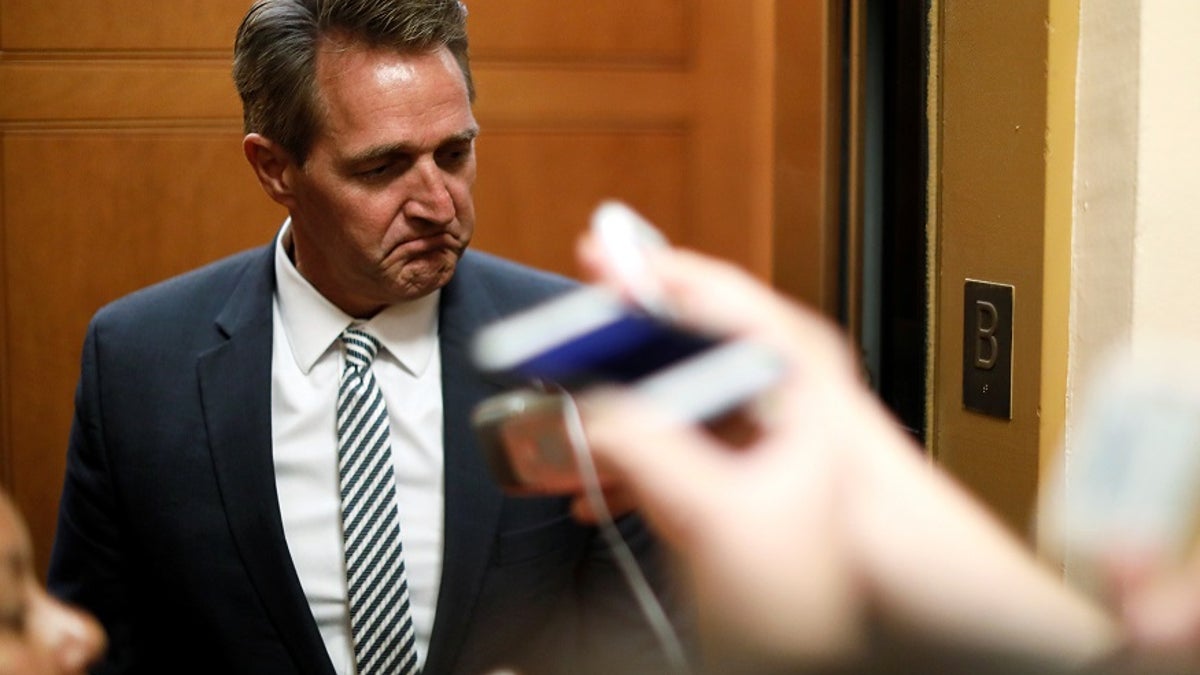 Like Trump and Sen. Bob Corker, Trump and Republican Sen. Jeff Flake have been feuding for quite some time. In announcing his retirement from the Senate, Flake slammed both the Republican Party and Trump.
Flake was also caught on a hot mic saying if the GOP "becomes the party of Roy Moore and Donald Trump, we're toast." That comment gave Trump the opportunity to dub the Arizona senator "Jeff Flakey."
"Sen. Jeff Flake(y), who is unelectable in the Great State of Arizona (quit race, anemic polls) was caught (purposely) on 'mike' saying bad things about your favorite President. He'll be a NO on tax cuts because his political career anyway is 'toast,'" Trump tweeted.
Al 'Frankenstien'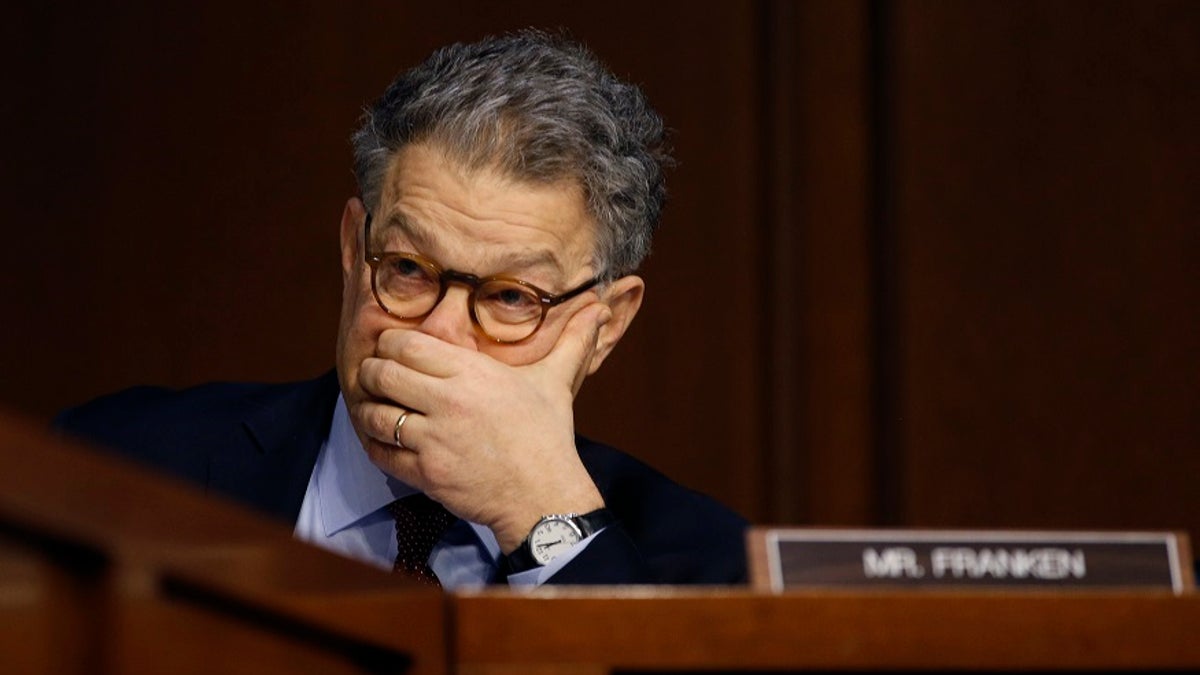 After Sen. Al Franken, D-Minn., was accused of kissing and groping Los Angeles radio host Leeann Tweeden during a USO tour in 2006, Trump blasted the lawmaker on Twitter.
"The Al Frankenstien picture is really bad, speaks a thousand words. Where do his hands go in pictures 2, 3, 4, 5 & 6 while she sleeps?" Trump wrote, including an apparent misspelling of "Frankenstein." "And to think that just last week he was lecturing anyone who would listen about sexual harassment and respect for women. Lesley Stahl tape?"
Liddle' Bob Corker
The feud between Trump and Sen. Bob Corker has been going on for some time, but the Tennessee senator finally got a nickname.
"The Failing [New York Times] set Liddle' Bob Corker up by recording his conversation. Was made to sound a fool, and that's what I am dealing with!" Trump tweeted on Oct. 10.
Corker slammed Trump in an interview with the newspaper and said the president is so reckless that he might be "on the path to World War III." A transcript from the interview revealed that Corker acknowledged the conversation was on the record.
Wacky Congresswoman Wilson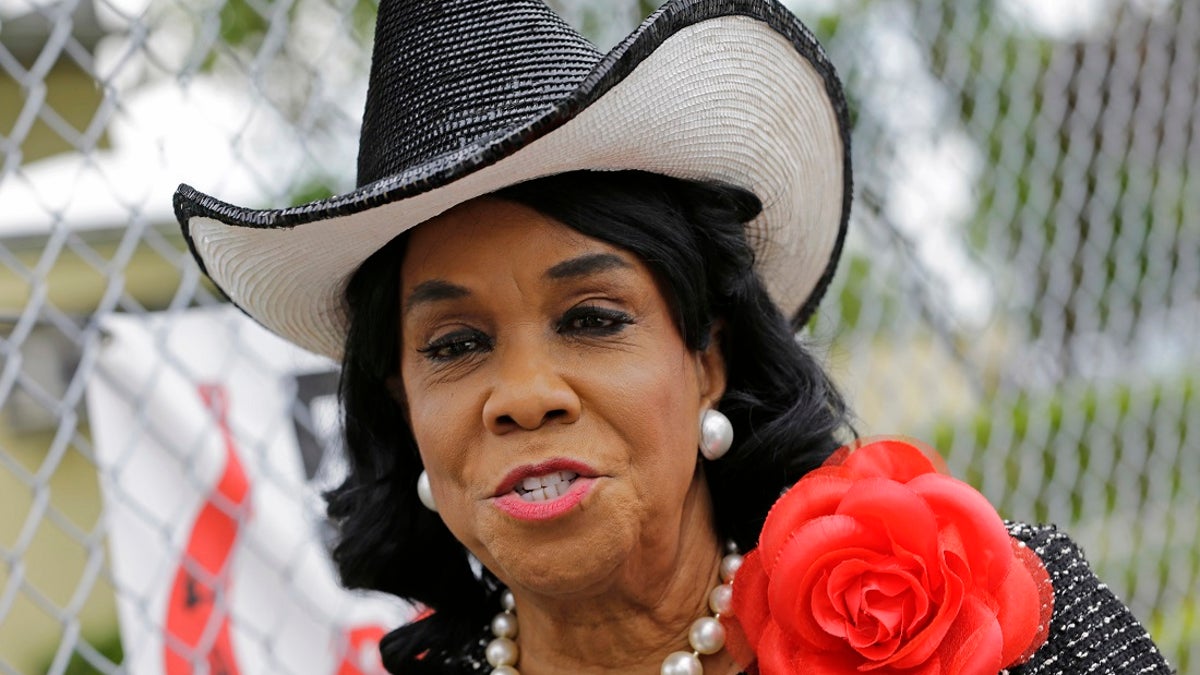 Trump and Rep. Frederica Wilson, D-Fla., became locked in a public feud involving a Gold Star family – earning the Florida congresswoman her nickname.
"The Fake News is going crazy with wacky Congresswoman Wilson (D), who was SECRETELY on a very personal call, and gave a total lie on content!" Trump tweeted.
Wilson accused Trump of making insensitive remarks to the pregnant widow of one of the four American soldiers killed during an attack in Niger. The White House, including chief of staff John Kelly, has ardently defended the president's comments.
Jerry 'Moonbeam' Brown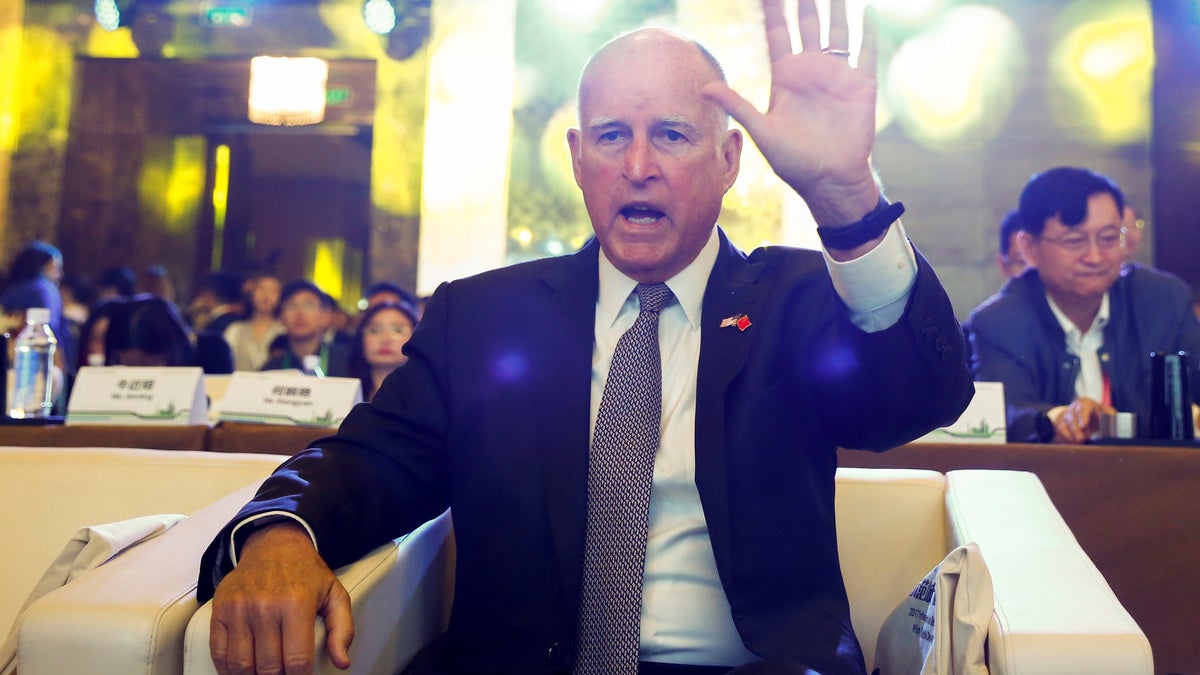 Trump hasn't seen eye-to-eye with California Gov. Jerry Brown, a Democrat, throughout much of his time in office – but the president was especially critical after Brown pardoned 56 convicted felons, including five ex-convicts facing deportation.
Trump blasted the pardoning on Twitter, calling the governor "Jerry 'Moonbeam' Brown."
"Is this really what the great people of California want?" Trump said.
Trump can't take full credit for Brown's nickname. The "Moonbeam" moniker was given to the governor first in the 1970s by a columnist who said Brown was garnering the "moonbeam vote," or the younger, more idealistic voters in his gubernatorial campaign, according to The New York Times. The nickname continued as Brown pressed for California's space programs.
Crazy Joe Biden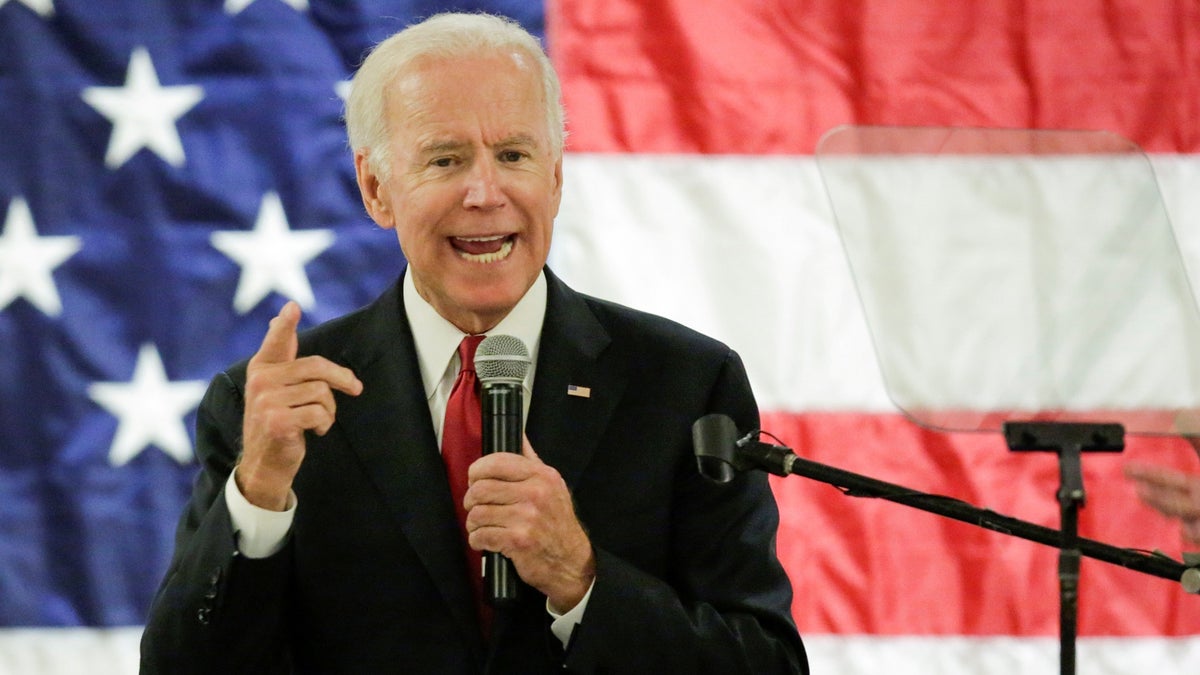 It all started when former Vice President Joe Biden addressed an anti-sexual assault rally in Florida and cited lewd comments Trump made about women in the infamous "Access Hollywood" tape more than a decade ago.
Biden, who has crusaded against sexual assault and harassment, said, "If we were in high school, I'd take him behind the gym and beat the hell out of him."
A few days later, Trump lashed out on Twitter, nicknaming the former senator "Crazy Joe Biden."
"Crazy Joe Biden is trying to act like a tough guy. Actually, he is weak, both mentally and physically, and yet he threatens me, for the second time, with physical assault," Trump said on March 22. "He doesn't know me, but he would go down fast and hard, crying all the way. Don't threaten people Joe!"
In the past, Trump has referred to Biden on social media as "our not very bright vice president."
Little Adam Schiff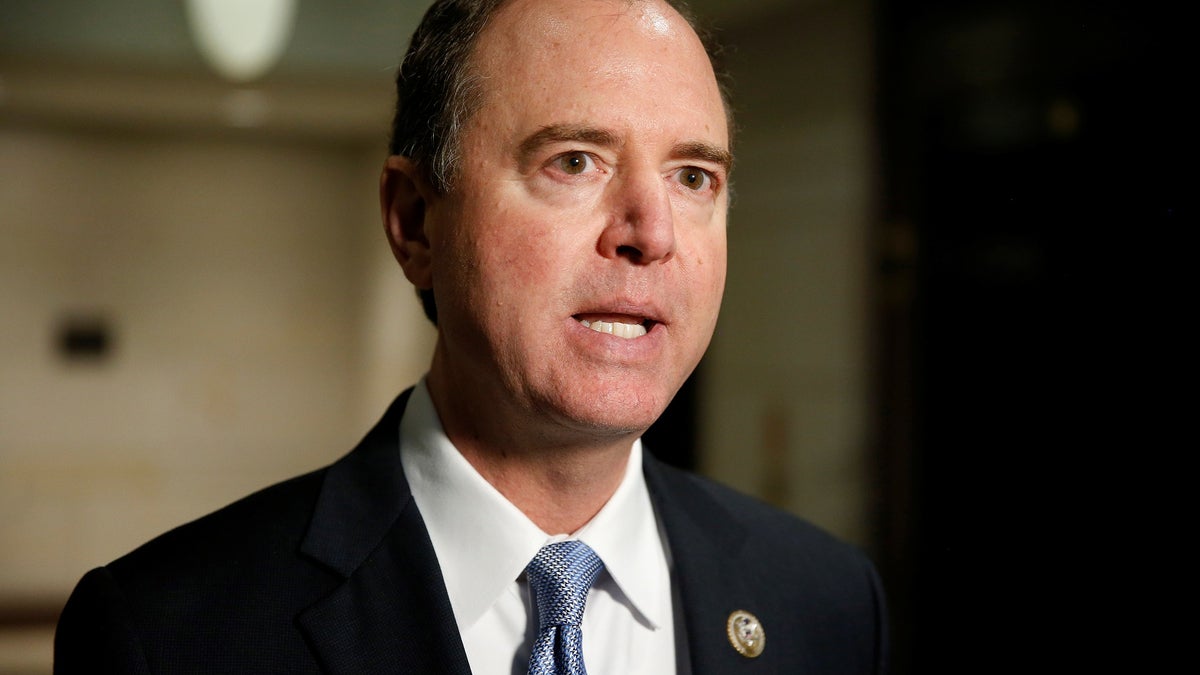 Trump accused Rep. Adam Schiff of leaking "confidential information" from "closed committee hearings" and called for him to "be stopped." The president also referred to the Democrat from California as "Little Adam Schiff."
"Little Adam Schiff, who is desperate to run for higher office, is one of the biggest liars and leakers in Washington," Trump said in a tweet, comparing him to former FBI Director James Comey, former National Intelligence Director James Clapper and former CIA Director John Brennan. "Adam leaves closed committee hearings to illegally leak confidential information. Must be stopped!"
Schiff is the ranking minority member on the House Intelligence Committee which released a controversial memo that detailed alleged improper surveillance techniques used in the Russia investigation. Schiff was critical of the memo's public release – supported by Republicans – calling it "misleading" and "undermining" of the probe.
Crooked Hillary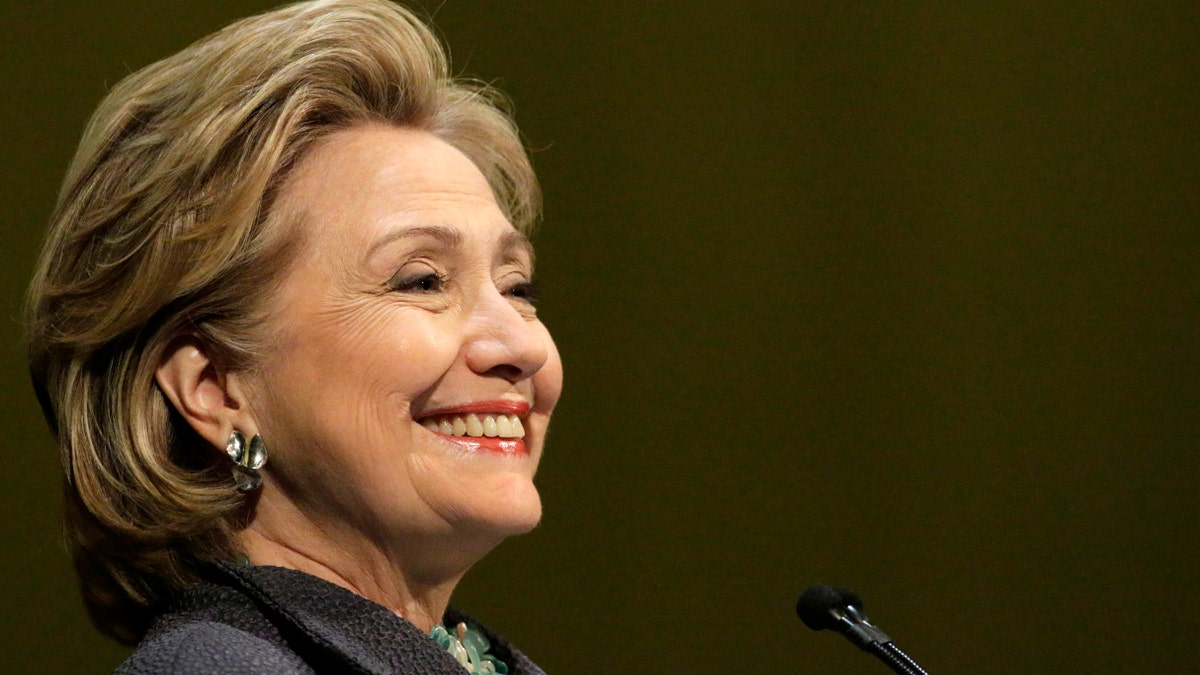 Throughout the presidential campaign, Trump would often hit his opponent, Hillary Clinton, with criticisms on social media. Trump gave her the nickname "Crooked Hillary," usually when he mentioned her use of a private email server during her tenure as secretary of state.
The first time Trump tweeted about "Crooked Hillary" was in April 2016.
Sometimes Trump switched it up and would call the former first lady "Lyin' Hillary."
Wild Bill Clinton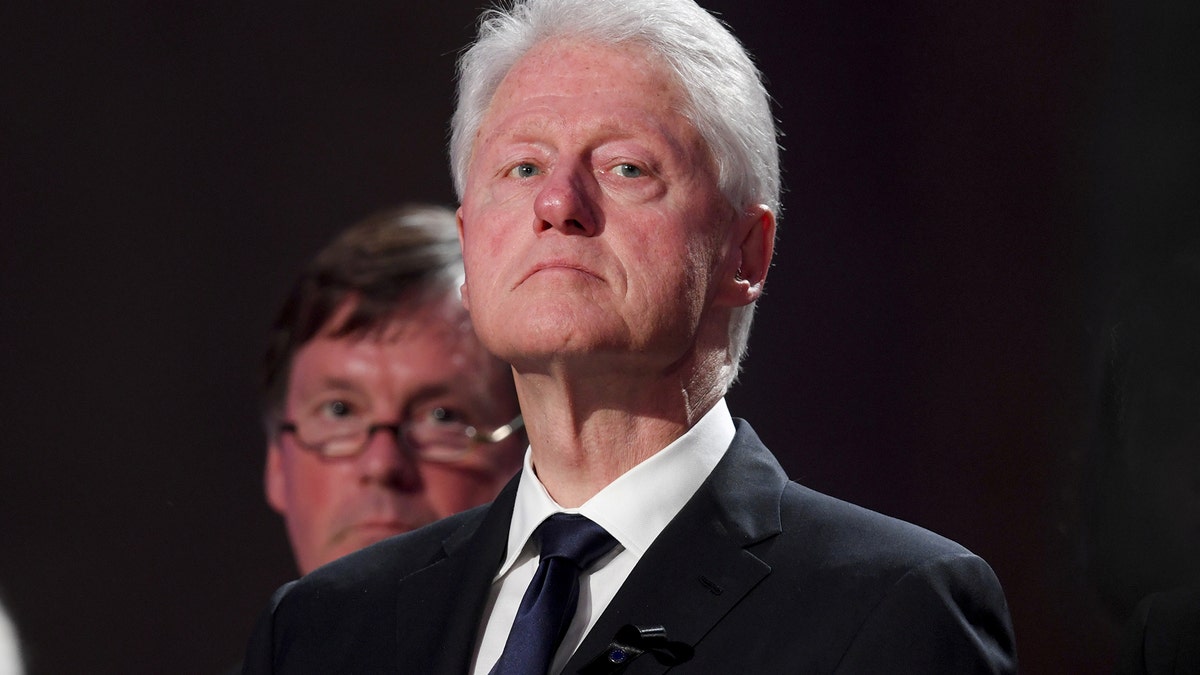 While criticizing former FBI Director James Comey's memoir, Trump referenced the now-infamous meeting between former President Bill Clinton and Loretta Lynch on a Phoenix airport tarmac in June 2016. The meeting was questioned because the then-attorney general was leading the investigation into Hillary Clinton's email scandal.
"Comey throws AG Lynch 'under the bus!' Why can't we all find out what happened on the tarmac in the back of the plane with Wild Bill and Lynch?" Trump said. "Was she promised a Supreme Court seat, or AG, in order to lay off Hillary. No golf and grandkids talk (give us all a break)!"
Lynch has said she and Clinton discussed only "innocuous things" on the tarmac but acknowledged that her "speaking to the former president raised concerns in people's minds about whether or not there was going to be any impact on the email investigation."
Cheatin' Obama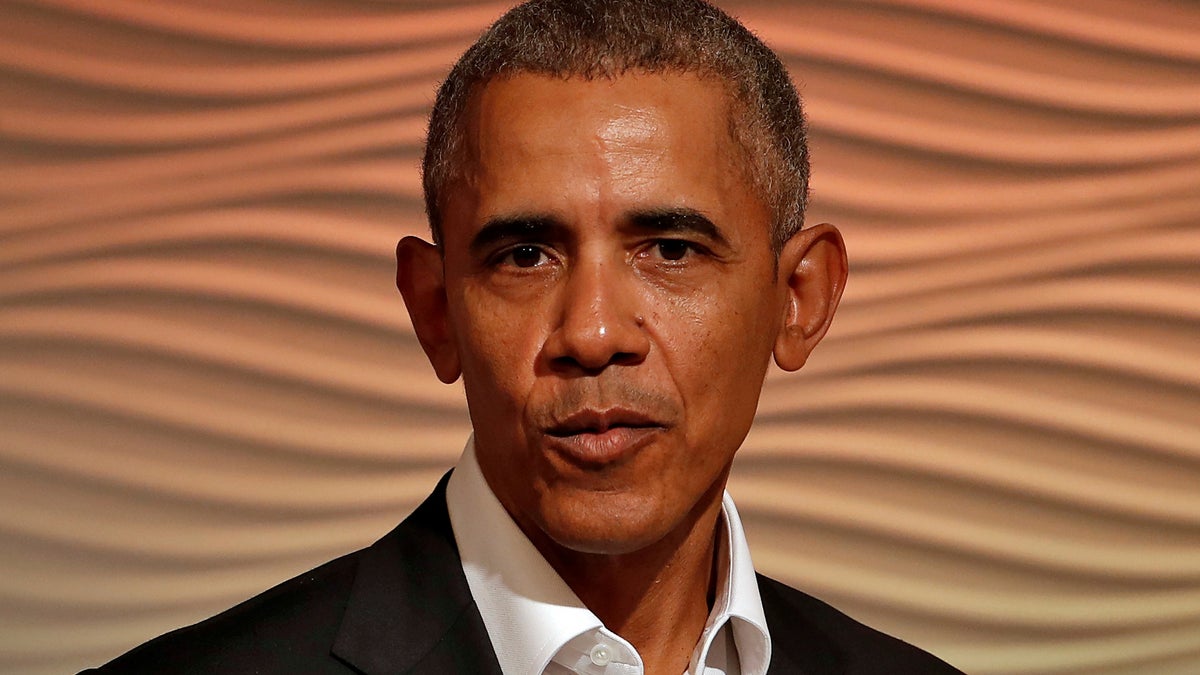 Trump praised his own approval ratings on social media – while taking a jab at former President Barack Obama.
The president said the "honest polling" of Rasmussen shows his approval rating at 50 percent, "which is higher than Cheatin' Obama at the same time in his Administration."
The April 2 Rasmussen poll showed 50 percent of likely U.S. voters approved of Trump. However, 49 percent disapproved.
Little Marco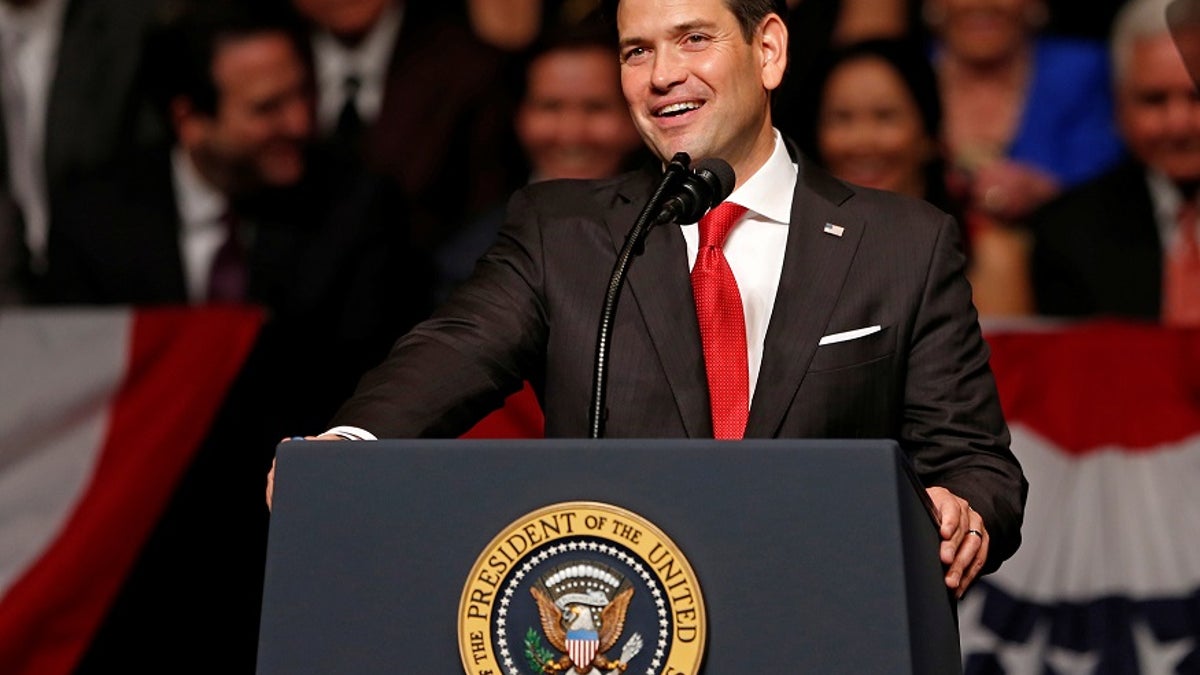 The rhetoric among the Republican presidential contenders hit a different kind of low as Florida Sen. Marco Rubio went after Trump for having "small hands" and Trump started to call the senator "Little Marco." The two also discussed the size of Trump's hands – and other things – during a GOP debate in March 2016.
Trump first tweeted the "Little Marco" nickname in February 2016.
Lyin' Ted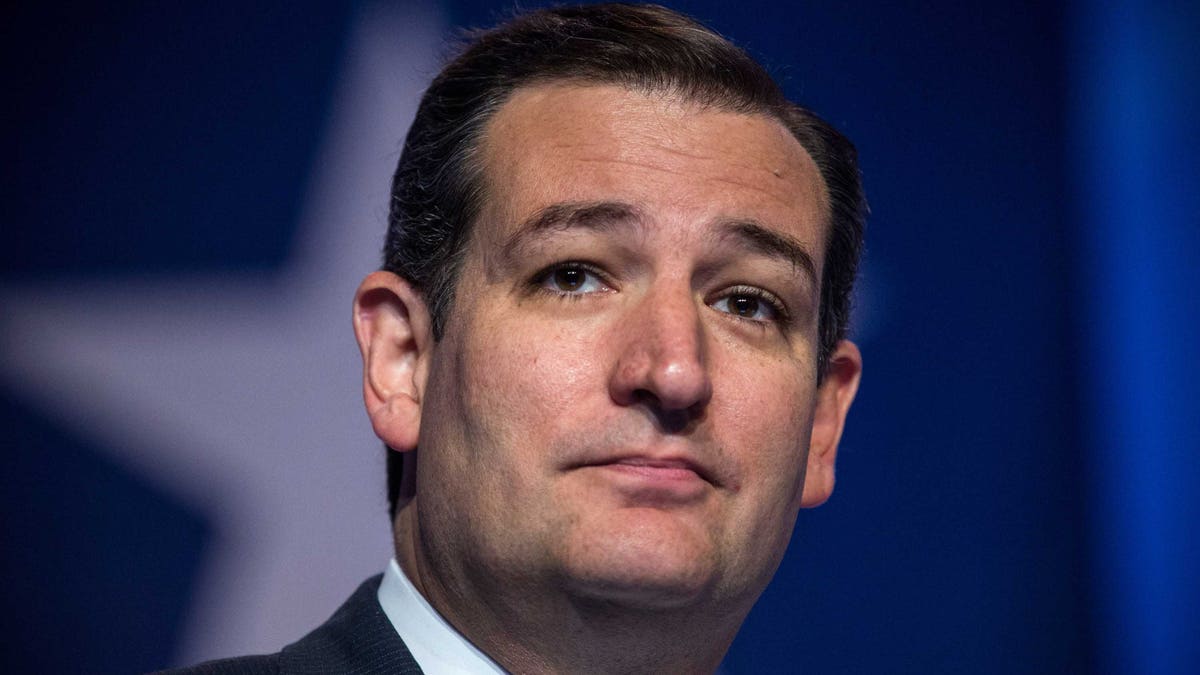 Texas Sen. Ted Cruz and Trump didn't start out as enemies during the 2016 campaign, but the two Republican contenders were soon at each other's throats. Trump dubbed Cruz "Lyin' Ted" when he went after him for his immigration policies in a campaign ad in March 2016.
Low Energy Jeb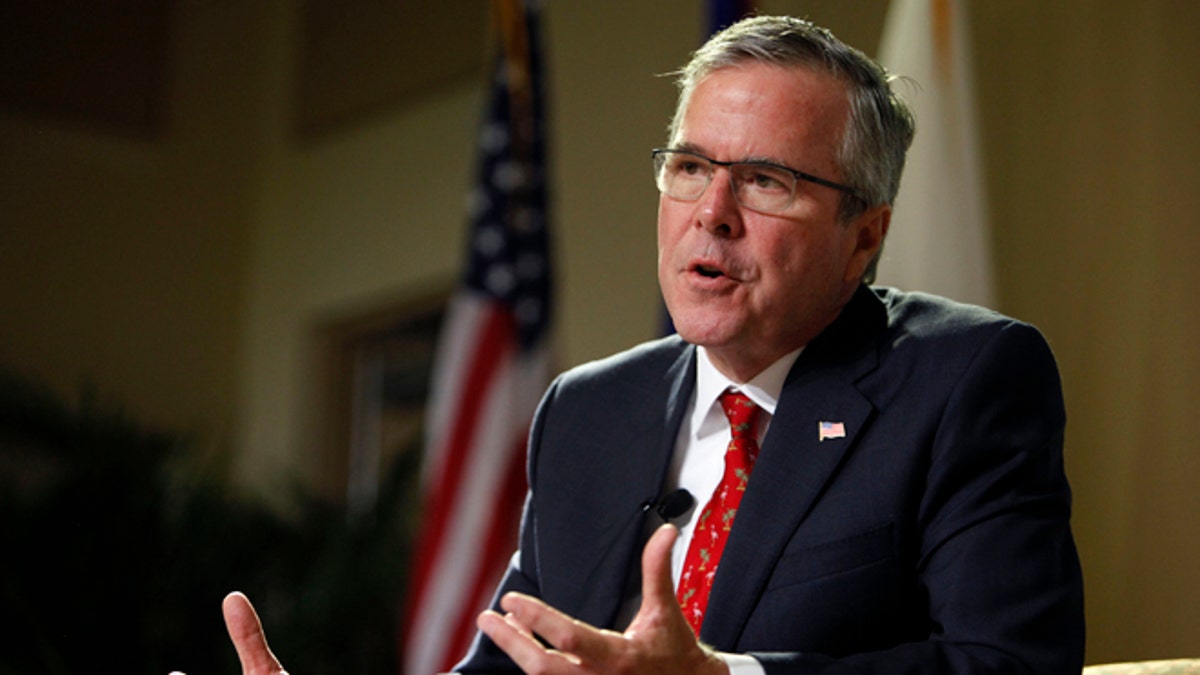 Former Florida Gov. Jeb Bush also got a Trump nickname when he was a 2016 Republican presidential contender – "Low energy Jeb Bush."
Despite the exclamation point in Bush's campaign logo, Trump started to use the nickname to criticize his opponent during the campaign. Trump told Business Insider that there wasn't a backstory to the nickname, he "just seemed" like a "low energy" person to Trump.
1 for 38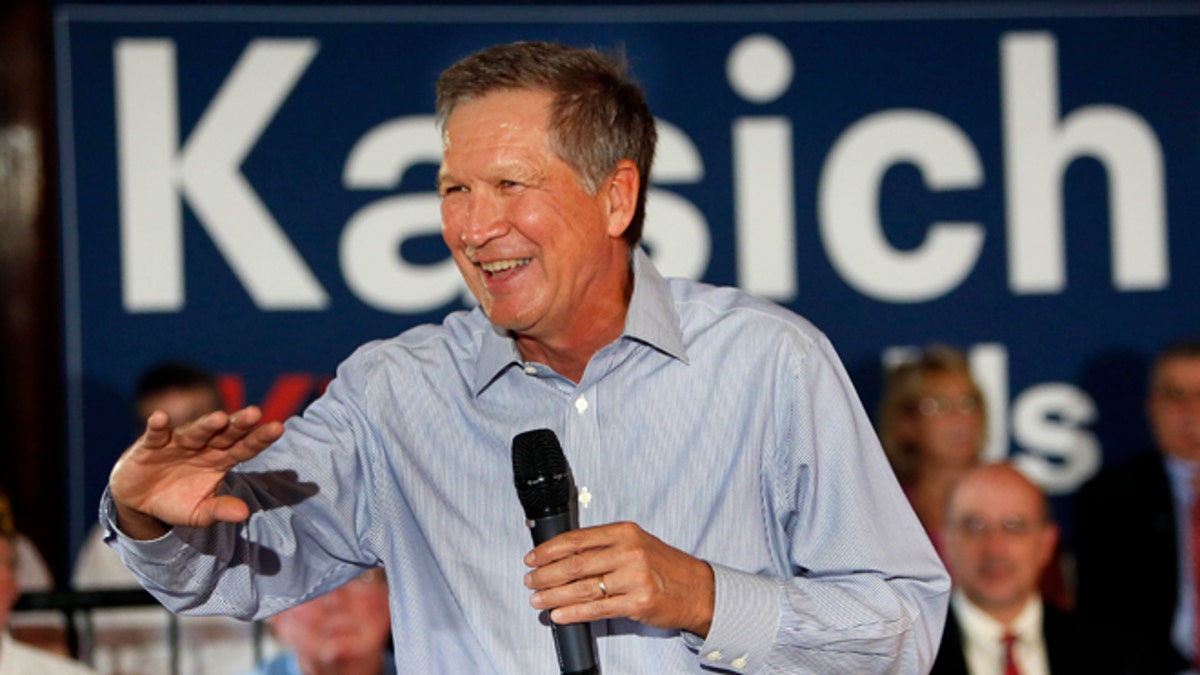 When Ohio Gov. John Kasich attempted to team up with Cruz during the Republican primary to deny Trump the party's nomination, Trump took to Twitter to dole out a new nickname. And Kasich became "1 for 38."
Trump assigned Kasich the name because he won only one state in the primary and lost the others, Trump said in a statement in August 2016. Eventually Kasich would also be referred to as "1 for 42" by the eventual president.

Crazy Bernie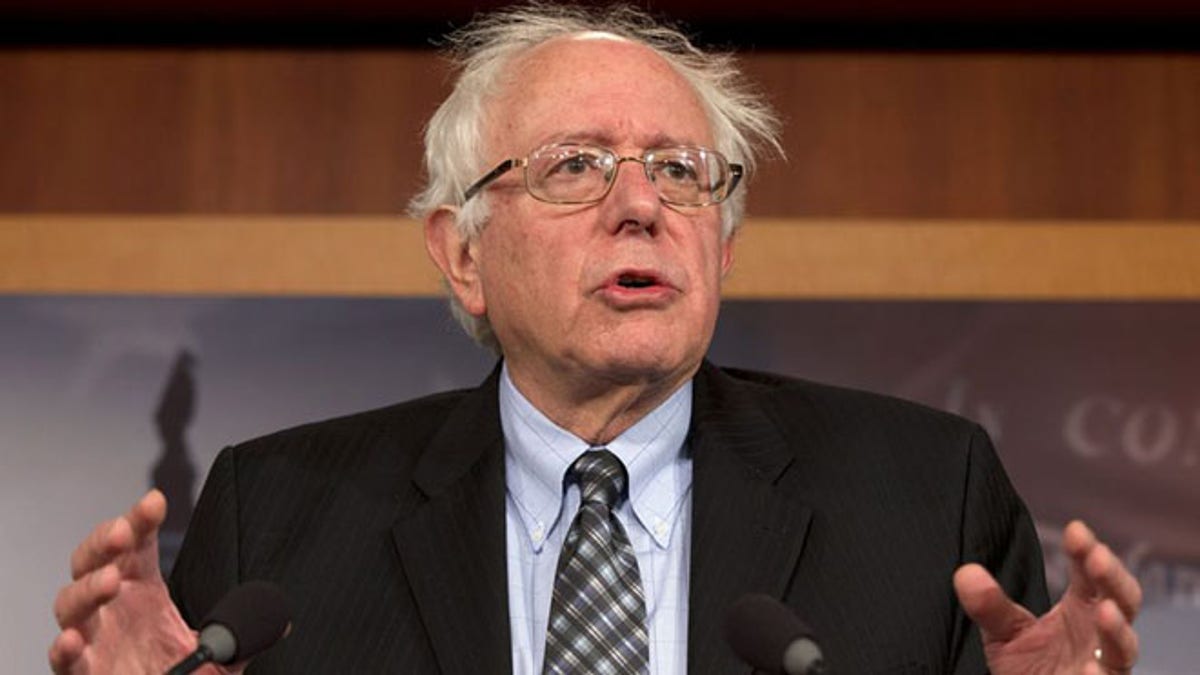 Sen. Bernie Sanders, the white-haired Independent socialist who became a progressive icon during the 2016 election, earned himself the nickname "Crazy Bernie" from Trump.
Trump first tweeted about "Crazy Bernie" in May 2016 when he criticized "Crooked Hillary" for "looking very bad against" Sanders.
Crying Chuck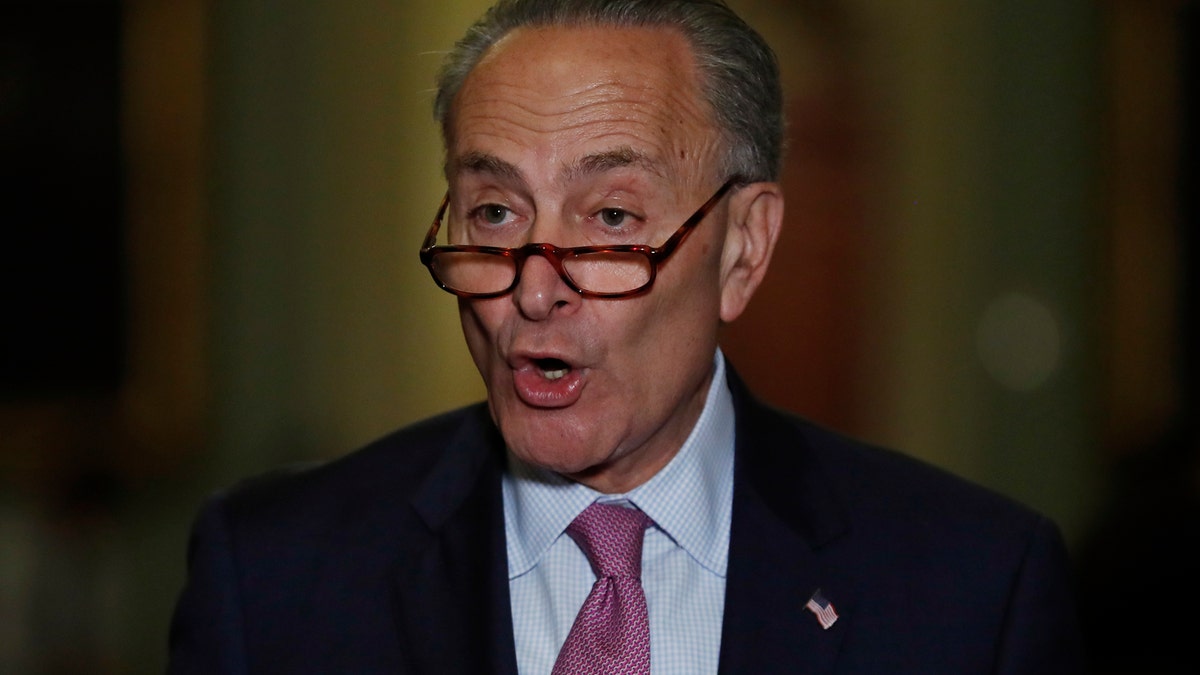 After Senate Minority Leader Chuck Schumer, N.Y., criticized Trump for firing F.B.I. Director James Comey, Trump hit him right back – with an original nickname.
"Cryin' Chuck Schumer stated recently, "I do not have confidence in him (James Comey) any longer." Then acts so indignant," he tweeted on May 9, 2017.
Schumer shed some tears when he discussed Trump's immigration ban earlier in 2017.
But Schumer wasn't crying after Trump agreed to the Democrats' short-term debt-limit increase and Hurricane Harvey aid.
Crazy Jim Acosta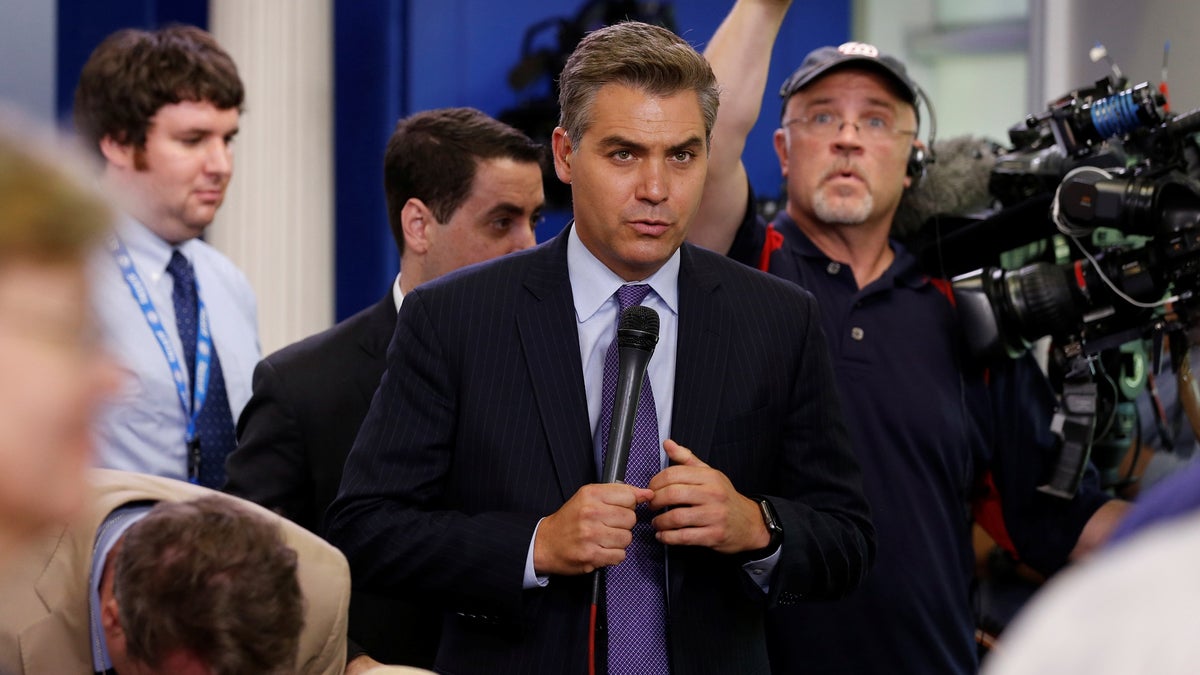 Trump had a surprising tweet of gratitude Tuesday morning for CNN's White House correspondent, Jim Acosta – while also bestowing a nickname on his media adversary.
"Even Crazy Jim Acosta of Fake News CNN agrees: 'Trump World and WH sources dancing in end zone: Trump wins again…Schumer and Dems caved…gambled and lost.' Thank you for your honesty Jim!" Trump tweeted.
Trump's tweet referenced Acosta's earlier social media post.
The president and his administration has often slammed Acosta and CNN for coverage they deem unfair – or "fake news." Trump has also kicked Acosta out of the Oval Office.
Sleepy Eyes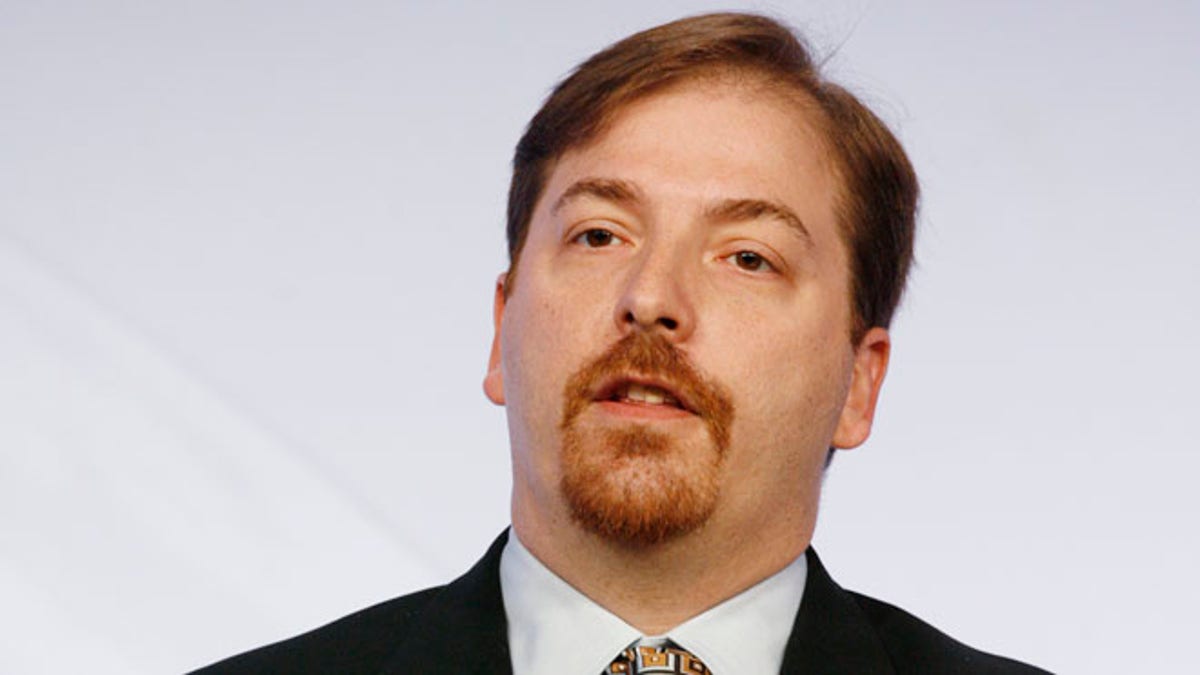 Trump has thought NBC reporter Chuck Todd has looked "sleepy" long before the election or campaign. He first dubbed Todd "sleepy" in a 2001 tweet, but upgraded his nickname to "Sleepy Eyes" by 2012.
And in 2018, at a campaign rally for a Republican congressional candidate, Trump slammed the NBC anchor as a "son of a b-----."
Trump mentioned a 1999 "Meet the Press" appearance when he discussed North Korea.
"It's 1999, I'm on 'Meet the Press,' a show now headed by sleepy-eyes Chuck Todd," Trump said. "He's a sleeping son of a b----, I'll tell you."
Dumb as a Rock Mika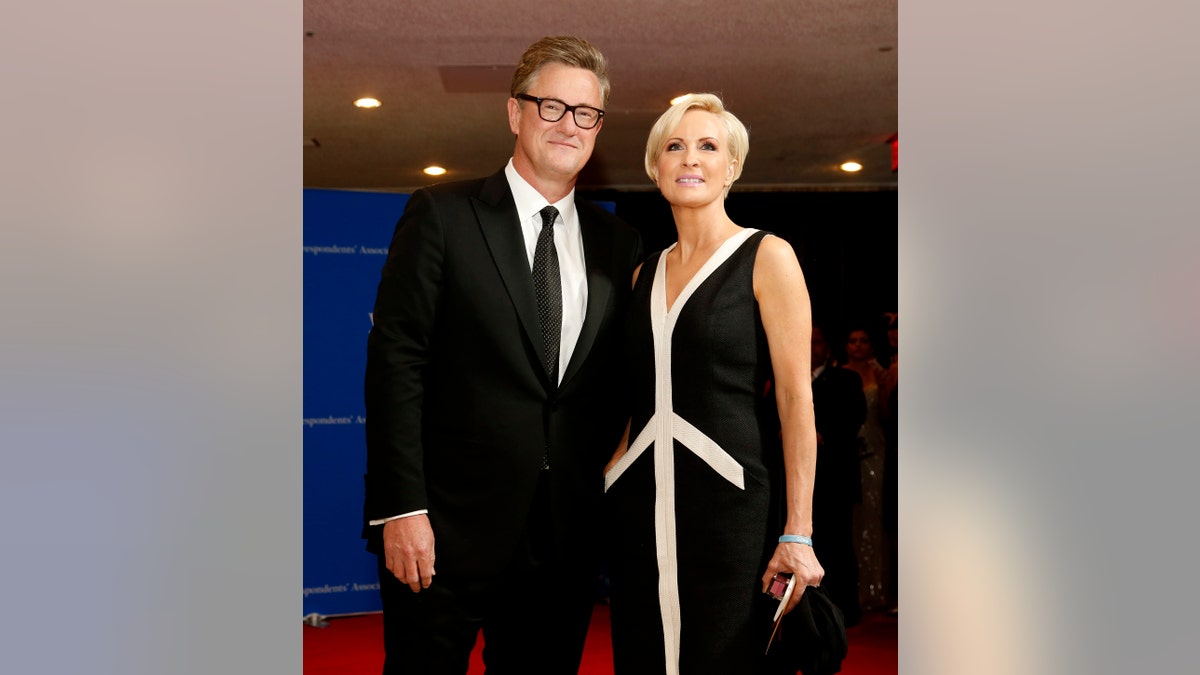 From writer Touré to National Review, Trump has called many things "dumb as a rock." But Mika Brzezinski, co-host of MSNBC's "Morning Joe" earned the nickname in July after she and Joe Scarborough criticized the president.
"Crazy Joe Scarborough and dumb as a rock Mika are not bad people, but their low rated show is dominated by their NBC bosses," he tweeted. "Too bad!"
His attack on the news anchor continued, as he called her "low I.Q. Crazy Mika" and said she was "bleeding badly from a face-lift" when she came to Mar-a-Lago around New Year's Eve.
Psycho Joe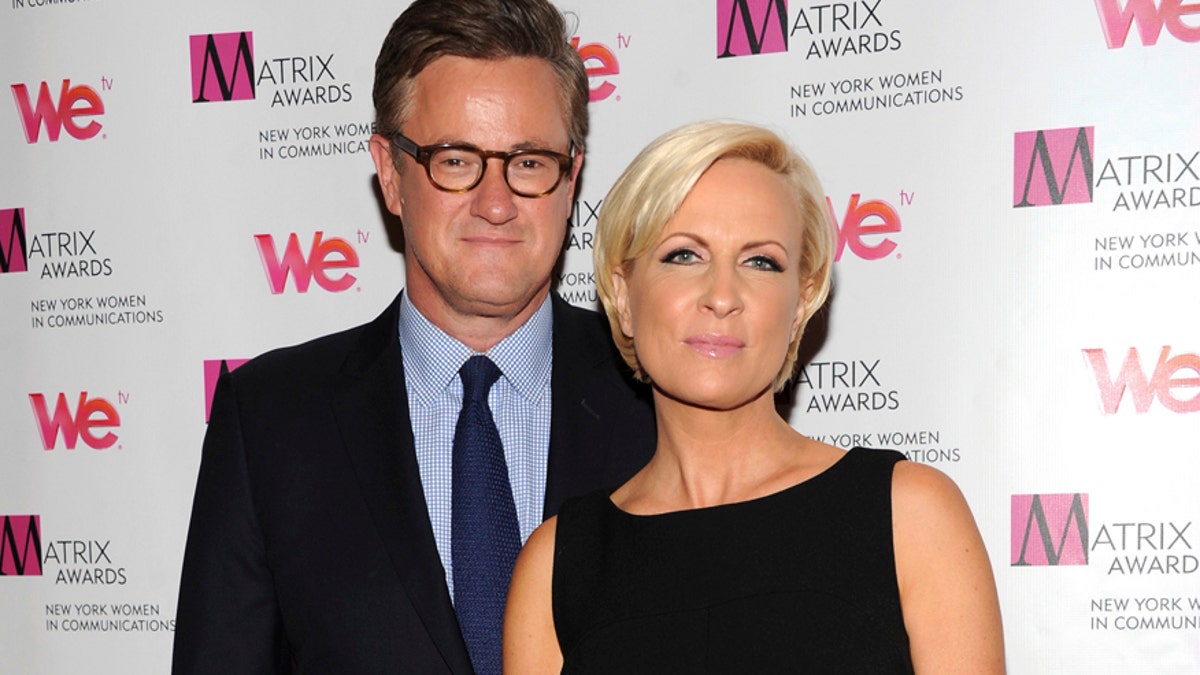 In a Twitter rant about his dislike of MSNBC's "Morning Joe" program, Trump dubbed host Joe Scarborough "Psycho Joe."
Crazy Megyn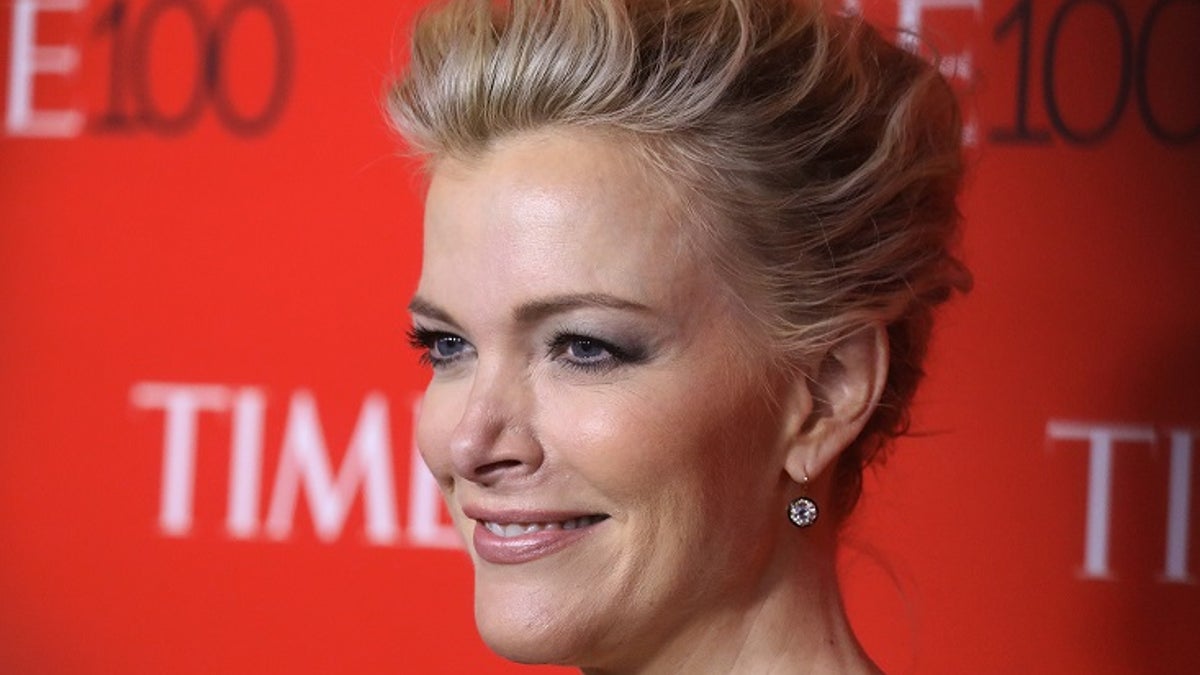 Trump's comments about then-Fox News anchor Megyn Kelly were often criticized and deemed misogynistic by critics. During their feud, Trump took to calling Kelly "Crazy Megyn."
Little Jeff Zucker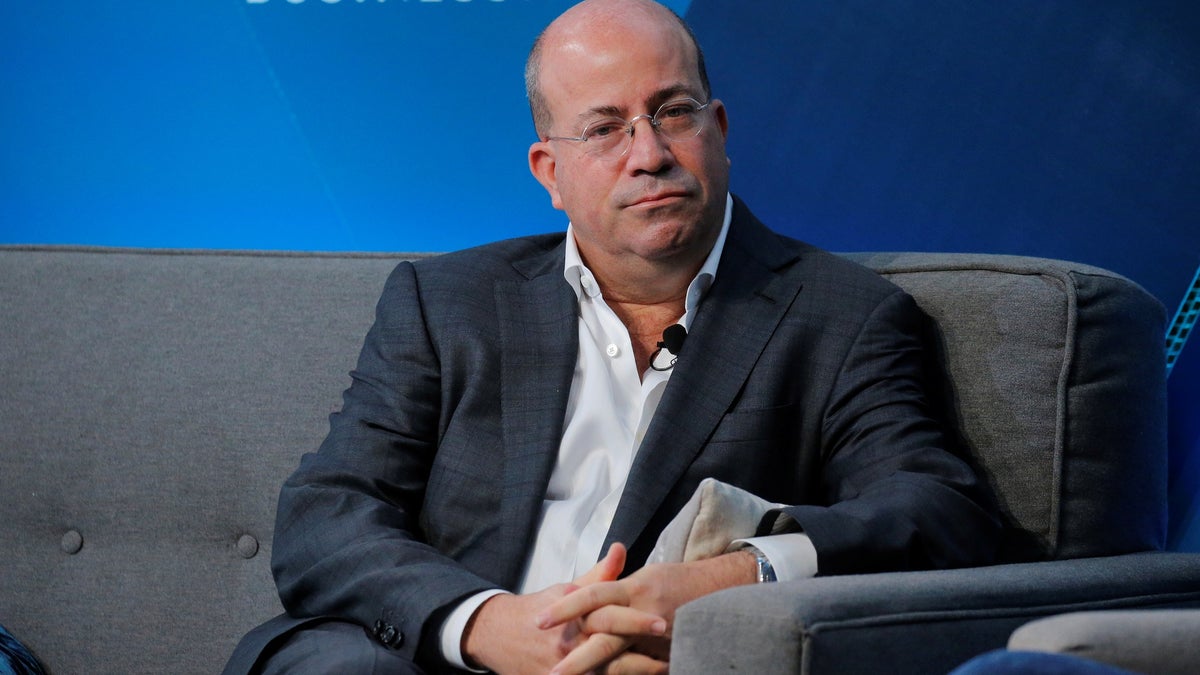 Trump criticized CNN in an April tweet – and called its president "Little Jeff Zucker."
"Check out the fact that you can't get a job at ratings challenged [CNN] unless you state that you are totally anti-Trump," the president alleged on social media. "Little Jeff Zucker, whose job is in jeopardy, is not having much fun lately. They should clean up and strengthen CNN and get back to honest reporting."
Fox News' Matt Richardson and The Associated Press contributed to this report.