Trump visits border wall prototypes in California as state is at 'war' with administration
LOS ANGELES – President Trump on Tuesday will get a first-hand view of the border walls that were the centerpiece of his presidential campaign.
Trump will visit San Diego to inspect eight prototypes of the "big, beautiful wall."
But experts say Trump is literally walking into a political war zone with his visit. California Gov. Jerry Brown has said the state is at war with the Trump administration. On Monday, Rep. Juan Vargas, D-San Diego, told a large media gathering that the president "is not welcome here."
"He would be welcome as our president if he stopped his racism, if he stopped bidding people once and for all against each other, if he acted like a president, if he had a little decency," Vargas said. "He has none of that so he's not welcome here."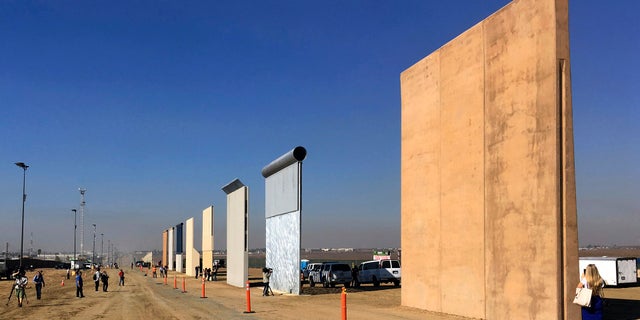 The president arrives in San Diego Tuesday morning and will spend 40 minutes examining the different design features before flying to a fundraiser in Beverly Hills.
As he flew to California, Trump took aim at the state's sanctuary policies, calling them "illegal and unconstitutional."
"California's sanctuary policies are illegal and unconstitutional and put the safety and security of our entire nation at risk," he tweeted. "Thousands of dangerous & violent criminal aliens are released as a result of sanctuary policies, set free to prey on innocent Americans. THIS MUST STOP!"
The relation between the administration and California is rocky, at best. Former presidential candidate Hillary Clinton won California by 4 million votes. The state has filed 28 lawsuits against the administration. A Republican has not been elected statewide since former Gov. Arnold Schwarzenegger in 2006. Minorities outnumber whites and Democrats outnumber Republicans almost two-to-one.
"Building more walls is irresponsible. When our bridges are crumbling and our schools are falling apart," said Christopher Wilson, associate director of Alliance San Diego. "We need infrastructure. We don't need walls."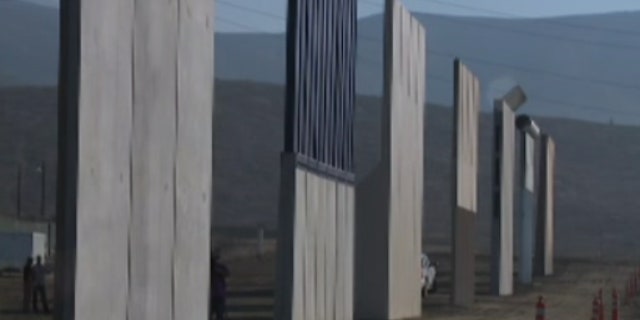 The irony: California is already almost entirely walled off from Mexico, construction that began under former President Bill Clinton and continued under President Barack Obama.
Evaluation of the eight, 30-foot high prototypes are already underway. The U.S. Border Patrol has said it is not selecting one design but is taking features from each.
Agents prefer the see-through bollard-style fence, topped with concrete and a rounded, anti-scaling feature. Trump wants to roll out 60 miles this year and 64 next year.
"It's not just so much illegal immigration as also the drugs that come across the border, the human and sex trafficking that come across the border," said Amy Sutton of San Diego Patriots. "There's many things that go along with this and we need to get a handle on it because it's out of control here in Southern California."
Trump is the first president since Dwight D. Eisenhower to skip a visit to California his first year in office. Thousands of demonstrators are expected to meet him in San Diego and Los Angeles.
Neither side is back down.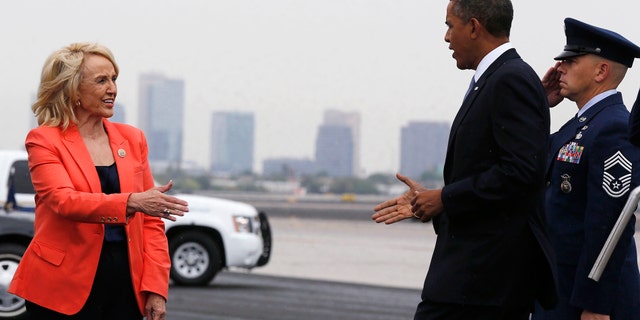 In the last 24 hours, top federal and state officials have traded insults and accusations. It appears no statewide official will greet the president when he arrives.
Unlike former Arizona Gov. Jan Brewer, who despite disagreements over immigration met President Obama on the tarmac in 2012, Brown has not extended the same courtesy to Trump.
Instead, Brown wrote a letter to Trump inviting him to visit the high-speed rail construction in Central Valley.
"You see, in California we are focusing on bridges, not walls," Brown said in his letter. "And that's more than just a figure of speech."
Several protests are planned on Tuesday. One group will erect a large sign opposing the border wall, and several protests are planned in Southern California.
"You promised us a bill of love. You told us that you stand with the immigrant community," said Ali Torabi of San Diego Border Dreamers. "Everything you're doing is extremely harmful, wasteful and hateful."
Those who welcome Trump's visit are also planning rallies of their own. Among those who will attend those rallies are parents whose children were killed by illegal immigrants.
"He speaks his mind. And he's not afraid of being not politically correct," Sutton said. "And I am all for that. And I think that's how the middle class and the regular working people—we can relate to him."