Trump unravels more of Obama's legacy, with proposed freeze on mileage rules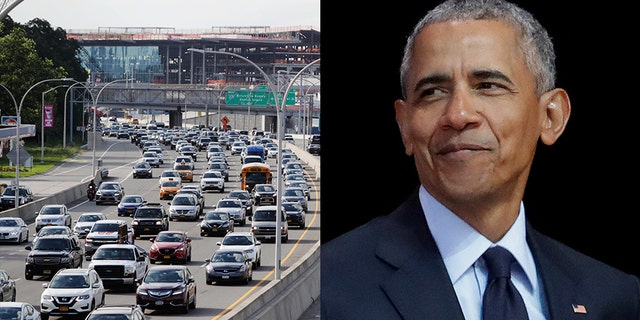 The Trump administration on Thursday moved to freeze fuel economy standards in what officials described as an effort to give drivers access to "safer" and "more affordable" vehicles, in the latest swipe at former President Barack Obama's legacy.
The proposal comes just one day after the Trump administration announced major changes to health plans, providing consumers with more options to buy cheaper, short-term health insurance.
The Department of Transportation and Environmental Protection Agency proposed the vehicle change as the first formal step in setting new standards for model years 2021 through 2026. The plan would freeze the Obama-era requirements set to take effect after 2020.
"There are compelling reasons for a new rulemaking on fuel economy standards for 2021-2026," Secretary of Transportation Elaine Chao said in a statement Thursday. "More realistic standards will promote a healthy economy by bringing newer, safer, cleaner and more fuel-efficient vehicles to U.S. roads and we look forward to receiving input from the public."
The administration also filed notice Thursday that it wants to revoke the authority of California and other states to set their own, stricter mileage standards -- independent of federal ones.
Acting EPA Director Andrew Wheeler said the change would strike a balance.
"Our proposal aims to strike the right regulatory balance based on the most recent information and create a 50-state solution that will enable more Americans to afford, newer, safer vehicles that pollute less," Wheeler said in a statement. "More realistic standards can save lives while continuing to improve the environment."
The EPA and National Highway Traffic Safety Administration said the administration supports freezing the mileage standards after 2020, but would seek public comment now on that proposal and a range of others, including leaving the tighter, Obama administration fuel standards in place.
The current standards, according to the Department of Transportation, have been a factor in the rising costs of new cars to an average of $35,000 or more, which they argue is "out of reach" for most American families.
AFFORDABLE HEALTH CARE IS HERE: HHS SEC ALEX AZAR
Keeping the current standards in place, which were finalized in 2012, would add $2,340 to the cost of owning a new car, and would impose more than $500 billion in costs to the economy over the next 50 years, according to the Department of Transportation.
The Trump administration argued that the "ever-increasing" vehicle fuel efficiency standards have a negative effect on highway safety.
"Cars are more expensive, and if cars are more expensive, people buy fewer new cars," EPA Assistant Administrator Bill Wherum told reporters Thursday, explaining that people are driving older cars as opposed to new "cleaner" and more efficient vehicles. "That translates into higher fatalities and injuries on the road due to accidents."
The Department of Transportation and the EPA estimated that the rule could save 1,000 lives annually.
Immediately following the announcement, New York's Democratic Attorney General Barbara Underwood, part of a coalition of 20 other attorneys general, threatened to take the administration to court.
"Freezing or weakening these standards puts the health of our children, seniors, and all communities at risk, and increases the rising costs of climate change for our states," Underwood said in a statement. "This decision upends decades of cooperative state and federal action to protect our residents. We are prepared to go to court to put the brakes on this reckless and illegal plan."
Fred Krupp, president of the Environmental Defense Fund, called the proposed rule "a massive pileup of bad ideas" that would increase pollution and raise fuel costs for consumers.
He said in a statement that the organization would challenge the administration's action "in the court of public opinion and the court of law."
The proposed rule is the most recent Trump administration effort to roll back Obama-era policies. On Wednesday, the administration's short-term health insurance plan provided an option to consumers separate from ObamaCare.
The plans would last up to 12 months and can be renewed for up to 36 months, with premiums reaching just one-third of comprehensive, full coverage. The plan is geared to Americans who want an individual health insurance policy, but who make too much money to qualify for ObamaCare subsidies.
Democrats blasted the short term policy as "junk insurance" on Wednesday, suggesting the plan would raise premiums for sick Americans and put people at risk.
Despite the new plan, the Trump administration has yet to fully repeal ObamaCare, as candidate-Trump and so many Republicans promised on the campaign trail.
But last year, as part of the GOP tax overhaul, Trump successfully repealed the individual mandate penalty--which was the linchpin of Obama's signature health care law. The individual mandate required Americans to buy insurance or face a penalty. Official estimates predict that 4 million more people would be uninsured when the mandate repeal takes effect, and that 13 million more Americans would be uninsured by 2027.
Trump has also successfully scrapped other massive policies and agreements made under the Obama administration.
Last year, Trump withdrew the U.S. from the Paris Climate Accord, which was negotiated by Obama, and earlier this year, Trump pulled out of the Iran nuclear deal.
The Associated Press contributed to this report.