Trump trade war with China puts 300,000 soybean farmers, $14 billion export industry in limbo
CANTON, Miss. – Hundreds of thousands of U.S. soybean farmers are rethinking strategy because of a growing fear that a potential trade war with China would cripple the industry.
The Trump administration announced $50 billion in tariffs on Chinese goods for "unfair trade practices" involving intellectual property and American technology, and China responded with its own trade threat – $50 billion in tariffs on U.S. goods, including soybeans.
Soybean farmers say they are already feeling the pinch. The back-and-forth has caused significant price drops for soybeans this year, just months ahead of harvest season.
"I support the president's action. The initial tariffs that the president asked us to put in place were proportionate and responsive to forced technology transfer and intellectual property theft by the Chinese," U.S. Trade Representative Robert Lighthizer, said in a statement. "It is very unfortunate that instead of eliminating these unfair trading practices China said that it intends to impose unjustified tariffs targeting U.S. workers, farmers, ranchers, and businesses. At the president's direction, USTR is preparing the proposed tariffs to offset China's action."
President Trump has said the massive trade deficit with China is a reason for his tough strategy. But the moves could have a major impact on the $14 billion industry.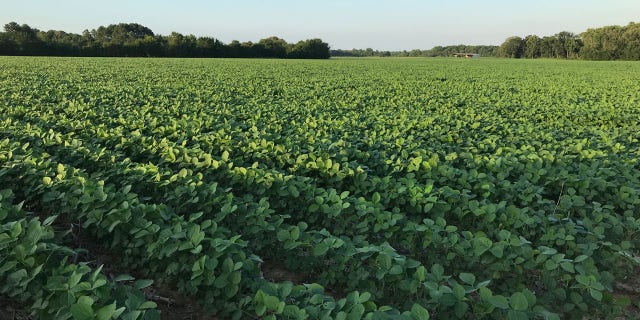 China imported 60 percent of U.S. soybeans exports in 2017, according to the American Soybean Association (ASA). The ASA, which represents 300,000 soybean farmers, noted a $6 billion price drop for the 2018 crop, which will be harvested later this year.
People like Danny Murphy, who's been a farmer for his entire adult life in Mississippi, said the trade feud hurts his bottom line.
"If [the current price] was applied to my crop and it remains in effect through harvest [it] would amount to probably $150,000 for me," Murphy told Fox News. "I'm approaching retirement age and you take a $150,000 out of a retirement plan that you don't have available…yeah it is a significant hit."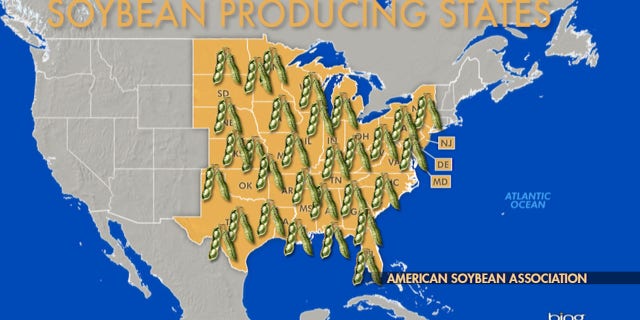 Like most farmers, Murphy said it's too late to switch to another crop since he's well into the growing season. He typically sells around $750,000 worth of product and has to account for the expenses of running his business. About half of his 1,500-acre farm is dedicated to soybeans and the other half is used to grow corn.
Brandon Wipf, a South Dakota soybean farmer and member of the ASA board of directors, said many growers around the country may have to come up with a new strategy if things get worse.
"Certainly, if this trade war were to continue to escalate, you're going to see some big time switch in strategy [on] the part of farmers all across America going into the next year and the next year," Wipf said. "If everybody switches to plant corn for instance, well what do you think the price of corn is going to do? It's going to tank."
For nearly 40 years American soybean farmers have worked to corner the Chinese market for their product. The country imports the majority of raw soybeans, which amounts to about $14 billion for the U.S. economy.
Economists say President Trump may have to rethink his trade policy because it will majorly impact the farm belt, which tends to be solidly Republican.
"We need to protect our farmers by not needlessly starting a trade war that's too aggressive of a policy that's going to cause a backlash for our farmers," said Michael Szanto, an economist from the University of Miami. "Now, it is possible that both sides will back down on this and this is not to say that the United States should not do anything [but] generally as an economist I am very leery of tariffs interfering with free trade."
Szanto noted that the Chinese are targeting states that voted for President Trump in the 2016 election.
The tariffs on Chinese goods are set to go into effect on July 6.
Fox News' Allie Raffa contributed to this report.