Trump tours Tennessee destruction after deadly tornadoes, hears victims' stories
President Trump on Friday toured devastated parts of Tennessee that were hit by tornadoes this week and suffered dozens of deaths and many more injuries.
"This is real devastation like you'll hopefully never see again," the president said, as he surveyed damage in the city of Cookeville, praising the rebuilding that was already underway.
NASHVILLE TORNADO LEAVES SEVERAL DEAD AS SEVERE WEATHER STRIKES TENNESSEE
Trump, wearing a Keep America Great hat, was greeted by state and local officials after landing in Nashville. He then boarded Marine One and surveyed the devastation from the air.
The visit comes a day after Trump approved a major disaster declaration for the state and ordered federal aid to supplement local recovery efforts in Davidson, Putnam and Wilson counties.
"You're great people. It's a great state," Trump said.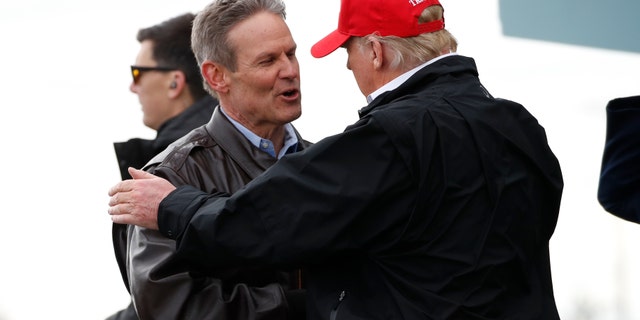 Cookeville is part of Putnam County, where a tornado tore a 2-mile-long path and killed 18 people, including five children under 13. Many more people were injured, some critically.
Trump was joined on the trip by Gov. Bill Lee, Sen. Marsha Blackburn, R-Tenn., and other top officials.
Ricky Shelton, Cookeville's mayor, said the site was like a "warzone" when the tornado first hit.
The officials emphasized the suddenness of the tornadoes and also praised the administration's response -- including both the declaration and the cooperation between federal and local officials.
"They just appeared," Trump said of the tornadoes. "And we're working very hard. FEMA's doing a great job," he said.
38 STILL UNACCOUNTED FOR AFTER TORNADOES RIP THROUGH CENTRAL TENNESSEE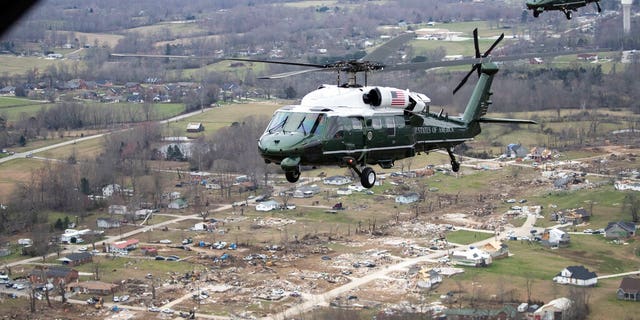 At least 25 people were killed when storms ripped through the state on Tuesday, officials said.
Trump told reporters of stories he had heard of the victims, including one boy who had been ripped out of his home by the storm and landed two blocks away.
CLICK HERE TO GET THE FOX NEWS APP
The weather service said that the tornado that hit Putnam was an EF-4 tornado, categorized as extreme between 166 and 200 mph. Local officials said it was on the ground for about two miles.
Among the damage was more than 100 destroyed buildings, downed power lines and a severely damaged airport.
Fox News' Kelly Chernenkoff, Brie Stimson and The Associated Press contributed to this report.