Trump threat to House GOP control? No worries, says Ryan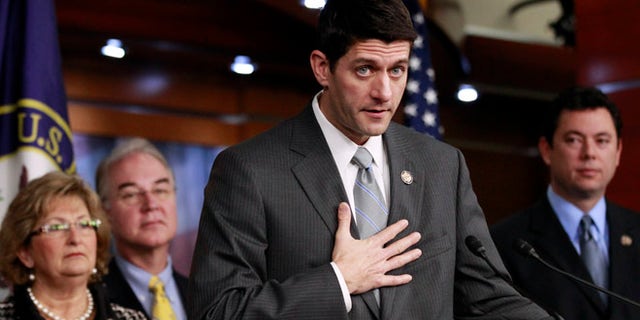 Some Republicans may be losing sleep over the prospects that Donald Trump could cost Republicans House control this November, but Speaker Paul Ryan says he's not one of them.
"I'm not concerned about the House flipping because we are in control of our own actions," Ryan, R-Wis., told reporters Tuesday. "And that means we're putting together an agenda to take to the country to show what we need to do to get this country back on the right track."
Ryan spoke as the billionaire businessman leads the race for the GOP presidential nomination about halfway through the party's state primaries and caucuses. Some in the party worry his unbridled comments about women, Hispanics and others will cost Republican candidates in swing House districts, and some leaders -- including 2012 GOP presidential nominee Mitt Romney -- are openly looking for ways to derail his march to the nomination.
House Republicans have a 246-188 edge over Democrats, plus one vacant seat considered sure to stay under GOP control.
Before Trump's rise, modest Democratic gains seemed possible. But few have believed the party could gain the 30 seats needed to win House control, a pickup that still seems challenging.
Under Ryan's direction, House Republicans have been working this year to develop proposals for health care, jobs, national security and other issues.
Such measures would have little chance of becoming law this year but are chiefly designed to show voters what the GOP would do if it controls Congress and the White House in 2017.