Trump surveys Harvey damage, calls for recovery 'better than ever before'
Waving the Texas flag, President Trump vowed Tuesday to help storm-stricken residents get back on their feet as he surveyed the damage on the ground from Hurricane Harvey and predicted a recovery effort "better than ever before."
The president's trip to Texas Tuesday was mostly dedicated to meetings with local officials and emergency responders.
But, stepping outside a Corpus Christi fire station, he paused from the formal briefings to try and boost the spirits of Texans who have spent days salvaging their belongings, searching for loved ones and getting to dry land while they wait out the flood.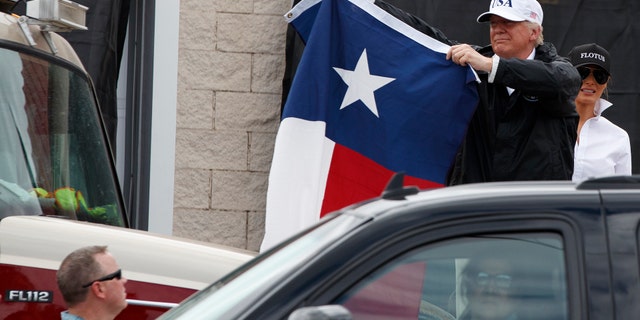 Standing between two fire trucks, Trump told a crowd that had gathered outside, "We are here to take care of you."
"We're going to get you back and operating immediately," Trump said, before holding up a large Texas state flag.
At that same fire station, Trump was briefed moments earlier on relief efforts alongside Texas Gov. Greg Abbott and FEMA Administrator Brock Long.
"We want to do it better than ever before," Trump said of the recovery. "We want to be looked at in five years or ten years from now as this is the way to do it."
Speaking of the storm, the president said: "This was of epic proportion. Nobody has ever seen anything like this."
The president, accompanied by first lady Melania Trump, arrived at Corpus Christi International Airport shortly before noon local time. He was greeted by Abbott.
"We want him to see and understand the enormous challenges that Texans have faced and the need for the aid that he's providing," Abbott told reporters as the president's plane landed.
On Tuesday afternoon, the president left Corpus Christi and flew to Austin, where he visited the Texas Department of Safety Emergency Operations Center and praised the work of its employees.
"The world is watching and the world is really impressed with what you are doing," Trump said.
Speaking with state officials, the president said he'd be "working with Congress" on relief funds but acknowledged it would be a "costly proposition."
"There's probably never been something so expensive in our country's history," Trump said.
The president was also joined by Texas Republican Sens. Ted Cruz and John Cornyn.
Abbott, a Republican, commended Trump for his response to the storm.
"Behind the scenes, the president has shown character and compassion," Abbott said. "He helped get Texas prepared."

Speaking to reporters on Air Force One during the flight to Texas, Sarah Sanders, the White House press secretary, said the intention of Tuesday's trip was to "lay the foundation for what we know will be a long recovery effort."
Corpus Christi is more than three hours away from Houston, where parts of the city are still under water, but Sanders said the president is keeping his distance from the devastation at this time so he doesn't interrupt local recovery efforts.
"The president wants to be very cautious about making sure that any activity doesn't disrupt the recovery efforts that are still ongoing," she said.
Some Cabinet members joined the president for the trip, including Health and Human Services Secretary Tom Price, acting Department of Homeland Security Secretary Elaine Duke, Housing and Urban Development Secretary Ben Carson and Small Business Administrator Linda McMahon.
The Cabinet officials met separately with their counterparts in state government during the visit, Sanders said.
The president returns to Washington on Tuesday evening but is expected to travel again to Texas this weekend, Sanders said.
During a press conference at the White House on Monday, the president promised "very rapid action from Congress, certainly from the president" on approving disaster funding for Texas.
TRUMP VOWS '100 PERCENT' SUPPORT, RAPID FEDERAL AID TO HARVEY VICTIMS
"We expect to have requests on our desk fairly soon, and we think that Congress will feel very much the way I feel," Trump said. "In a very bipartisan way. That will be nice. But we think you're going to have what you need and it's going to go fast."
Trump dismissed the notion that emergency funding for Texas could complicate efforts as a spending bill is negotiated with Congress.
"I think it has nothing to do with it, really," he said. "I think this is separate."
Meanwhile, Trump's campaign committee on Tuesday asked Americans to donate to relief funds, including the American Red Cross, the Salvation Army, the United Way, the SPCA and the Humane Society.
"This is a time to come together as a nation to support those in need in the wake of this disaster and the unprecedented flooding they are experiencing in the greater Houston and coastal Texas region," Lara Trump, the president's daughter-in-law and a senior advisor to Donald J. Trump for President, Inc., said in a news release.
Vice President Mike Pence said during an interview on a Corpus Christi radio program Tuesday that he also plans to take a trip to Texas this week.
"My wife and I will be in southeast Texas later this week, and we're going to continue to provide all of the resources necessary to advance the efforts to rescue people that are enduring this storm," he said.
Fox News' Jenny Bucholz contributed to this report.