The terms "unmasked" and "masked" – well-known in the lexicon of the intelligence community – now have a new meaning for the public following reports that federal agents may have inadvertently surveilled President Trump and members of his team and then disseminated that information.
The key to the Trump surveillance saga is whether U.S. intelligence officials were wrong in identifying high-level administration officials – possibly even the president – who were captured on wiretap during a federal investigation in which they were not the target.
Intelligence agents were surveilling Russian officials when they apparently picked up conversations between Kremlin leaders and Trump campaign officials.
Whether the names of U.S. officials should have been revealed – and whether the Trump administration secretly colluded with Russia to interfere with the U.S. elections – have been at the center of committee hearings where the terms "masked" and "unmasked" were used often.
TRUMP BASKS IN NUNES SURVEILLANCE NEWS: 'SO THAT MEANS I'M RIGHT'
The term "unmasked" refers to what happens when someone's communications are inadvertently collected as part of government surveillance of another subject, and the unintended target is named and documented. American identities are expected to remain "masked" in intelligence reports and documents to protect them. However, former Trump National Security Adviser Michael Flynn's identity was allegedly revealed in leaked, intercepted conversations with Russia's ambassador, leading to his resignation.
On Wednesday, House Intelligence committee chairman Devin Nunes, R-Calif., buoyed President Trump's assertions that his transition team had been under surveillance, saying that he had seen reports indicating "incidental collection."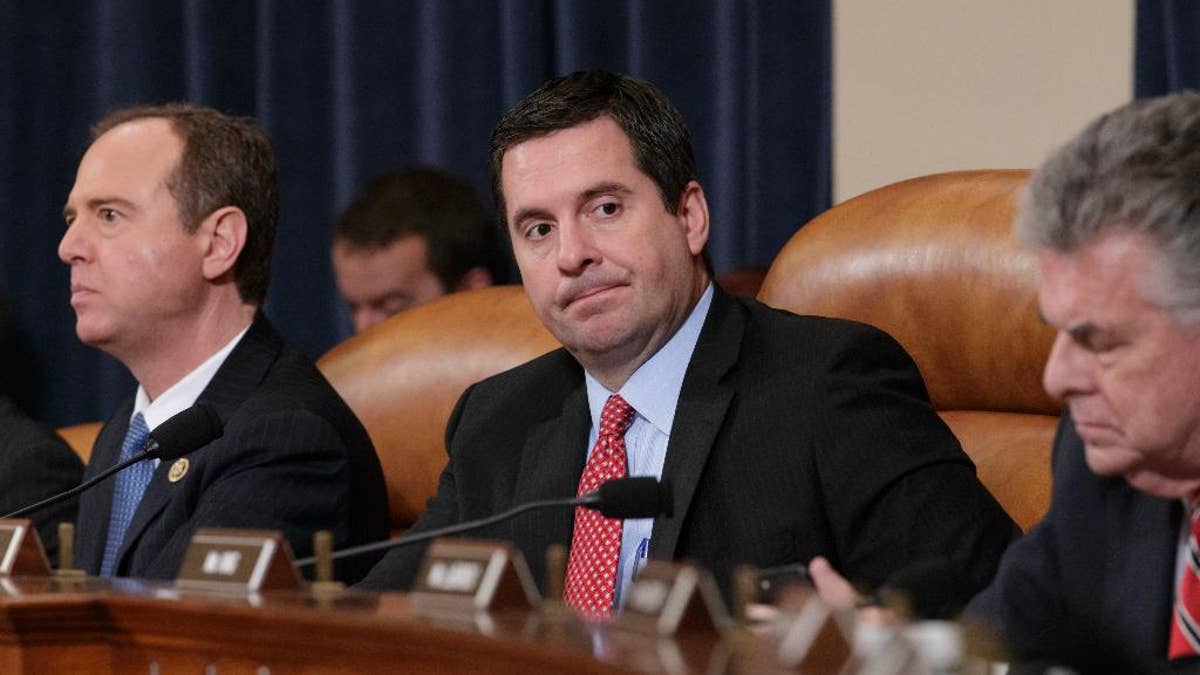 Nunes said the surveillance appears to have been legally obtained, but what is now in question is whether all the intelligence collected relating to Trump and members of his team should have stayed under wraps.
"This is a normal, incidental collection, based on what I could collect," Nunes said. "This appears to be all legally collected foreign intelligence under [the Foreign Intelligence Surveillance Act], where there was incidental collection that ended up in reporting channels and it was widely disseminated."
The act, known as FISA, allows for warrantless surveillance of foreign nationals, even if that foreigner is speaking with a U.S. citizen. The identity of the American is supposed to be hidden, or "masked" in intelligence community reports and documents, which seemingly isn't always the case.
TRUMP TEAM COMMUNICATIONS CAPTURED BY INTELLIGENCE COMMUNITY SURVEILLANCE, NUNES SAYS
Democrats have criticized Nunes for alerting the press and meeting with the president about the surveillance data, but failing to brief any Democrats on the committee – even leaving the committee's ranking Democrat, Rep. Adam Schiff, out of the loop. Minority House Leader Nancy Pelosi, D-Calif., released a statement in response to Nunes' findings, as well as the way in which he revealed them.
"The unmasking of legally intercepted intelligence is often appropriate and necessary to understand the context of foreign intelligence information," Pelosi wrote in her statement. "Chairman Nunes' actions are disrespectful of ranking member Schiff and the bipartisan membership of the intel committee."
Trump has said he feels vindicated after many questioned his claims that Obama ordered surveillance on him.
The allegations come on the heels of the Obama administration expanding the power of the National Security Agency in an executive order shortly before he left office in January. The NSA can now share intercepted personal communications more freely with the other 16 U.S. government intelligence agencies, before applying privacy protection measures.
Critics claim that the Obama order allowing for increased accessibility to raw intelligence can lead to greater opportunities for leaks.
On Thursday, following a meeting with the House Intelligence Committee to discuss Nunes' finding that there was incidental collection of President Trump's team, Nunes announced that he would not share any of his sources, and had not shown members of his committee the documents he had seen. That same day, Rep. Jackie Speier, a California Democrat on the House Intelligence Committee, told reporters that Nunes apologized for not briefing the committee on his findings sooner.