Trump says he's under investigation, takes swipe at Rosenstein
NEWYou can now listen to Fox News articles!
President Trump said Friday he is under investigation by Special Counsel Robert Mueller and also took a swipe at Deputy Attorney General Rod Rosenstein in a fiery tweet that capped a string of morning messages.
"I am being investigated for firing the FBI Director by the man who told me to fire the FBI Director! Witch Hunt," Trump wrote.
A source confirmed to Fox News that Trump's tweet was referring to Rosenstein. However, a separate source close to Trump's legal team said the president was not confirming he was under investigation. He was simply referring to the content of a recent Washington Post story.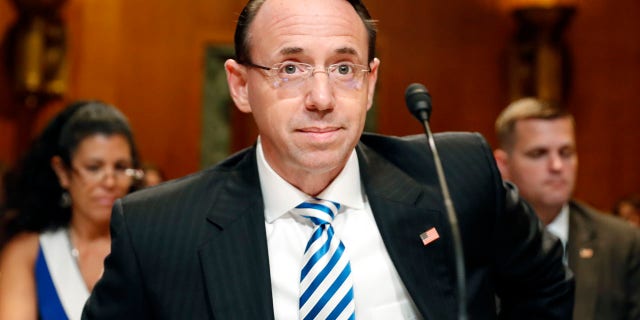 Rosenstein's May memo critical of ex-FBI Director James Comey's performance was among the reasons cited by Trump and others in Comey's firing. Soon after Comey's ouster, Rosenstein -- who had been Comey's direct superior at the Justice Department -- appointed Mueller, a former FBI director himself and a friend of Comey's, to lead a wide-ranging probe, ostensibly focused on Russian meddling in the U.S. presidential election but also encompassing a host of allegations made against Trump and his associates.
As soon as Comey was fired, detractors accused Trump of obstruction of justice. Comey had been heading the Russia investigation for the FBI -- but he testified that he told Trump on at least three occasions that the president was not being investigated for any alleged collusion with Russia.
At the same time, Comey said he believed he was ousted because of the Russia probe. And it was recently reported that Mueller had begun looking into Trump for obstruction of justice -- possibly stemming from Trump's alleged efforts to sideline the probe of ex-national security adviser Michael Flynn and statements on the Comey firing citing his dissatisfaction with the Russia probe (aside from the Rosenstein memo).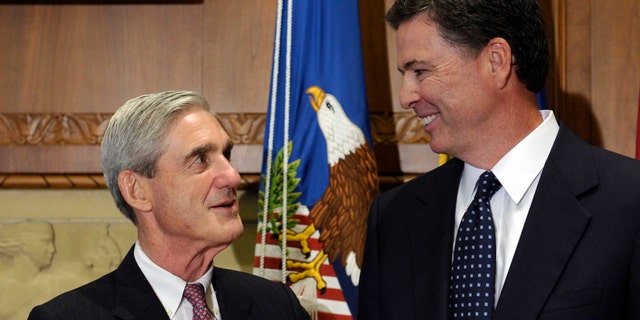 Attorney General Jeff Sessions, who worked on Trump's presidential campaign, recused himself from the Russia investigation in early March, which is why Rosenstein was the official to appoint Mueller. Trump and Sessions were reported to have been at odds over Sessions' recusal, and the relationship became so fraught that Sessions at one point allegedly offered his resignation -- which Trump rejected.
A newer development is Trump's apparent anger at Rosenstein -- though it may partially explain an odd statement released by Rosenstein on Thursday night. In it, Rosenstein cautions against believing anonymously-sourced articles, perhaps hoping to blunt his boss' growing frustration with a continued drip of leaked stories alleging collusion between the Kremlin and Trump campaign.
"Americans should exercise caution before accepting as true any stories attributed to anonymous 'officials,' particularly when they do not identify the country – let alone the branch or agency of government – with which the alleged sources supposedly are affiliated," Rosenstein wrote in the statement. "Americans should be skeptical about anonymous allegations."
The Democratic National Committee on Friday called for Rosenstein to recuse himself from the Russia probe and Sen. Dianne Feinstein, D-Calif., issued a strongly-worded statement in response to Trump's morning tweets.
"I'm growing increasingly concerned that the president will attempt to fire not only Robert Mueller, the special counsel investigating possible obstruction of justice, but also Deputy Attorney General Rosenstein who appointed Mueller," Feinstein wrote. "The message the president is sending through his tweets is that he believes the rule of law doesn't apply to him and that anyone who thinks otherwise will be fired. That's undemocratic on its face and a blatant violation of the president's oath of office."
Trump's frustration with months of inquiries into his campaign's alleged connection to Russian officials boiled over on Twitter – again – earlier Friday morning, with Trump writing that none of the myriad congressional, federal or special probes had shown any wrongdoing on his part.
"After 7 months of investigations & committee hearings about my 'collusion with the Russians,' nobody has been able to show any proof. Sad!" Trump tweeted.
He later took aim at one of his favorite targets, the media, and said despite the obstacles his agenda was moving forward.
"The Fake News Media hates when I use what has turned out to be my very powerful Social Media - over 100 million people! I can go around them," Trump wrote.
"Despite the phony Witch Hunt going on in America, the economic & jobs numbers are great. Regulations way down, jobs and enthusiasm way up!"
Trump has grown increasingly infuriated by the slow drip of allegations – most of which have emerged as anonymous leaks and without proof – prompting a Thursday mini-tweet storm to harangue those involved with the probe for "the single greatest WITCH HUNT in American political history."
Trump's apparent allegation-exhaustion also comes just two days after a gunman who was obsessed with posting anti-Trump rhetoric opened fire on GOP legislators at a baseball practice, critically wounding Rep. Steve Scalise and four others.
The tweet also comes the same week Mueller's probe was reported to have expanded to Trump son-in-law and top aide Jared Kushner, and Sessions had to refute allegations made against him to a congressional committee in a high-stakes televised hearing.
Fox News' John Roberts and Brooke Singman contributed to this report.