Truman aircraft carrier to stay in Gulf, keep up strikes on ISIS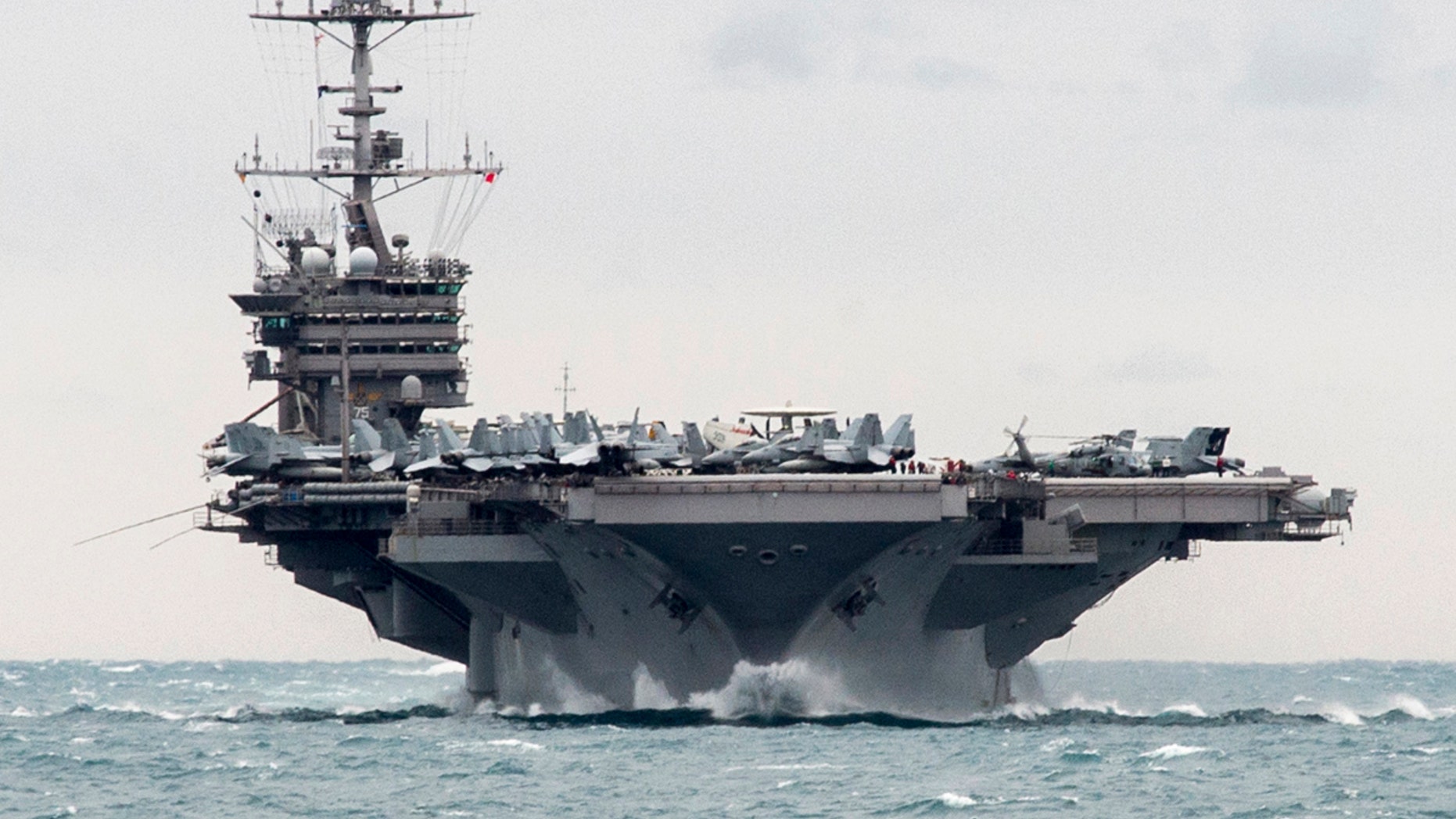 The Pentagon has ordered the USS Harry Truman to remain in the Persian Gulf for an extra 30 days to continue strikes against the Islamic State, the Navy announced late Friday.
Aircraft from the Truman carrier have dropped more than 1,000 bombs on the terror group's targets since arriving in the Gulf late last year, according to a statement announcing the extension.
The entire Truman strike group consists of the aircraft carrier, the cruiser USS Anzio and three destroyers – the USS Bulkeley, the USS Gonzalez and USS Gravely.
Adm. John Richardson, chief of Naval Operations said late Friday, the decision was essential to the effort to "dismantle and roll back terrorist networks in Syria, Iraq and elsewhere."
He also called accelerating the fight against the Islamic the president's "No. 1 priority" and said the U.S. military is still trying to finish off the al Qaeda terror group.
Multiple defense officials tell Fox News that the Navy extended the Truman group's stay because there is not another aircraft carrier ready to take its place, in part because of  China's continued militarization of the South China Sea and Russia's military resurgence.
In July, Adm. Richardson told Congress the Navy could not maintain a continuous aircraft carrier presence – or so-called "carrier gap" -- in the Gulf for the first time since 2007.
A French aircraft carrier helped with gap between the time that the USS Theodore Roosevelt's left the Gulf in October and the USS Harry Truman arrived in December.  
The Navy is supposed to have 11 aircraft carriers but has been operating with 10 since the USS Enterprise retired in 2013.  Its replacement, the USS Gerald Ford, will not be ready for deployment until 2021, according to Navy officials.
Vice Adm. John C. Aquilino, a deputy chief of naval operations for plans and strategy said this fall the Navy "severely overused the carrier force" from 2011 through 2013 driven by the need to maintain a presence in both the Mideast and the Pacific.
This week, Gen. Joe Dunford, chairman of the Joint Chief of Staff, told Congress there are not enough attack submarines to meet the demand of his operational commanders.
Fox News' Lucas Tomlinson contributed to this story.